Commentary
Dealing with taunts the norm for McDonald's All-Americans
Originally Published:
March 26, 2008
By
Glenn Nelson
| HoopGurlz.com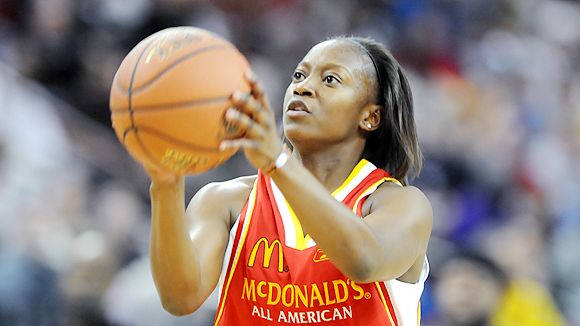 Glenn NelsonThe fans of She'la White's crosstown rivals singled her out with in-game insults.
MILWAUKEE -- After Norfolk Collegiate's star scored against rival Norfolk Academy earlier this season, its supporters starting chanting, "She-la White... She-la White... She-la White," to which the opposing student section replied, "She-la Who... She-la Who... She-la Who."
The She'la in question was crestfallen.
"It hurt me," said White, the Portsmouth, Va., guard who signed to play next year for North Carolina. "I wanted to cry."
The taunting the McDonald's All-Americans contacted here have come across has been mild compared to the death threats endured by Tayler Hill (Story) or the vicious harassment to which Gizelle Studevent has been subjected (Story). But in its context, it manages to sting.
[+] Enlarge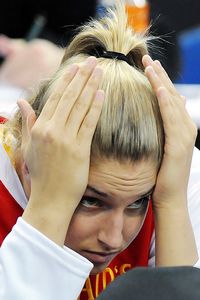 Glenn NelsonNot even Elena Della Donne's father has been off limits for some opposing fans.
At rival Whitman, Samantha Prahalis, playing for Commack High School of Commack, N.Y., was pelted with candy while preparing to inbound the ball. The officials had to stop the game, clear the floor of the candy and make an announcement over the public-address system. Why candy? "It was so random," said the Ohio State-bound Prahalis.
Elena Delle Donne, the top-ranked senior who is headed to Connecticut, gets razzed about her successful father's money. LaSondra Barrett has been taunted for going to LSU and not staying in her native Mississippi. When Brooke Point High in Virginia got down by 15 to North Stafford this year, the North Stafford students started chanting, "U-N-C! U-N-C! U-N-C!" and fans behind the bench told Chay Shegog, "We don't think UNC (North Carolina) wants you now."
Opposing fans cheered when USC-bound Briana Gilbreath hurt her shoulder during a rough Texas district playoff game for Cinco Ranch. When Delle Donne got poked in the eye, someone yelled, "Yeah, just keep doing that!"
Some of the All-Americans said they try to tune out the bad vibes. Yet others said they've had success flipping the taunting around.
Nneka Ogwumike, the Gatorade National Player of the Year in basketball, also is a star middle blocker in volleyball. She is known for such a vicious spike that the students at rival Cy Falls started accusing her of being on steroids. In response, she flexed her biceps at the crowd.
Struggling against a triple teaming defense earlier this year, Tennessee-bound Glory Johnson mustered only two points during the first half against Father Ryan in Ashville, Tenn. When she came out for the second half, the Father Ryan crowd chanted, "Glory Johnson... you have two points."
[+] Enlarge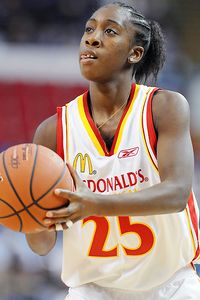 Glenn NelsonTexas product Destini Hughes signed with LSU.
Her revenge? An 18-point second half.
"Yeah, I was sort of upset," Johnson said. "They knew I already get yelled at in the locker room."
Sometimes the crowd reaction can be uplifting. When Destini Hughes fouled out of the Texas state championship a couple weeks ago, she pulled her jersey over her face to hide her tearing eyes. And the crowd in Austin started... cheering.
Then there was Ashley Corral on the free-throw line for Prairie. The arch-rival Skyview cheering section figured out a way to break the USC-bound guard's focus. They started chanting, "U-C-L-A!"
"That was good," she said. "I had to laugh."
For more in-depth coverage of women's college-basketball prospects and girl's basketball, visit HoopGurlz.com
ESPNHS HoopGurlz
Founder of HoopGurlz
Coached girls' club, high school and middle school basketball
Co-founder, former editor-in-chief of Scout.com and former NBA columnist/sportswriter
GIRLS' BASKETBALL RANKINGS

Rank
School (City, State)
Rec
1
Saint Marys
Phoenix, AZ
30-0
2
McEachern
Powder Springs, GA
33-0
3
Whitney Young
Chicago, IL
34-0
4
Bolingbrook
Bolingbrook, IL
26-2
5
Riverdale
Murfreesboro, TN
34-3
See the full girls' basketball rankings »