Commentary
Rutgers recruit Speed powers West's win in McDonald's All-American Game
Originally Published:
March 26, 2008
By
Glenn Nelson
| HoopGurlz.com
MILWAUKEE -- You knew this was coming. There is no doubting it anymore.
Speed kills.
Nikki Speed, the most aptly named high school player in the country, kills in many ways. With her speed, of course. With her shooting and passing, no doubt. And now with her sense of timing, an essential quality for any point guard -- in this case, the one destined to run Rutgers for the next four years.
[+] Enlarge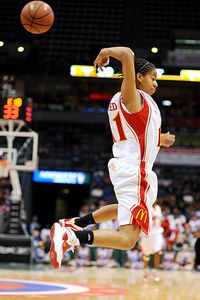 Glenn NelsonRutgers recruit and co-MVP Nikki Speed used her passing skills to power the West in the girls McDonald's All-American Game.
Just like a point guard, Speed anticipated her SportsCenter moment. She expected the usual, prehalftime lull in the McDonald's All-American Game for girls and, sure enough, it came. Seeking to fill the gaping hole in the atmosphere at the Bradley Center, the 5-foot-9 blur kicked into overdrive to haul in a long pass, spied future Scarlet Knight teammate Brooklyn Pope on her left, went airborne, spun some 60 degrees and tossed a no-look, seeing-eye laser beam to Pope for a bring-down-the-house layup with 1:06 left in the first half of the West's 80-64 victory over the East. "Usually about that time, the crowd gets a little dead," said Speed, who hails from Marlborough (Calif.) High School. "I wanted to get everybody back into it -- the fans, my teammates, everyone." Mission accomplished -- for Pope, most of all. Coming off an embarrassing, zero-point performance during Monday's Three-Point Shootout, she used the new day and atmosphere for redemption, leading the West with 13 points on, besides blind passes from Speed, an assortment of spinning, pump-faking layups and jump hooks against the much taller East. Afterward, the 5-11 forward and the 5-9 guard were named co-MVPs of the game. Good Knights indeed. "It gave me great motivation," Pope said of taking a goose egg in the shootout. "I got it all night [from the other girls]. I'm glad they didn't show it on ESPN. Thank you very much." Thanks also is due Speed, who advised her teammates all week "to run and I'll find you," as well as West coach Tim Flawiter of Parker High in Janesville, Wis., who emphasized his team's need to counter its high disadvantage with its advantage in RPMs.
[+] Enlarge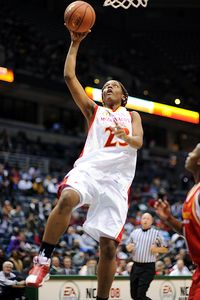 Glenn NelsonBrooklyn Pope led the West with 13 points, many on passes from soon-to-be college teammate and fellow co-MVP Speed.
"The coaches said run, run, run," said Pope, a senior at Dunbar (Texas) High School, "so we ran, ran, ran." Pope also had paid attention to Speed's admonitions. Again playing the floor-general role, Speed already has picked up on the need to call out Pope's name to warn her of incoming passes. It wasn't necessary on their very immaculate reception, however. "All I did was keep running the floor," Pope said. "I knew she would throw the pass." As Pope mentioned, the West ran, ran, ran all night. It ran on makes and misses alike, on its 42 defensive rebounds and Ashley Gayle's six blocks. It ran up a a 13-point lead, on Shootout queen Ashley Corral's 3-pointer midway through the first half and it ran up a 21-point lead in the second. Except for spurts by Tennessee-bound Shekinna Stricklen, who had a game-high 17 points, and Connecticut-bound Elena Delle Donne, who had 10, the East shot poorly after shooting lights out during a tune-up scrimmage between the two squads a day earlier. "It's like we used up all our makes during that scrimmage," Delle Donne said. The typically reserved Speed had plenty more to give, approaching the showcase almost with uncharacteristic animation. That translated right off the bat into a perfect bounce pass to Nneka Ogwumike on the dead run. The early exhibition of timing provided Speed a foundation. "Building confidence," Speed said. "That's what that was. Every pass was more confidence to build on. Getting everyone off, that's what it was all about." It was a revealing week for Speed. She learned things about Pope, whom she's played against for years, and Jasmine Dixon of Long Beach, with whom she's played since grade school. She also met for the first time her other future Rutgers teammates, April Sykes of Crawford, Miss., and Chelsey Lee of Miami, Fla., with whom she's only texted, sometimes by accident on the receiving end at 3 in the morning. She said she started to learn how to defend Delle Donne, who will be a rival in the Big East. Speed also contained her longtime bugaboo, turnovers, and learned more about timing. With five minutes remaining and the West clinging to the lead against a hard-charging East, Speed motioned to West teammate Destini Hughes, the Fort Worth, Texas, guard headed to LSU. "Let's go," Speed said. "Five minutes." "Destini," she said, ensuring she had Hughes' attention. "Yeah," Hughes said. "I got your back." In the end, they all did.
For more in-depth coverage of women's college-basketball prospects and girl's basketball, visit HoopGurlz.com
ESPNHS HoopGurlz
Founder of HoopGurlz
Coached girls' club, high school and middle school basketball
Co-founder, former editor-in-chief of Scout.com and former NBA columnist/sportswriter
SPONSORED HEADLINES
ESPN TOP HEADLINES
MOST SENT STORIES ON ESPN.COM
GIRLS' BASKETBALL RANKINGS

Rank
School (City, State)
Rec
1
Saint Marys
Phoenix, AZ
30-0
2
McEachern
Powder Springs, GA
33-0
3
Whitney Young
Chicago, IL
34-0
4
Bolingbrook
Bolingbrook, IL
26-2
5
Riverdale
Murfreesboro, TN
34-3
See the full girls' basketball rankings »