Commentary
Players focus on fundamentals at California skills academy
Originally Published:
May 5, 2008
By
Chris Hansen
| ESPN HoopGurlz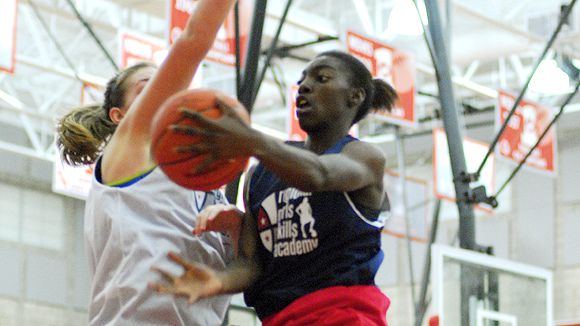 Chris HansenEliza Pierre's ballhandling skills made her very tough to guard during the Nike Regional Skills Academy.
SANTA ANA, Calif. -- The second of five Nike Regional Skills Academies concluded Sunday morning at Mater Dei High School. Players represented California, Colorado, Idaho, Nevada, Oregon and Washington. The players participating were diverse in their ages; there was one eighth-grader, a few freshmen and the rest were sophomores and juniors.
We were also treated to watching a pair of identical twins, Brenna and Megan Malcolm-Peck from Denver. Many of the camp's coaches took to calling them each "Super Twin." Telling them apart in just a weekend with a gym full of 35 kids was impossible. The two have nearly identical games, which is a great thing when with a duo as skilled as these two.
After the shock of camp director Ganon Baker's intensity wore off and the players realized the level of play expected, they really responded. Nowhere else will these young athletes execute two-ball dribbling drills in front of 34 of their peers while being slapped on the arms and pushed. This demonstration took the earlier distraction of using a tennis ball to the next level. The method behind the madness is after that kind of harassment, being able to play through a hand-check or hip bump seems like a walk in the park.
Some groups needed to be prodded to work at Ganon-esque levels but there were some groups that worked incredibly well together. One that stood out on Saturday included two freshmen, an eighth-grader and a junior. Layshia Clarendon (2009), Kaleena Lewis (2011), Carlie Needles (2011) and Jordan Adams (2012) grouped together for work on pick-and-pop drills. Of all the groups in the gym, this was the group working the hardest on every repetition. Many groups turned it up when Baker was at its basket and took a deep breath when he moved to another basket. Baker was nowhere near this group. Still, despite his not being there, all of them worked with an intense pace.
Three days of action yielded some tired and sore bodies and the opportunity for some much-needed skill building for the players. Many of these kids haven't been taught the game. Offensive sets and plays dominate most of these players' high school seasons. The question is how can they succeed without the tools to play within these genius plays? Evaluating players in this situation exposes so many of the weaknesses the players have; they are working on new skills without the luxury of reverting back to what they're comfortable with.
So with that we give you the first of two tip sheets from this event. This one features the upperclassmen.
Gennifer Brandon (Chatsworth, Calif.) was the most impressive player in the gym this weekend.
[+] Enlarge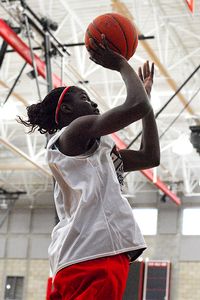 Chris HansenBrandon's athleticism was the talk of the camp.
Her peers were calling her "New Nneka" or "Nneka Junior", a reference to Nneka Ogwumike, a 2008 class Stanford commit. Both are truly incredible athletes and both like blocking shots. Brandon swatted shots from guards and posts alike all weekend, and she did it with the flair of a real shot-blocker. She sprints the court and can elevate over anyone to finish. Her footwork has improved from a year ago and is working better for post position, but she can improve in both areas. Defensively she is very good at keeping her long arms in the passing lanes, making post-entry passes difficult. She also contributed the biggest highlight play of the event when she soared from the trail to block a Monique Oliver shot attempt, not once, but twice. She catapulted herself into the air as the ball left Oliver's hand and extended both hands, blocking the single shot twice -- once with each hand. Oliver was not the only player to get Brandon'd this weekend.
Darshae Burnside (San Bernardino, Calif./Cajon) has a lot of athleticism and tons of potential. She has good quickness and can score from the midpost well with her face-up game. Defensively she blocks some shots, but her limitations on both sides of the ball are because of her lack of intensity. She has the ability to be one of the best forwards on the West Coast, but Burnside didn't get after it as consistently as many of her peers. When she turns it on though, she is a handful.
Talia Caldwell (Los Angeles/Marlborough) had a great weekend. She has the ballhandling ability to keep up with many of the guards on kick-out dribbles and between-the-legs change of direction. Her mobility also makes her handle a real-world application. She played physical in the paint, worked hard in every single drill and was one of the kids who truly got the most out of the opportunity. She gets great position, makes great moves and draws fouls. Finishing through the contact is her next challenge.
[+] Enlarge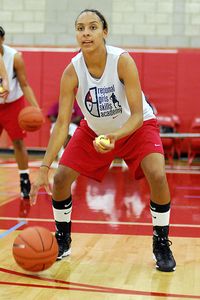 Chris HansenClarendon took direction well and showcased a true point guard's skill-set.
Layshia Clarendon
(San Bernardino, Calif./Cajon) is a fantastic combo guard who really came on late in the camp. She has quickness and shiftiness with the ball and maintains very good body control. She utilized some of the specific things directed to the point guards by Baker; perfectly using her body to protect the ball while the play developed instead of crossing over 10 times -- basically working smarter not harder. She does a great job creating space and has some shot-making ability on the perimeter.
Danielle Diamant (Las Vegas/Bishop Gorman) continued to show versatility and mobility are required to be the new brand of power forward these days. She can stretch defenses with her shooting ability. The one thing that seems to be holding her back is she's not in world-class shape -- a great player simply has to be against the top competition. She has a lot of the tools to be a dominant player; maximizing her natural ability would take her to the next level.
Nichole Jackson (Bonney Lake, Wash./Auburn-Riverside) seemed to find her confidence playing against a lot of very good players. She took on a great challenge by pairing up with Afure Jemerigbe during one-on-one drillwork. Playing against a physically stronger and quicker player forced her to execute things perfectly to be successful, and she had good results jabbing to create space for her jumper. Her passing ability really shined in early scrimmages. She doesn't get a lot of credit for it, but Jackson delivers the ball to her scorers and hits the target almost every time.
Christine Marinacci (Santa Ana, Calif./Foothill) is one of the most versatile forwards in the country and it showed here. She is good at a lot of things and the drillwork really pushed her to get even better at those things. During the scrimmages, her midrange jumper was on point. She doesn't need a lot of room to get the shot off and recognizes when she has created the space for it. Getting stronger to be able to guard the big forward position in college is probably the most immediate area Marinacci needs to address; her skill set is solid and she showed she can pick up new things this weekend.
Monique Oliver (Long Beach, Calif./Polytechnic) continued to play with great energy. She was on the floor a lot, sometimes by her decision and other times from collisions with the other bigs in the paint. She showed her mobility and was able to excel in some of the guard-oriented drills. Finishing consistently is still the challenge for her, especially with her back to the basket, and her face up game is dominant.
Eliza Pierre(Pasadena, Calif./John Muir) might have been the quickest player at the event. Her change of direction is super quick and learning to control tempo would make her that much harder to stop. She made quite a few plays on dribble penetration, including a SportsCenter-worthy wrap-around pass in the paint. Becoming a consistent shooting threat will take her game to the next level and force defenders to stay closer than they should with her first step.
Kiyana Stamps(Morena Valley, Calif./Perris) was one of the hardest working kids at the event when the whistle blew. She attacked the basket strong and did a great job pushing the break consistently. She created contact going to the basket, found teammates spotting up and made a few nifty interior passes. Once she figures out the footwork on a new drill, she attacks it hard. She is shooting the ball with more confidence and needs to continue to become more consistent with her jumper.
For more in-depth coverage of girl's high-school basketball and women's college-basketball prospects, visit HoopGurlz.com
ESPNHS HoopGurlz
National director of prospects for HoopGurlz
Coached girls' high school and club basketball
Girls and women's basketball trainer, evaluator and reporter since 1998
SPONSORED HEADLINES
ESPN TOP HEADLINES
MOST SENT STORIES ON ESPN.COM
GIRLS' BASKETBALL RANKINGS

Rank
School (City, State)
Rec
1
Saint Marys
Phoenix, AZ
30-0
2
McEachern
Powder Springs, GA
33-0
3
Whitney Young
Chicago, IL
34-0
4
Bolingbrook
Bolingbrook, IL
26-2
5
Riverdale
Murfreesboro, TN
34-3
See the full girls' basketball rankings »