Commentary
Underclass Tip Sheet Nike RSA Texas
Originally Published:
June 4, 2008
By
Chris Hansen
| ESPN HoopGurlz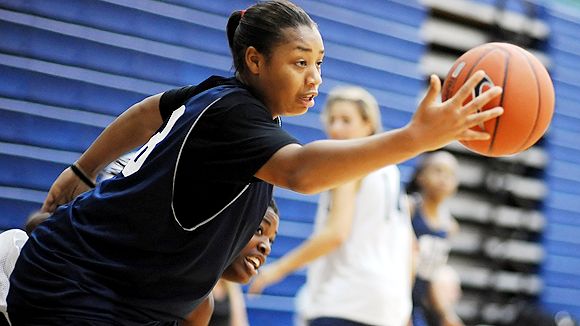 Glenn Nelson/ESPN HoopGurlz Kelsey Baker impressed with her interior play.
HOUSTON -- Not to be outdone, the underclass prospects at the Nike Regional Skills Academy showed the talent pool is deep for years to come. Texas may be the Lone Star State but this weekend showed there are many budding stars in the making.
Kelsi Baker (Mesquite, Texas) is a strong and powerful forward. At 6-1 she isn't the tallest interior player, but she uses her body as well as anyone around the basket. She can hold her position well and showed very good agility for her size. She has good lift and that along with her knack for protecting the ball with her body make her a consistent finisher around the cup.
Maegan Conwright (College Park, Texas) is a 2010 guard prospect. She excelled when learning the two-footed floater. She has nice touch on her shot and a quick trigger on her jumper. Her shooting arm elbow is out a bit, but she shot a high percentage in both the drills and scrimmages.
Krissy Grant (Arlington, Texas) is an impressive, hard working guard. The 2010 prospect has good strength and presence on the court. She showed her strength in maintaining great pushup form, even when balancing on a basketball. As fatigue set in, she slowed down while keeping perfect form where many of her peers weren't strong enough either mentally or physically to push through it. She is a good defender who could become a great defender if she wants to. Grant showed good shooting form as well and repeated it on each shot.
[+] Enlarge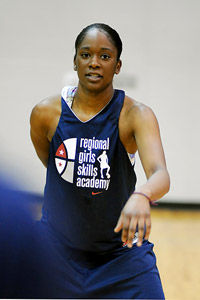 HoopGurlzTiffany Moore's game is Sheryl Swoopes-esque.
Keena Mays
(Arlington, Texas) showed great comprehension during the drills that focused on moving without the basketball. She picked up both the high side and low side swim moves to get around a defender. She also showed good touch on her close-in and mid-range jumpers. The 2010 guard needs to show more determination on defense though.
Tiffany Moore (Frisco, Texas) is so similar to Sheryl Swoopes it's scary. There really isn't anything this 2010 guard can't do well. She has the quickness to be an impact player on both sides of the court. More impressive though is her control. She never plays out of control, even at full speed. Her shot starts with a quick, high release even taller defenders will have trouble bothering. She has nice arc on the shot and it falls softly. Her strength allows her to shoot well out to 3-point range and she is a solid shooter off the dribble as well. She was also one of the few who held perfect form on her pushups and without a coach standing over her.
Chiney Ogwumike (Cypress, Texas) was considered by many the top 2010 in the country last year and she's improved. The composure and maturity manifesting in this ubertalent is astonishing. Just a few months ago, it was her older sister, Stanford-bound Nneka Ogwumike, who was the floor leader for the Texas 5A state champion Cy-Fair; now Chiney has readily accepted the job. Her fluidity as an athlete is the most striking thing about her. She can learn new skills and make them look easy -- as if she's been doing them forever. At 6-3 she has great length and is very smooth with her pivot moves offensively. Her upside is incomprehensible and with her positive attitude and work ethic the word potential won't last long with her.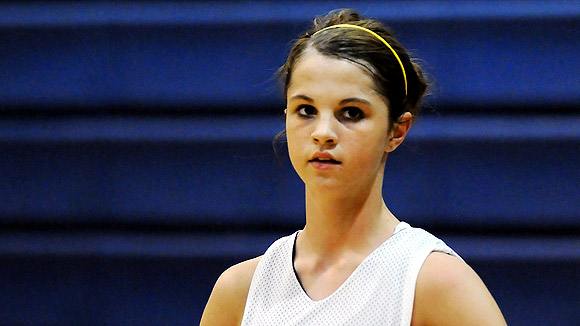 HoopGurlzSuper freshman Alexia Standish brought her A-game.
MacKenzie Robertson
(McGregor, Texas) is the daughter of Baylor coach Kim Mulkey, so it is no surprise she has a high basketball IQ. She fits the coach's daughter mold perfectly. She maintains spacing on offense and shows an understanding of weakside man-to-man defensive principles. She is a crafty passer and seems very comfortable shooting from the mid-range, even off the bounce. Being more consistent from behind the 3-point arc is an area for improvement in this young guard prospect.
Odessey Sims (Irving, Texas) is one of the most talented point guards in the country in any class. The lefty has tremendous speed and handles the ball extremely well at full throttle. She sees the court well and is a play maker extraordinaire. Consistency is a must a team's floor leader and this is an area Sims could improve on. Whether things are going good, bad or somewhere in-between, teammates are going to look to her for leadership.
Amber Henson (Round Rock, Texas) is one of the nation's top 2011 prospects. She's been battling Osgood Schlatter's disease and a growth spurt. The disease includes pain in the legs and knees related to activity. Her quickness wasn't as sharp as during the April viewing period but she still played very well and never complained about the pain. She has great pivots, a high release on her jumper and a very strong upper body for her age. At 6-3 she has the ability to play three positions, and as she matures and starts to play more aggressively she will be a handful.
Alexia Standish (Colleyville, Texas) is just a freshman but plays with the confidence of a senior. She is just 5-7 but plays the game as if size doesn't matter. She has a great first step and is very good about driving her body into the defender's hips. She keeps her body compact on her dribble attacks and is always ready to exploit a mistake by the defense. Standish is also a cold-blooded shooter. She has no problem pulling the trigger late in a game and breaking opponents' backs. Her aggressiveness helps her on defense as well where building more strength will allow her to become a stellar perimeter defender. You won't catch her taking plays off. If Dick Vitale watched her play he would definitely break out the phrase "Diaper Dandy".
Chris Hansen covers girls' high school basketball nationally for ESPN.com and leads the panel that ranks and evaluates players for the network. He can be reached at chris.hansen@espn3.com.
For more in-depth coverage of women's college-basketball prospects and girl's basketball, visit HoopGurlz.com
ESPNHS HoopGurlz
National director of prospects for HoopGurlz
Coached girls' high school and club basketball
Girls and women's basketball trainer, evaluator and reporter since 1998
GIRLS' BASKETBALL RANKINGS

Rank
School (City, State)
Rec
1
Saint Marys
Phoenix, AZ
30-0
2
McEachern
Powder Springs, GA
33-0
3
Whitney Young
Chicago, IL
34-0
4
Bolingbrook
Bolingbrook, IL
26-2
5
Riverdale
Murfreesboro, TN
34-3
See the full girls' basketball rankings »