Commentary
Blue Chip USA Tip Sheet
Originally Published:
July 10, 2008
By
Mark Lewis
| ESPN HoopGurlz
STATE COLLEGE, Pa. -- The depth of talent at the highest level of the Blue Chip USA Invitational, July 5-8, was not on par with other national caliber tournaments. However, the individuals who did stand out were impressive. While it was impossible to see each and every team in such an expansive tournament, the following athletes had exceptional performances and were worth noting:
2009
At 6 feet 4,
Sophia Aleksandravicious
of Pound Ridge, N.Y., is both mobile and versatile. She has the ability to score in the paint as well on the perimeter. Her posting is aggressive and she is fundamentally sound in her moves down low. Aleksandravicious has good form and range on her jumper and doesn't hesitate to step out and take it. She's willing to play physical and has the size and build to be effective in doing so. She could be a strong forward-post combo at a mid-level program or a higher forward prospect paired with the right post up player.
While only seen during one time slot, Whitney Elenor, a 6-2 post from the Pickering, Ontario, Canada, is worth keeping an eye on. She showed good size and the ability to get up and down the floor in transition. With the ball in her hands she was smart and made good choices in passing as well as her shot selection. Elenor has a solid build and a good wingspan making her a solid post up threat. Her Scarborough team had several other players as well and warrants another look.
Ranked 42nd in the most recent ESPN Hoopgurlz Top 100, Shante Evans of Rustin, Pa., is an imposing presence on the floor. At 6-1 and with a very thick build, she has the size and strength to move people in the paint. At the same time, her bulk is deceiving as she has very quick feet and tremendous agility. Evans plays a power game on the block and aggressively attacks the rim time and again. On several occasions she exhibited the ability to put the ball on the floor with drives from the elbows and on the baseline. The move to the college level, with advanced training and conditioning, will let her take her game to an even higher level.
Alyssa Fenyn, a 5-11 guard out of Newark, N.J., was one of the more impressive shooters in State College. With textbook form, she found her shots and was able to knock down open looks. Her ball handling allowed her to create other scoring opportunities off the drive both with her shot and passing skills. Fenyn's ability to utilize screens and cut should allow her to be an efficient scorer as she faces more athletic defenders.
Tarik Hislop, a 5-7 point guard out of Paint Branch, Md., demonstrated the ability that earned her the Gatorade Girls' Basketball Player of the Year in Maryland. Her attacking game was relentless as she penetrated time and again. The combination of her quickness and strength made her a tough defensive assignment for opposing teams. Compounding those challenges for opponents was her three point shooting which forced defenders to close out tighter and led to even more drives to the hoop. Active and aggressive defensively, she has an impact at both ends of the floor
Devon Kane, of Springfield, Pa., the 5-9 Villanova commit and No. 71 ranked player by ESPN HoopGurlz, simply makes plays again and again. Her fundamental skills allow her to make the most of every offensive possession. While she is an able scorer, her vision and passing picked apart defenses in an eye opening manner. If making the players around you better says something about an athlete, there's a lot to say about Kane. In transition and half court she made decisions that were sure to have had to have 'Nova Coach Harry Perretta smiling.
Deanna Kerkoff of Wallaceburg, Ontario, Canada, is one of those players who rates one of the most complimentary descriptions, effective. At 5-10 and playing the point she ably directed the offense for Canada Drive on the break and in their set offense. She was particularly adept at penetrating and dishing with some very solid reads. Kerkoff is one of those players who seems to be everywhere on the floor. She came up with multiple loose balls and offensive rebounds creating additional looks for her and her teammates. Playing alongside several other prospects keeps defenses honest and allows her to truly be a playmaker.
There may not have been another player among the 320 teams present who exhibited a more "blue collar" work ethic than Kaylyn Sheahin of Brookeville, Md. Relentless and aggressive would be understatements in describing this 5-10 wing's effort at both ends of the court. Her offensive attack was highlighted by drives and pull ups. Each play had the final shot mentality that coaches look for in a prospect. Sheahin's size and skills packaged with her intensity and assertiveness lead to something happening on any play she's involved in. Already on the recruiting radar, more play like this will increase options for her future.
Even with a coaching change, Boston College is still smiling over the commitment of 5-10 guard Kerri Shields of Drexel Hill, Pa. They should, there aren't many who wouldn't be. Time and again she delivered from long range with a beautiful stroke. When she wasn't spotting up for the long ball she was out in front in transition. She has the ability to handle the ball and direct the break as well as the speed to get ahead in the lanes if she's not the outlet. Another impressive trait is her cutting. She reads defenders well and cuts aggressively off her screens to create her looks. That same court sense makes her an intelligent defender who seems to get a hand on a lot of balls.
Carmen Tyson-Thomas, a 5'7 point guard out of Levittown, PA, is a tremendously explosive guard who has the ability to create one on one. In addition, the range on her perimeter shot kept forcing opponents to play her tight. As a result, her tremendous ball handling skills got her past defenders time and time again. She played both the point and #2 spot and was a scoring threat each game from either position. The pairing of her skills with her tremendous athletic ability makes her a difficult match up for any opposing defender and a talented prospect at any level.
2010 Checklist
At 6-0,
Natasha Cloud
of Broomall, PA is an athletic guard with size who has the ability to create off the dribble. She has a long, lean build which helps her on both ends of the court. Her versatility could make her an asset to any program with her ability to play any spot on the perimeter. Talented with an almost complete arsenal of skills,
Kristen Doherty
, a 5-11 combo guard from Holtsville, NY was one of the most impressive guards in attendance. She created her own shots both off the dribble and cut. She took a lot of contact on several drives to the rim but came away with either a hoop or a foul. Her perimeter shot is a fluid stroke that consistently found the range spotting up or on the pull up. With two more years of high school in front of her she should have quite a line of coaches at her door when the time comes.
Like her Lower Delco Wildcat teammate Cloud, Karen Flagg of Chester Township, PA has the size and skills that coaches dream of on the perimeter. Her 6-0 stature combined with the quickness and speed of a smaller guard afforded her the opportunity to display some exceptional one on one attacks leading to Lower Delco scores. Also, those physical attributes make her a nightmare for her match-ups on the defensive end.
Powerful and aggressive make a great combination for a true forward. Few other players crashed the boards with the intensity that Latorri Hines-Allen of Montclair, N.J., did on virtually every possession. There's nothing shy or timid about this 6-1 forward's approach to the game and it will serve her well when she lines up with bigger and stronger players. If she is as relentless the rest of the summer as she was here she'll leave an impression with a lot of college coaches.
Kayla McBride of Erie, Pa., has the ability to play both the point and the #2 and be effective at either. Her 5-11 size and penetration was a key in contributing to a lot of open looks for the Irish. Many of her own scores came off the pull up. She executed as well within the half court sets run by Coach Doug Chuzie and has the skills to play with and without the ball in her hands. Her effort was constant and assertive which led her to be involved in virtually every play.
Dynamic and athletic Laurin Mincey, a 6-0 guard out of Linden, N.J., has the ability to take over a game. She has the ballhandling skills of a point guard and uses them to get into the paint at will. From the perimeter she shoots a "true" jump shot and has the range to nail the three. Defensively she has the size and quickness to defend points through forwards, but needs to make plays more often than she does. The Flames, while talented, struggled in a game she missed for personal reasons. At her best, Mincey should be able to play at the highest level.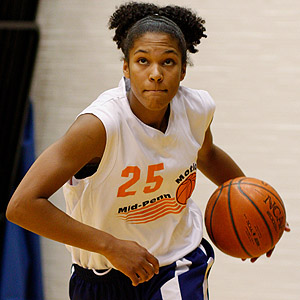 Mark LewisAlyssa Thomas scored well from the block.
One of the topics of conversation among coaches was 6-0
Alyssa Thomas
of Harrisburg, Pa. Her explosive athleticism and smooth play drew a lot of attention and deservedly so. She scored on by attacking on the block and on the drive. She was there in transition and on the offensive boards play after play. Her size leads her to being a wing at the next level and the tools are there. Her shot looked good out to ten feet but she didn't really have the opportunity to show deeper range. Defensively she can match up on the perimeter or in the post and be just as effective. Thomas is definitely one to watch.
2011 checklist
At 6-1 Yasmin Cooper of Newark, N.J., has all the tools to be a dominant guard. Her size and athleticism at such a young age has already put her in a position to be an impact player. Her skills combined with that size makes her a difficult match up for any defender. Her ball handling allows her to get to the rim again and again. Having only seen one jumper and several free throws, her perimeter shooting wasn't highlighted, but her form appeared sound.
2012 checklist
Breanna Stewart
of North Syracuse, N.Y., has all the makings of an outstanding post. Standing 6-3, she already exhibits fundamental skills and instincts on the block with the ability to find success against the older players. Stewart runs the floor well and is comfortable posting hard and looking for the ball. The physical aspect of her game will have to come along but that appears to more a element of age. While she has plenty of size vertically, she'll have to allow time and Mother Nature to provide more bulk and strength.
Mark Lewis is a columnist and national evaluator for ESPN HoopGurlz. Twice ranked as one of the top 25 assistant coaches in the game by the Women's Basketball Coaches Association, he has more than 20 years of college coaching experience at Memphis State, Cincinnati, Arizona State, Western Kentucky and, most recently, Washington State. He can be reached at mark@hoopgurlz.com.
Women's College Basketball Recruiting
Mark Lewis is a columnist and national evaluator for ESPN HoopGurlz. Twice ranked as one of the top 25 assistant coaches in the game by the Womenís Basketball Coaches Association, he has more than 20 years of college coaching experience at Memphis State, Cincinnati, Arizona State, Western Kentucky and, most recently, Washington State.
GIRLS' BASKETBALL RANKINGS

Rank
School (City, State)
Rec
1
Saint Marys
Phoenix, AZ
30-0
2
McEachern
Powder Springs, GA
33-0
3
Whitney Young
Chicago, IL
34-0
4
Bolingbrook
Bolingbrook, IL
26-2
5
Riverdale
Murfreesboro, TN
34-3
See the full girls' basketball rankings »