Commentary
Summer pays off for Bentley
Originally Published:
October 21, 2008
By
Mindi Rice
| ESPN HoopGurlz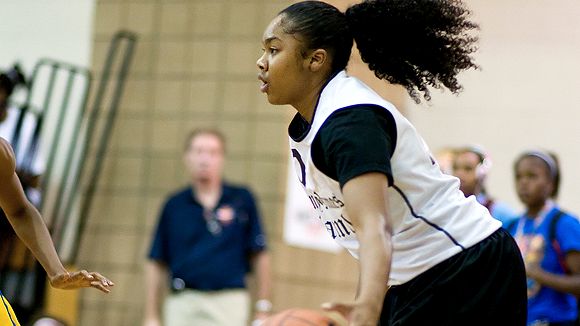 Glenn Nelson Combo guard Alex Bentley ranks as the No. 76 prospect in the Class of 2009.
When
Alex Bentley
spent the summer before her junior year away from the club circuit, she wasn't worried about missing out on the college exposure.
Bentley was more concerned with improving her game by focusing on her individual skills, taking an uncommon path and straying from the national scene. As a junior, it paid off as her team advanced to the regional finals and she was named to the Indiana Junior All-Stars team.
Then she met Kevin Merriweather, coach of The Family club team, who had a specific goal for the 5-foot-7 guard.
"I want to make it a three-horse race for Indiana's Miss Basketball in 2009," Merriweather said at the beginning of July. "People are going to know about Alex Bentley."
Now a senior at Indianapolis' Ben Davis High School, Bentley's summer spent working on her individual skills and with The Family helped craft her into an impressive combo guard with almost no fear -- and a scholarship waiting at Penn State.
But in her own state, Bentley, ranked No. 76 in the Class of 2009 by ESPN HoopGurlz, has played in the shadow of South Bend's Skylar Diggins, the top-ranked point guard -- and third-ranked player -- in the 2009 class, and Connecticut commit Kelly Faris, who is ranked No. 34 and plays for the small Heritage Christian program.
And Merriweather, who excitedly showcased Bentley all summer, knows a thing or three about coaching Miss Basketball winners. Among The Family's alumni are three former Indiana winners, including current WNBA player Shyra Ely (2001), a Ben Davis alum.
"Alex is just one of those kids," Merriweather said. "She has the ability and she's a special kid. Her athleticism sets her apart, and the combination of her ball-handling and shooting... she's pretty much the complete player."
Finally back on the court with a club team, Bentley's debut with The Family wasn't exactly quiet.
In July's first tournament, the AAU Junior Showcase in Orlando, Bentley averaged well more than 20 points per game, grabbing immediate attention. With Diggins, a member of Merriweather's program, leaving the spotlight open by playing with the USA U-18 team in Brazil, the coach and guard combo of Merriweather and Bentley grabbed the attention of coaches who had yet to see her play.
By the end of the summer, the Indianapolis native, who had nearby Purdue fans all abuzz during the high school season, had Texas, North Carolina, South Carolina and Penn State also near the top of her list.
An early September trip to State College, Pa., was all Bentley needed to seal the decision over her other top choices, Texas and North Carolina, to become a future Nittany Lion.
"When I went for my visit, I just loved the atmosphere and the students," Bentley said. "I love the coaching staff; they're young. They're just good people. I like their goals and what they want to do with the program."
And surely Penn State coach Coquese Washington will be keeping an eye on Indiana's high-school scene this season, with Bentley and Ben Davis putting together a strong campaign.
Stan Benge, Ben Davis' longtime coach, thinks Bentley, a starter since her freshman year, has a legitimate chance against Diggins and Faris at the Miss Basketball honor.
"Alex, in her position, is as good as any of them," Benge said. "She is very physically talented and, offensively, she's extremely good."
But for Bentley, the focus is on the team and finally making it past the regional round and into Indiana's final four. This could be the year. The Giants, ranked No. 1 in the state for most of last season until losing to eventual champion and conference rival Carmel in the regional finals, return every player from their 2007-08 squad.
"My high school team, we've grown up together," Bentley said. "We've all know each other and we all know each other's game."
Led by Bentley, with a summer of national travel-team experience under her hat, Ben Davis could be trouble for Indiana this winter, while the team's senior leader is poised to make a run at her own title.
Discuss this on our Message Board.
Mindi Rice is a staff writer for ESPN HoopGurlz. She previously was an award-winning sportswriter at the Tacoma News Tribune and a barista at Starbucks, and grew up in Seattle, where she attended Roosevelt High School before graduating from the University of Oregon with a degree in journalism. She can be reached at mindi@hoopgurlz.com.
GIRLS' BASKETBALL RANKINGS

Rank
School (City, State)
Rec
1
Saint Marys
Phoenix, AZ
30-0
2
McEachern
Powder Springs, GA
33-0
3
Whitney Young
Chicago, IL
34-0
4
Bolingbrook
Bolingbrook, IL
26-2
5
Riverdale
Murfreesboro, TN
34-3
See the full girls' basketball rankings »