Commentary
Horns hook Cokie Reed
Originally Published:
October 31, 2008
By
Chris Hansen
| ESPN HoopGurlz
[+] Enlarge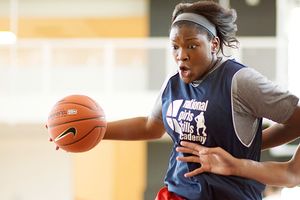 Glenn Nelson At 6-4, Reed is a top-notch shot-blocker.
It's been an exciting fall for Cokie Reed, the 6-foot-5 dominating post player from Waco, Texas. First, she was selected as the homecoming queen at Waco Midway High School earlier this month. Now she has committed to Texas.
"It was a tough decision but I prayed on it," Reed said. "And the fact that I'm the last child at the house and I have older parents that can come see me and be right up the street if anything happens [were factors]."
Reed chose Texas, which is approximately a 90-minute drive from her home, after making official visits to Central Arkansas, LSU, Rutgers and South Carolina.
Even though location was a major factor in the decision, Reed said she was extremely thorough in her recruiting process, asking as many questions of as many people as she could. She was hosted by Brittany Raven on her Texas visit and drew a humorous response from the Longhorns' junior guard on the visit.
"When I was on my visit, [Raven] was like 'Man, you ask a lot of questions,'" Reed said.
Reed, who is ranked No. 5 in the country by ESPN HoopGurlz, is the highest ranked player in the class make her commitment so far this year. The No. 1 overall player, Brittney Griner, made her commitment to Baylor back in 2007.
"I pretty much wanted to go to Texas since I was in seventh or eighth grade," Reed said. "It's a great school. [It's] academics and athletics are proven. If I didn't play basketball, Texas would be a place I would go."
The commitment gives Texas an imposing interior presence with the versatility to play multiple frontcourt positions for Longhorns coach Gail Goestenkors.
"[Goestenkors] said I'd be interchangeable at [forward and center]," Reed said, "and the offense she runs she doesn't have the bigs inside all the time."
Reed is the second player to commit to Texas in the class. Highly regarded point guard Lauren Flores (Houston, Texas/North Shore) previously committed to the Longhorns. She brings quickness and scoring ability to a backcourt that is already turbo charged with the likes of freshman Yvonne Anderson and Raven, who led the team in scoring last season. Also of note for Texas is freshman forward Ashley Gayle; like Reed, Gayle is dominant defensively in the paint.
Reed really came into her own this past season with DFW Elite as a player and as a leader. She catapulted to No. 5 in the ESPN HoopGurlz Hundred and she's just scratching the surface on the type of player she can be.
"I think one thing that really helped me was the Nike Skills Academy," Reed said. "It helped expose me to the skill level I could be at. It helped me realize a lot of things."
The Nike Skills Academy is a four-day developmental program in which Nike brings together 20 of the country's top players regardless of class. They train with Ganon Baker, who is known as one of the top skill trainers at Nike World Headquarters in Beaverton, Ore.
That skill work will spell trouble for Texas Class 4A schools as Midway High School is expected to be a favorite to reach the final four in Austin. With as many as five Division-I prospects on the team, Reed is expecting big things in her senior season.
Reed has a physical style of play in the paint and really expanded her effectiveness to the high post and short corners. She is also a skilled shot blocker with quick feet and great length.
If the Longhorns can find a way to land the other big Texan still on the board, Kelsey Bone, they will have one of the most imposing frontcourts in all of college basketball lined up. At No. 2 overall, Bone is the highest ranked player still uncommitted. Reed said she has talked with Bone in the past about playing together, but added, "I don't know where she's at with it."
"I think when I get there, the added inside presence will be even better," Reed said. "What she did at Duke, I think she can do better things at Texas."
Discuss this on our Message Board
Chris Hansen covers girls' high school basketball nationally for ESPN.com and leads the panel that ranks and evaluates players for the network. He is a graduate of the University of Washington with a communications degree. He can be reached at chris.hansen@espn3.com.
ESPNHS HoopGurlz
National director of prospects for HoopGurlz
Coached girls' high school and club basketball
Girls and women's basketball trainer, evaluator and reporter since 1998
SPONSORED HEADLINES
ESPN TOP HEADLINES
MOST SENT STORIES ON ESPN.COM
GIRLS' BASKETBALL RANKINGS

Rank
School (City, State)
Rec
1
Saint Marys
Phoenix, AZ
30-0
2
McEachern
Powder Springs, GA
33-0
3
Whitney Young
Chicago, IL
34-0
4
Bolingbrook
Bolingbrook, IL
26-2
5
Riverdale
Murfreesboro, TN
34-3
See the full girls' basketball rankings »