Baylor, UNC, Illinois have top '09 classes
Originally Published:
November 20, 2008
ESPN HoopGurlz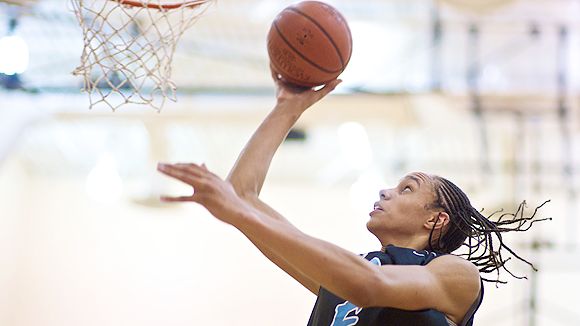 Glenn Nelson/ESPNBaylor recruit Brittney Griner plays at and above the rim.
In a year of protracted decision-making, it was an early verdict that paved the way for Baylor's No. 1 recruiting class for 2009.
The summer after her sophomore season, Brittney Griner of Houston, Texas, was not yet a national dunking and shot-blocking sensation. She attended a camp at Baylor, and coach Kim Mulkey saw enough back then to offer Griner a scholarship. The 6-foot-7 Griner accepted but, more importantly, lived up to her commitment through a rash of temptations and signed a National Letter of Intent last week.
Griner begat commitments from No. 17 Mariah Chandler, a powerful and skilled forward out of Atlanta, Ga.; No. 58 Jordan Madden, a long and fast wing from Lepanto, Ark.; No. 64 Shanay Washington, a physically imposing wing from Del Valle, Texas, and Kimetria Hayden, a blur of a guard from Dallas. All verbals were sewn up by Mulkey far in advance of the early signing period that ended on Wednesday.
Heads Of The Class
The early signing period is over and ESPN HoopGurlz breaks down which schools had the best week.

• Griner's commitment to Baylor started the Lady Bears on their way to hauling in the nation's best class. Story

• No Tennessee or UConn in the top 10? While there are still plenty of traditional powers at the top of the rankings, it's been a wild year. Top 60 classes
• ESPN HoopGurlz 100


There are many ways to judge the relative strength of recruiting classes. Last week, we presented rankings from Joe Montes, who looked purely at the player rankings produced by ESPN HoopGurlz. That is one, legitimate way of looking at things.
For our official rankings, ESPN HoopGurlz analyzes several factors, including but not limited to star power (player rankings), team needs and the way the pieces fit together. We gather the data and, as with our player rankings, discuss it during marathon conference calls. In the case of recruiting class rankings, those calls included Chris Hansen, our national director of scouting; Mark Lewis, our national evaluator, and myself.
(Note: We call ours recruiting class rankings, as opposed to signing class rankings. Some factor transfers into the equation; we do not. Transfers are not openly recruited players and we are focused on high-school players and cannot follow the college game closely enough to judge the development of a player before she transferred. We don't believe there is anything wrong with including transfers, we just believe doing so doesn't fit with our editorial and scouting mission).
In the case of Baylor, nearly everyone who closely follows girl's high-school basketball or women's college basketball has judged Griner to be a game-changer, a unique combination of size and athletic fluidity who dunks like Michael Jordan and defends like Bill Russell. This carried great sway with ESPN HoopGurlz, as did the fact that Mulkey and her staff recruited excellent pieces to put around her. The only piece lacking is a point guard and that should be addressed if and when 2010 prospect Odyssey Sims re-pledges to Baylor, as expected.
The rest of our top five includes No. 2 North Carolina, bolstered by the early period commitment of No. 9 Tierra Ruffin-Pratt, which includes five ESPN HoopGurlz 100 prospects, all of whom make up one of the strongest defensive groups we've seen in a while; No. 3 Illinois, which includes three prospects from our Top 40 and a dynamite forward duo in No. 8 Destiny Williams and No. 18 Karisma Penn; No. 4 Cal, which includes an extraordinary seven ranked prospects headed by No. 20 Tierra Rogers; and No. 5 Virigina, a five-player class of which four are ranked.
The Tar Heels are a great example of adroitly addressing needs. The past couple years, coach Sylvia Hatchell has collected some of the best point guards and shooters in the country. Her 2009 class brings in great size and, as previously mentioned, defensive ability, as well as a couple more backcourt scorers who can help replace outgoing star Rashanda McCants, as well as sophomore Rebecca Gray, who transferred to Kentucky.
Because of its overwhelming numbers, some, including Montes, have ranked Cal's as the best class in the country. Signing seven such highly-regarded players is an extremely difficult task, but we don't believe its fair, in comparisons, to simply add up numbers, giving an inherent advantage to those who have the highest number of scholarships to give. Joanne Boyle's class, while extraordinary, also drops because of the weight we place on star power -- a player or two from among our top 15, which is what we consider our All-American level.
Star power could eventually work in the favor of Illinois, which happens to remain on the short list of No. 2 prospect Kelsey Bone of Houston, who has opted to wait until spring to sign a National Letter of Intent. In addition to assembling a front line that would be the envy of the college game, adding Bone to coach Jolette Law's class certainly would adjust it up from No. 3 to No. 1. Reportedly down to Duke and Rutgers, No. 12 Tayler Hill is another highly-ranked prospect who decided to sign in the spring.
A couple other things our class rankings do not include: For the first time in three years, our No. 1 team is not Tennessee, and for the first time in our history, Connecticut did not sign our No. 1 ranked player.
The ESPN HoopGurlz Rankings Panel
Chris Hansen covers girls' high school basketball nationally for ESPN.com and leads the panel that ranks and evaluates players for the network. He can be reached at chris.hansen@espn3.com.
Mark Lewis is a columnist and national evaluator for ESPN HoopGurlz. Twice ranked as one of the top 25 assistant coaches in the game by the Women's Basketball Coaches Association, he has more than 20 years of college coaching experience at Memphis State, Cincinnati, Arizona State, Western Kentucky and, most recently, Washington State. He can be reached at mark@hoopgurlz.com
Glenn Nelson is a senior writer at ESPN.com and the founder of HoopGurlz.com. A member of the McDonald's All-American and Parade All-American Selection Committees, he formerly coached girls club basketball, was the editor-in-chief of an online sports network, and was a longtime, national-award-winning newspaper columnist and writer. He can be reached at glenn@hoopgurlz.com.
Discuss this on our Message Board
SPONSORED HEADLINES
ESPN TOP HEADLINES
MOST SENT STORIES ON ESPN.COM
GIRLS' BASKETBALL RANKINGS

Rank
School (City, State)
Rec
1
Saint Marys
Phoenix, AZ
30-0
2
McEachern
Powder Springs, GA
33-0
3
Whitney Young
Chicago, IL
34-0
4
Bolingbrook
Bolingbrook, IL
26-2
5
Riverdale
Murfreesboro, TN
34-3
See the full girls' basketball rankings »