Commentary
St. Michael grabs top spot
Editor's note: ESPN will release the ESPN RISE FAB 50 national girls' basketball rankings each Wednesday of the season. Click here for the regional rankings.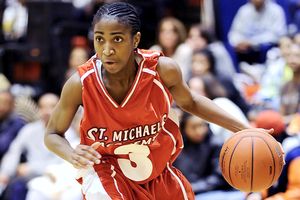 Glenn NelsonSt. Michael will have to hold on to No. 1 without Shenneika Smith.
We hate to say this, but maybe this isn't the year you want to have your sights set on being No. 1 in the ESPN RISE Fab 50.
Our preseason No. 1, St. Mary's of Stockton, Calif., was upset by a previously unranked team in the championship game of the Nike Northwest Invitational this past weekend. Next up, St. Michael Academy of New York City. And coach Apache Paschall is going to have to fend off challengers without the services of his top player, Shenneika Smith, the St. John's signee ranked as the No. 7 prospect in her class.
Smith, a 6-foot-1 scorer deluxe, recently had a diagnosis confirmed of a stress fracture in her left foot. She conceivably could return for the end of St. Mike's season, but it's questionable whether she and Paschall will risk the start of her college career with further injury.
Even without Smith, St. Michael remains loaded. Brittany Webb, a 6-4 post, and Jelleah Sydney, a 6-1 forward, both are ranked in the top 36 of the ESPN HoopGurlz Super Sixty for 2010 and give the Eagles ample size. Hyperkenetic Jennifer O'Neill has blossomed into a leader at the point.
Also, St. Michael had to pull out of the Breezy Bishop Classic in Baltimore because one of its ranked opponents, Oak Hill of Mouth of Wilson, Va., is not a state high-school association member and Pascall's team could have risked sanctions by playing them. So St. Mike's, which has cruised past its first four opponents, could continue to build momentum until it hits a super-rough stretch of nationally ranked opponents in January.
"They played without Shenneika for a stretch of games last year, and they rose to the occasion," Paschall said of his team. "They have to play. It's as simple as that."
Smith missed about three weeks with fluid in her knee. Another top player, then-senior Alexa Roche, also was lost for the season with an ACL injury early in December. St. Michael still managed an impressive, 28-2 finish.
And One
Brittney Griner had a "big girl's" triple-double, collecting 23 points, 16 rebounds and 18 blocks while leading No. 40 Nimitz (Houston) to a 62-33 win over Elsik in the championship game of the Aldine Tournament on Saturday. The top-ranked player in the ESPN HoopGurlz 100 and Baylor signee is gearing up for an invasion next week of Newark, N.J., where Nimitz will compete in the Festival of the Phoenix at University High School. The host school, ranked 11th in the Fab 50, will take on Griner and Nimitz in a Saturday matchup.
The Marquee
Three of the Fab 50's top four teams -- No. 2 Sacred Heart of San Francisco, No. 3 Long Beach (Calif.) Poly and No. 4 Westlake of Atlanta -- are in the eight-team field of the Iolani Classic in Honolulu this weekend. Poly and Westlake are a likely semifinal matchup for a shot at Sacred Heart, which should face Oregon City in the other semi. A tournament victory for Poly in Hawaii would put it in great position heading into the Nike Tournament of Champions, where it would be the highest-ranked of the 12 ranked teams in the top division in Chandler, Ariz. Look for daily coverage of both the Iolani Classic and the Nike TOC by ESPN HoopGurlz.
Off the Bounce
The injury bug already is biting hard, damaging the prospects of a couple other nationally ranked teams. Lincoln Dallas lost its star, Baylor-bound Kimetria Hayden, to a meniscus tear in her left knee, and then dropped two games to tumble from No. 15 to out of the Fab 50.
Jefferson (Portland, Ore.), should remain a power in its state, but the loss of Oregon-bound Aliyah Green to an ACL tear in her right knee will make it a challenge to hang on to, or improve, its No. 32 ranking.
Heritage Christian (Indianapolis) became the second Indiana school to knock off a higher-ranked Illinois opponent, taking down then No. 18 Whitney Young of Chicago, 66-64 in overtime. UConn-bound Kelly Faris, No. 34 in the ESPN HoopGurlz 100, scored 19 to pace Heritage, which vaulted to No. 12 in the Fab 50, while Ashlee Anderson led Whitney Young with 24.
Previously, Ben Davis (Indianapolis), now ranked No. 6, bounced then-No. 2 Bolingbrook.
In a battle of Alabama's top two teams, Sparkman dropped then-No. 22 Ben Davis 45-41. There will be a rematch in January. Anne Marie Armstrong, the Georgia-bound, No. 41 ranked prospect in the ESPN HoopGurlz 100, got No. 22 Wesleyan of Norcross, Ga., back on the winning track with 35 points during a 69-61 victory over regionally ranked Butler (N.C.).
No. 47 Wilson Central (Lebanon, Tenn.), received a huge boost when Jasmine Hassell, another Georgia signee ranked No. 11 in the ESPN HoopGurlz 100, played her first game of the season, scoring 18 against Blackman, after missing time with a bulging disc in her back.
Tayler Hill, the No. 12 prospect in the 2009 class, scored 33 points as No. 43 Minneapolis South beat Lakeville North 72-57.
DeNesha Stallworth, the No. 24 prospect who is headed to Cal, scored 32 points, a career-high 34, then 28 during a championship-game loss for Pinole Valley at the Bryan Ayer Classic at Lompoc (Calif.) High School.
Oak Hill dropped to No. 42 after suffering its second loss of the season, 60-49 in overtime to Villa Maria of Erie, Pa., which joins the Northeast regional rankings at No. 17. Villa Maria was led by 32 points from Kayla McBride, a 5-11 guard who is No. 33 in the Super Sixty for 2010 and already committed to Notre Dame.
Introducing
Powered by its convincing upset of then-No. 1 St. Mary's in the championship of the Nike Northwest Invitational, Kentwood (Covington, Wash.), checks into the Fab 50 at No. 23 and immediately puts its lofty ranking on the line Thursday against arch-rival Auburn Riverside, which is No. 10 in the West.
Westbury Christian (Houston) debuts at No. 37 after engineering what arguably was the second-biggest upset of the week, a 78-56 rolling of then-No. 25 Dulles and Kelsey Bone, the second-ranked senior in the country. Westbury received plenty of firepower from Amber Orrange, who contributed 22 points, eight rebounds, five assists and six steals; Jakeveya Mitchell, who had 21 points and four assists, and Waltia Rolle, the North Carolina signee ranked No. 28 in the 2009 class, who had 18 points, eight rebounds and four blocks.
Powered by 29 points from Cal-bound Layshia Clarendon, Cajon bounced then-No. 29 Brea Olinda, 53-46, to earn a No. 45 ranking, and St. John the Baptist (West Islip, N.Y.), joins the party at No. 50.
Substitutions
Brea drops out after losing in the championship game of its own tournament, Lincoln Dallas checks out after two loses, Minneapolis (Minn.) Roosevelt leaves after a loss and Franklin-Simpson (Franklin, Ky.), drops after only narrowly defeating a 1-3 opponent.
Discuss this on our Message Board
Glenn Nelson is a senior writer at ESPN.com and the founder of HoopGurlz.com. A member of the McDonald's All-American and Parade All-American Selection Committees, he formerly coached girls club basketball, was the editor-in-chief of an online sports network, and was a longtime, national-award-winning newspaper columnist and writer. He can be reached at glenn@hoopgurlz.com.
Mindi Rice is a staff writer for ESPN HoopGurlz. She previously was an award-winning sportswriter at the Tacoma News Tribune and a barista at Starbucks, and grew up in Seattle, where she attended Roosevelt High School before graduating from the University of Oregon with a degree in journalism. She can be reached at mindi@hoopgurlz.com.
Rankings: Preseason / Nov. 25 / Dec. 3 / Dec. 10/ Dec. 17/ Dec. 24 / Jan. 7 / Jan. 14 / Jan. 21 / Jan. 28 / Feb. 4 / Feb. 11 / Feb. 18 / Feb. 25 / March 4 / March 11 / March 18 / March 25 / Final
Records through Dec. 7.
ESPN RISE FAB 50 Girls Basketball Rankings (Dec. 10)
Rank
Team (Location)
Record
Previous Rank
1
St. Michael Academy (New York City)
4-0
2
2
Sacred Heart Cathedral (San Francisco)
3-0
3
3
Poly (Long Beach, Calif.)
2-0
4
4
Westlake (Atlanta)
3-0
6
5
Christ the King (Middle Village, N.Y.)
0-0
7
6
Ben Davis (Indianapolis)
5-0
8
7
Mount Notre Dame (Cincinnati)
4-0
9
8
Cardinal O'Hara (Springfield, Pa.)
1-0
10
9
H.D. Woodson (Washington, D.C.)
3-0
11
10
South Bend Washington (South Bend, Ind.)
6-0
12
11
University (Newark, N.J.)
0-0
13
12
Heritage Christian (Indianapolis)
5-0
28
13
St. Mary's (Stockton, Calif.)
3-1
1
14
Bolingbrook (Bolingbrook, Ill.)
2-1
14
15
Murry Burgtraum (New York City)
2-0
16
16
Bishop McGuinnes (Kernersville, N.C.)
3-0
17
17
Potter's House Christian (Jacksonville, Fla.)
9-0
19
18
Regis Jesuit (Aurora, Colo.)
3-1
5
19
Whitney Young (Chicago)
7-1
18
20
Detroit Community (Detroit)
1-0
20
21
Archbishop Carrol (Radnor, Pa.)
0-0
21
22
Wesleyan (Norcross, Ga.)
4-1
25
23
Kentwood (Covington, Wash.)
3-0
NR
24
Highlands Ranch (Colo.)
3-0
26
25
Chaminade-Julienne (Dayton, Ohio)
2-0
27
26
Lexington Christian (Lexington, Ky.)
2-0
30
27
Riverdale Baptist (Upper Marlboro, Md.)
3-0
30
28
Millington (Tenn.)
3-0
28
29
Detroit Country Day (Beverly Hills, Mich.)
1-0
34
30
Lower Richland (Hopkins, S.C.)
2-0
35
31
Wichita Heights (Wichita, Kan.)
1-0
36
32
Jefferson (Portland, Ore.)
2-0
37
33
Bob Jones (Madison, Ala.)
9-1
22
34
Trenton Central (Trenton, N.J.)
0-0
38
35
Union (Tulsa, Okla.)
0-0
39
36
Mater Dei (Santa Ana, Calif.)
1-0
NR
37
Westbury Christian (Houston)
23-0
NR
38
Germantown Academy (Fort Washington, Pa.)
2-0
41
39
Dulles (Sugar Land, Texas)
13-1
23
40
Nimitz (Houston)
14-1
50
41
Eleanor Roosvelt (Greenbelt, Md.)
0-0
43
42
Oak Hill (Mouth of Wilson, Va.)
6-2
24
43
Minneapolis South (Minneapolis)
3-1
44
44
Murrah (Jackson, Miss.)
8-0
45
45
Cajon (San Bernadino, Calif.)
4-0
NR
46
Bishop Gorman (Las Vegas)
1-0
46
47
Wilson Central (Lebanon, Tenn.)
5-1
47
48
Mandan (Mandan, N.D.)
0-0
50
49
Mansfield Timberview (Arlington, Texas)
11-1
NR
50
St. John's the Baptist (West Islip, N.Y.)
1-0
NR
ESPNHS HoopGurlz
Founder of HoopGurlz
Coached girls' club, high school and middle school basketball
Co-founder, former editor-in-chief of Scout.com and former NBA columnist/sportswriter
GIRLS' BASKETBALL RANKINGS

Rank
School (City, State)
Rec
1
Saint Marys
Phoenix, AZ
30-0
2
McEachern
Powder Springs, GA
33-0
3
Whitney Young
Chicago, IL
34-0
4
Bolingbrook
Bolingbrook, IL
26-2
5
Riverdale
Murfreesboro, TN
34-3
See the full girls' basketball rankings »