Commentary
Bronx streets gave Crosby her handle
Updated:
February 20, 2009, 2:49 PM ET
By
Jon Mahoney
| ESPNRISE.com
[+] Enlarge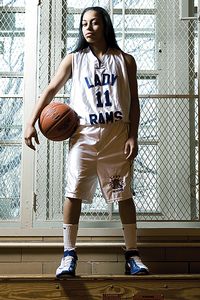 ESPNRISEChina Crosby will take her ball-handling skills to the University of Virginia next season.
There's a five-block stretch in the Bronx where China Crosby developed her all-world handle.
When Crosby was younger, she'd head out from home onto 166th Street and dribble between her legs down to 161st Street. She'd then reverse course, dribbling while walking backwards. If she messed up, she'd repeat the process.
Crosby received more than a few curious looks when doing the drills, but there's no doubt they paid off. These days, the Manhattan Center senior point guard has a handle that's simply bananas. With the ability to control the ball as though it were on a string, Crosby can make defenders look silly in a blink.
"If you play her one-on-one, she can make five moves and then break ankles," says Manhattan Center head coach Jaywana Bradley. "She'll make you mesmerized and then make you fall."
"Her handle is amazing," adds junior guard Aziza Patterson. "She knows what to do in every situation. She does simple things, but when she gets hyped, she does crazy things, out of the ordinary. I can't even explain it. It's just like, wow."
Crosby's game isn't all And 1 Mixtape. Her handle is flat-out sick, but she's also one of the best all-around guards in the country.
Put it this way: The Virginia-bound playmaker isn't rated the nation's No. 14 senior in the ESPNU HoopGurlz 100 just because she can cross over defenders like Allen Iverson.
When Crosby wasn't practicing her ball-handling as a kid, she could be found on her own street playing against the boys in her neighborhood.
They'd cut out the bottom of a plastic crate and attach it to a fence with wire before battling for hours.
China Crosby Favorites
TV Shows: "Gossip Girl" & "Law & Order: SVU"
Movie: "Love & Basketball"
Actors: Angelina Jolie & Will Smith
Musical Artists: Eminem & Carrie Underwood
It was during those games that Crosby began displaying not only the terrific talent that would one day make her New York's top point guard, but also the heart of a player who won't back down from anyone despite her size.
Though often listed at 5-foot-6, Crosby admits she's 5-foot-4 -- making her one of the rare players willing to give her actual height rather than say she's a couple inches taller just for show.
"People always say, 'I thought you'd be much taller,'" Crosby says with a laugh. "I say, 'I did too.'"
But Crosby's height hasn't deterred her from becoming a superstar in the PSAL, one of the toughest basketball leagues in the nation. As a sophomore, she garnered All-City second team honors from the Daily News after averaging 12 points and 5.5 assists per game while leading the Lady Rams to the PSAL AA semifinals, where they lost to JFK.
Crosby stepped up her game last year, netting 17.9 points and 5.3 dimes per contest to earn a spot on the Daily News All-City first team. She was also selected to the Class AA All-State first team by the New York State Sportswriters Association.
In the PSAL playoffs, Crosby dropped 11 fourth-quarter points and 26 overall as Manhattan Center edged Jefferson, 56-53, in the semis.
"All year, everyone was doubting us, and China had to lead this team for us to do well," says Bradley, a former Manhattan Center star who won a PSAL title with the Lady Rams in 1995. "She finally had to realize when and where she had to put the team on her back. In the Jefferson game, she did everything and anything she needed to do to win the game."
But Crosby and the Lady Rams couldn't carry the momentum over to the finals against Bergtraum. Crosby scored 11 points, but the Lady Blazers upended Manhattan Center, 85-47, for their 10th consecutive PSAL crown.
Crosby hopes to compete for another 'chip this year. With an improved 3-point shot to go with her driving ability and solid mid-range game, she's poised for an even bigger season.
And there's no question she's going to lay it all on the line, even if she picks up more bumps and bruises than she does points.
"When I fall, I get right up," says Crosby. "I'm a small person, so in order for me to gain respect, I need to show these big girls in the paint I'm not scared."
"China Crosby is all out, all the time," adds Bradley. "I have to tell her to calm down sometimes. She loves the contact."
Away from the court, Crosby was the top bowler this season on the Lady Rams' varsity squad, which also included several of her basketball teammates. She'll also roll a few frames at local lanes with her friends.
While you're not likely to see Crosby on the PBA tour any time in the near future, she did take the sport seriously when competing for Manhattan Center. Whether bowling or balling, Crosby is the picture of leadership.
"If we need help with anything, she's always there for us, on and off the court," Patterson says. "She acts like one of us, just with better skills."
Crosby's talent and leadership will be missed next year when she's down in Charlottesville, Va., playing for legendary head coach Debbie Ryan and the Virginia Cavaliers.
"I'm going to make something of myself down there," Crosby says.
And who knows, maybe she'll even find a street in Charlottesville where she can fine-tune her handle.
Jon Mahoney covers high school sports for ESPN RISE.
ESPNHS.com
SPONSORED HEADLINES
ESPN TOP HEADLINES
MOST SENT STORIES ON ESPN.COM
GIRLS' BASKETBALL RANKINGS

Rank
School (City, State)
Rec
1
Saint Marys
Phoenix, AZ
30-0
2
McEachern
Powder Springs, GA
33-0
3
Whitney Young
Chicago, IL
34-0
4
Bolingbrook
Bolingbrook, IL
26-2
5
Riverdale
Murfreesboro, TN
34-3
See the full girls' basketball rankings »