Commentary
Hoosier State teams grab top two spots
Editor's note: ESPN will release the ESPN RISE FAB 50 national girls' basketball rankings each Wednesday of the season.
Click here for regional rankings.
Another one bites the dust.
[+] Enlarge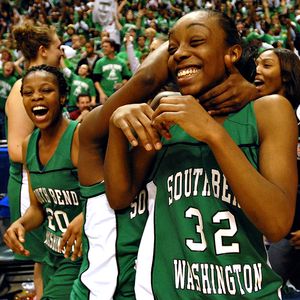 AP Photo/Tom StricklandSouth Bend (Ind.) Washington will look to hang on to the top spot in the ESPN RISE FAB 50 top spot a little longer than some of the preview No. 1 teams.
The revolving door of ESPN RISE FAB 50 No. 1 teams has turned once again, crowning yet another top-ranked squad.
For some teams, it wasn't the right time. Others may not have been up to the challenge. But for Cardinal O'Hara (Springfield, Pa.), which spent two days at No. 1 before losing to Philadelphia Catholic League rival Archbishop Wood (Warminster, Pa.), senior Stephanie Holzer may have summed it up best in her postgame interview.
"We went 45 miles per hour when we usually go 90," the Vanderbilt-bound Holzer said Friday. "It's just that good teams can have bad days."
The Lions struggled Friday as their deep bench couldn't alleviate the pressure on the starters and Archbishop Wood took advantage for a 53-41 win. But the next day, it was a fresh start when O'Hara got the mojo flowing again, with a 63-43 win against Notre Dame Academy (Villanova, Pa.).
Still, the damage was done. O'Hara relinquished its short-lived claim on the top spot and a powerhouse team from a powerhouse state was waiting to snatch up the spot. Enter South Bend (Ind.) Washington.
Led by Notre Dame-signee Skylar Diggins, the top point guard in the 2009 class, the Panthers are a finely tuned engine, purring to 16-0 through Sunday. That mark includes taking the T-Mobile Invitational title in December with wins against then-No. 17 University (Newark, N.J.) and then-No. 24 Bob Jones (Madison, Ala.).
But it isn't all downhill from here to state and national titles for the Panthers. Case in point one: Saturday's battle against No. 10 Bolingbrook. Case in point two: New FAB 50 No. 2 Ben Davis (Indianapolis), the Panthers' biggest in-state threat with an identical 16-0 record.
As for the newly minted No. 2, the Giants could just as easily be considered No. 1A behind South Bend Washington. For all that Diggins and her teammates bring to the court, Ben Davis senior Alex Bentley, a Penn State signee, and her teammates can match. The Panthers bring the poise and the flash, while the Giants have the suffocating defense down pat.
Consider it ESPN HoopGurlz' belated Christmas wish for the Indiana 4A championship game.
And one

No. 8 St. Michael Academy (New York City) has taken another hit from its trip to December's Bojangles Classic in Charlotte, N.C. Coach Apache Paschall told ESPN HoopGurlz that 5-foot-9 sophomore guard Brianna Sidney, the team's second-leading scorer averaging 17 points a game, will be out for the season with a torn ACL. Sidney, whose two older sisters also had ACL injuries when they played for Paschall, injured it in a Dec. 29 overtime win against Norcross (Ga.). She is scheduled for surgery on Jan. 27.
The Marquee

It seems like just yesterday that the holiday tournament season was ending and now, we've got another round of tournaments on the docket with the Martin Luther King, Jr. holiday weekend. While some teams will battle in California, New Jersey or other locales, the top billing of the weekend goes to the Chicagoland Classic, which has three days of Indiana-Illinois battles on the schedule. The premiere tip would be Saturday's 6:30 p.m. game between new No. 1 South Bend Washington and No. 10 Bolingbrook.
Off the bounce

Betnijan Laney, a 6-foot sophomore at Smyrna (Del.), broke Elena Delle Donne's state record for points scored in a single game Jan. 6, when Laney scored 52 points in an overtime victory. Delle Donne scored her then-record 51 points just 11 months prior, as a senior. Laney hit 18 shots from the floor and went 16-of-19 from the line… Eastlake (Chula Vista, Calif.) senior Cheyenne Curley-Payne broke the national high school career steals record Jan. 3 as she snagged her way to 929 steals, breaking the record of 925. Curley-Payne has signed to play at Howard University next year… No. 11 Regis Jesuit (Aurora, Colo.) won its own Holiday Hoop Classic Saturday with a 52-40 win against No. 50 ThunderRidge (Highlands Ranch, Colo.). Senior Meghan Winters was named MVP as the Raiders open league play Friday with a hotly contested showdown against archrival Highlands Ranch (Colo.)… The ever-mentionable Tayler Hill was at it again Jan. 6 for Minneapolis (Minn.) South. The still-undecided senior missed a quadruple-double by one assist, racking up 41 points, 13 rebounds, 13 steals and nine assists in the Tigers' win against Henry (Minneapolis)… Two times this season, Clay-Chalkville (Pinson, Al.) has broken the Alabama record for most three-point baskets in a game. To open the season, the Cougars hit 18 from behind the arc. They broke their own record Dec. 27 when the squad hit 19 three-pointers… Duncanville (Texas) coach Cathy Self-Morgan picked up career win No. 800 Monday when her squad beat Cedar Hill (Texas), 50-44, in a come-from-behind victory. Self-Morgan also won her 600th game against Cedar Hill in 2002… Then-No. 38 Murrah (Jackson, Miss.) lost its first home game since February 2005 on Friday, when Madison Central (Miss.) upset the Mustangs, 33-25.
Introducing

Two teams are new to the rankings this week, making their debuts one right after the other. Kicking things off is No. 37 Sparkman (Harvest, Ala.), which beat its league rival, then-No. 20 Bob Jones, for the second time this season. Right behind at No. 38 is St. John Vianney (Holmdel, N.J.), which showed that University and Shabazz are not the only powerful Jersey teams this season with a 16-point win against Oak Hill Academy in the Champions Challenge.
Substitutions

Two teams that struggled this week fell out of the FAB 50, including Trenton (N.J.) Central , now 3-2, and Punahou (Honolulu), now 7-3.
Discuss this on our Message Board
Mindi Rice is a staff writer for ESPN HoopGurlz. She previously was an award-winning sportswriter at the Tacoma News Tribune and a barista at Starbucks, and grew up in Seattle, where she attended Roosevelt High School before graduating from the University of Oregon with a degree in journalism. She can be reached at mindi@hoopgurlz.com.
Glenn Nelson is a senior writer at ESPN.com and the founder of HoopGurlz.com. A member of the McDonald's All-American and Parade All-American Selection Committees, he formerly coached girls club basketball, was the editor-in-chief of an online sports network, and was a longtime, national-award-winning newspaper columnist and writer. He can be reached at glenn@hoopgurlz.com.
Rankings: Preseason / Nov. 25 / Dec. 3 / Dec. 10/ Dec. 17/ Dec. 24 / Jan. 7 / Jan. 14 / Jan. 21 / Jan. 28 / Feb. 4 / Feb. 11 / Feb. 18 / Feb. 25 / March 4 / March 11 / March 18 / March 25 / Final
Records through Jan. 11.
ESPN RISE FAB 50 Girls Basketball Rankings (Jan. 14)
Rank
Team (Location)
Record
Previous Rank
1
South Bend Washington (South Bend, Ind.)
16-0
2
2
Ben Davis (Indianapolis)
16-0
3
3
Mater Dei (Santa Ana, Calif.)
16-0
4
4
Mount Notre Dame (Cincinnati)
12-0
5
5
Heritage Christian (Indianapolis)
14-0
6
6
Cardinal O'Hara (Springfield, Pa.)
12-1
1
7
Murry Bergtraum (New York City)
13-0
7
8
St. Michael Academy (New York City)
13-2
8
9
Whitney Young (Chicago)
18-1
9
10
Bolingbrook (Ill.)
10-3
10
11
Regis Jesuit (Aurora, Colo.)
10-3
12
12
Potter's House Christian (Jacksonville, Fla.)
21-1
11
13
Oak Ridge (Tenn.)
14-2
13
14
Sacred Heart Cathedral (San Francisco)
10-1
15
15
Detroit Community (Detroit)
6-0
14
16
Westlake (Atlanta)
12-1
16
17
Kentwood (Covington, Wash.)
8-0
18
18
Detroit Country Day (Beverly Hills, Mich.)
6-0
22
19
University (Newark, N.J.)
5-2
17
20
Archbishop Carrol (Radnor, Pa.)
9-1
19
21
Millington (Tenn.)
17-2
21
22
St. Mary's (Stockton, Calif.)
10-3
23
23
Wichita Heights (Wichita, Kan.)
7-0
24
24
Westbury Christian (Houston)
32-1
26
25
Nimitz (Houston)
24-1
27
26
Sparkman (Harvest, Ala.)
21-0
20
27
Wesleyan (Norcross, Ga.)
13-3
28
28
Chaminade-Julienne (Dayton, Ohio)
8-3
25
29
Long Beach Poly (Long Beach, Calif.)
12-2
30
30
Butler (Matthews, N.C.)
15-1
33
31
Cajon (San Bernadino, Calif.)
13-0
39
32
Germantown Academy (Fort Washington, Pa.)
12-0
32
33
Riverdale Baptist (Upper Marlboro, Md.)
11-2
34
34
Lower Richland (Hopkins, S.C.)
11-1
35
35
Christ the King (Middle Village, N.Y.)
7-3
37
36
Brea Olinda (Brea, Calif.)
13-2
29
37
Bob Jones (Madison, Ala.)
18-3
NR
38
St. John Vianney (Holmdel, N.J.)
10-0
NR
39
Memphis Central (Tenn.)
13-1
44
40
Wilson Central (Lebanon, Tenn.)
13-2
40
41
East Mecklenburg (Charlotte, N.C.)
12-2
36
42
Eleanor Roosvelt (Greenbelt, Md.)
6-1
42
43
West Charlotte (Charlotte, N.C.)
11-3
41
44
Murrah (Jackson, Miss.)
12-1
38
45
Cy-Fair (Cypress, Texas)
19-2
45
46
Broomfield (Colo.)
9-0
46
47
Hopkins (Minnetonka, Minn.)
13-1
47
48
Union (Tulsa, Okla.)
7-1
48
49
Hamilton Southeastern (Fishers, Ind.)
13-1
49
50
ThunderRidge (Highlands Ranch, Colo.)
11-1
50
ESPNHS HoopGurlz
Founder of HoopGurlz
Coached girls' club, high school and middle school basketball
Co-founder, former editor-in-chief of Scout.com and former NBA columnist/sportswriter
GIRLS' BASKETBALL RANKINGS

Rank
School (City, State)
Rec
1
Saint Marys
Phoenix, AZ
30-0
2
McEachern
Powder Springs, GA
33-0
3
Whitney Young
Chicago, IL
34-0
4
Bolingbrook
Bolingbrook, IL
26-2
5
Riverdale
Murfreesboro, TN
34-3
See the full girls' basketball rankings »