Commentary
Harboring talent
Originally Published:
March 28, 2009
By
Chris Hansen
| HoopGurlz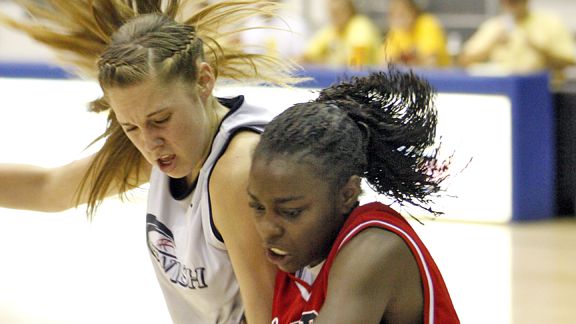 Mark Lewis/ESPN HoopGurlzCassie Harberts, left, will be battling for rebounds in the Pac-10.
The USC Trojans have had several highly regarded recruiting classes over the past four years. Head coach Mark Trakh's success landed him a drove of super talented perimeter players but only a couple of big bodies to do the tough work in the paint.
That started to change with the team's solid 2009 signing class which included the No. 6 ranked prospect, according to ESPN HoopGurlz, and the No. 4 post overall in the class, Monique Oliver, as well as two highly regarded and ranked forwards in Christina Marinacci and Kendall Hackney, ranked Nos. 35 and 55 respectively.
The trend of getting versatile frontcourt players has continued into the 2010 class with Thursday's verbal commitment of Cassie Harberts.
At 6-feet-2, Harberts will give the Trojans depth at both the post and forward positions.
The San Clemente, Calif., star had recently cut her list to 10 teams. With the offers rolling in, Harberts cut her list to a final five and, ultimately, a final trio that included Arizona State and UCLA as well as the Trojans.
"She was leaning towards UCLA," Dorothy Harberts, Cassie's mother said, "because it kind of close to home and it's in the Pac-10. But we heard a lot about USC and Mark Trakh and he has a great reputation. And so we went up there and we visited three or four weeks ago and she just said, 'Mom, this just feels so right'."
The family decided to make another unofficial visit on Thursday to see if that feeling was still there.
"We told her, if you're ready, you're ready," Dorothy Harberts said. "(But) you know it's still early."
After confiding in Russ Davis, her Cal Swish club team coach, who is also the head coach for the 2008 NAIA national champion Vanguard University women's team, Harberts felt it was time to make the decision.
According to Harberts' mother, the visit had just about concluded when she asked her daughter if there was anything else she wanted to ask or say to the coaching staff. Seconds later, Cassie Harberts accepted the Trojan's scholarship offer.
In the family's first unofficial visit in February they took in practice. What stuck well with Harberts was, upon her return visit this week, all the players remembered her and were welcoming to her as if she was already a part of the team.
"They just seem like genuinely nice girls," her mother added.
The coaches are just really awesome and they're really nice and friendly," Harberts, the No. 48 prospect in the ESPN HoopGurlz Super 60, said. "The girls are all just really friendly, too, and the facilities are just top notch, awesome."
So excited was Harberts she told her mom Friday morning that she was wearing her USC jacket to school.
"Cassie is probably the most improved and quickest out of any player that I've had at Swish from one summer to the next," Davis said of his player's development.
[+] Enlarge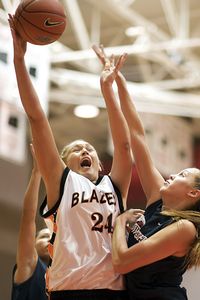 Glenn Nelson/ESPN HoopGurlz Cassie Harberts, right, defends Joslyn Tinkle.
It makes sense that Harbert's learning curve would be steep as she hasn't always been a basketball nut. Her first love in athletics was actually dance. She started out in tap and jazz dance before catching onto the frenzy all her friends were into -- hoops on the hardwood.
Harberts won't be the first player from the Swish to choose USC either. She will play with her former club teammate Christina Marinacci who is a part of the Trojans' 2009 signing class. Other Swish players to put on a Trojan uniform include Hailey Dunham and Eshaya Murphy.
"This year in high school she had a great year and I think people aren't even going to recognize with how much better she got." Davis said of Harberts, who is already ranked among the best in her class. "She could end up being one of the best we've ever had.
Harberts is mobile but still has the size, strength and aggressiveness to be a presence in the post. She passes the ball well and has begun stepping out to the perimeter and facing up. Defensively she is a hard worker as well that uses her length well.
"We had our first practice the other night and she was beating people off the dribble from the three-point line and powering up," Davis added.
If Harberts harnesses her athleticism she will be a mismatch for defenses even at the next level. She has a diverse skill set and plays all five positions on the court in high school. In college she should be able to play the forward and post positions.
"She's physical, she's versatile and she just plays so dang hard," Davis said.
The Trojans graduate four seniors this year: Nicole Berberet, Brynn Cameron, Camille Lenoir and Nadia Parker. Of that group, Parker is the only frontcourt player but it is a position where the team has been a little thin in the past few season.
Juniors Hailey Dunham, Aarika Hughes, Heather Oliver and Danielle Roard will also graduate prior to Harberts arrival. Hughes plays some wing and forward while Dunham was converted to forward from the guard position out of necessity. Both players are well over 6-feet and their length will definitely need to be replaced.
The incoming freshman class of Hackney, Marinacci, Oliver and point guard Vicky Tagalicod should address some needs but both Hackney and Marinacci have skill sets for the wing position. Adding Harberts to the fray should start turning what was once a weakness of the team, depth in the paint, into a strength.
With four juniors on the roster, USC could add as many as four prospects in the 2010 class. A wild card could be the status of redshirt sophomore guard Jacki Gemelos who has missed three consecutive years with an ACL tear. How many years she'll be eligible to play and if she'll play all of those seasons before possibly jumping to the professional ranks are up in the air.
At USC, Harberts wants to work toward becoming a doctor. She plans on studying oncology. It's a relatively new focus, which led her to take in a chemistry class while on her latest unofficial visit.
The drive to be a doctor actually comes from Harbert's hero, her brother Daniel. At age three he was diagnosed with a rare liver cancer. Now 18, he is in remission and is an inspiration to his younger sister.
Discuss this on our Message Board
Chris Hansen is the National Director of Prospects for ESPN HoopGurlz and covers girls' basketball and women's college basketball prospects nationally for ESPN.com. A graduate of the University of Washington with a communications degree, he has been involved in the women's basketball community since 1998 as a high school and club coach, trainer, evaluator and reporter. Hansen can be reached at chris.hansen@espn3.com.
ESPNHS HoopGurlz
National director of prospects for HoopGurlz
Coached girls' high school and club basketball
Girls and women's basketball trainer, evaluator and reporter since 1998
SPONSORED HEADLINES
ESPN TOP HEADLINES
MOST SENT STORIES ON ESPN.COM
GIRLS' BASKETBALL RANKINGS

Rank
School (City, State)
Rec
1
Saint Marys
Phoenix, AZ
30-0
2
McEachern
Powder Springs, GA
33-0
3
Whitney Young
Chicago, IL
34-0
4
Bolingbrook
Bolingbrook, IL
26-2
5
Riverdale
Murfreesboro, TN
34-3
See the full girls' basketball rankings »