Commentary
Chemistry and passion drive Williams
Originally Published:
June 16, 2009
By
Mindi Rice
| HoopGurlz
Over the next three days, HoopGurlz will be making the case for North Carolina's Cierra Burdick, Virginia's Elizabeth Williams and California's Kaleena Mosqueda-Lewis to be the No.1 prospect in the class of 2011. The complete list will be released on Thursday.
The stories of the tallest players frequently start out the same.
"Wow, you're tall for your age," someone tells them. "You should play basketball."
Sometimes it's a coach, sometimes a parent or, every once in a while, a stranger in the supermarket. And while it might not be the most insightful of observations, periodically it can send a young athlete into a sport where she falls in love.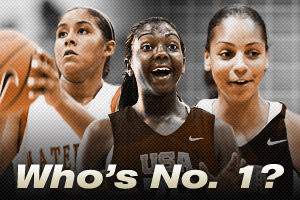 Kaleena Mosqueda-Lewis, Elizabeth Williams and Cierra Burdick are vying for the top spot in 2011.
Enter a nine-year-old, soccer-playing Elizabeth Williams.
Williams' love affair with basketball didn't take long to get off the ground. Already blessed with strong coordination skills from soccer, she picked up basketball easily and, two years later, left soccer in the dust.
"When I started, I loved it," the rising junior said. "I dropped soccer and I was all about basketball."
There's been no turning back for the 6-foot-3 post from Virginia Beach, Va., either. She helped Princess Anne win Virginia's Group AAA state championship as a sophomore. A year ago, Williams played an integral part in Boo Williams Elite's success and is the squad's premiere player this summer. All of this has helped Williams become one of three candidates for the top spot in the ESPN HoopGurlz initial 2011 rankings.
"How she attacks the basket is really good for a post player," said Bria Smith, a standout guard from New York in the same class. "When you pass her the ball, she steps to the ball, gets it and does a hard move to the basket, so she's very aggressive going to the basket."
[+] Enlarge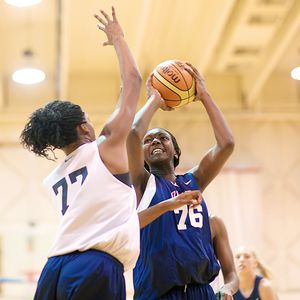 Glenn Nelson for ESPN.comElizabeth Williams averaged 13.1 points per game during her sophomore season.
Two weeks ago, Williams was chosen to be a member of USA Basketball's first U16 girls team and it wasn't on name recognition alone. She's as comfortable when she first steps on the floor as a WNBA veteran and her stellar shot blocking makes the best offensive players think twice before putting up a shot. Williams has become a dominant force on defense in the past year, but her offense is also a point of concern for those she faces.
"She's ... good," said Morgan Tuck, a 2012 forward from Illinois who made the U16 team. "She finishes well around the basket and she runs the floor really well."
"She's so strong with the ball in the post when she makes her move," said Breanna Stewart, another top 2012 player who was also selected for the U16 team. "She's just really good."
She averaged 13.1 points, 11.1 rebounds and 6.7 blocks per game during her sophomore season at Princess Anne and earned all-state, first-team honors. But she doesn't pay too much attention to her stats, or to the constantly growing crowds -- of fans and college coaches -- in the stands. She doesn't keep playing to specifically increase her scoring average or blocks per game. Those things just happen.
"Everything keeps me coming back," Williams said. "The passion, all the hard work that you go through as a team and the chemistry everyone has. I just love it."
Her passion for the game is as apparent on the court as it is in the time she spends in the gym working on her game. Among the 34 U16 invitees from the 2011 and 2012 classes, Williams might not have been the most vocal of players, but she was certainly one of the most dedicated, going out for every play and fighting for every rebound.
"It brings your energy up seeing that somebody wants to go as hard as you," Smith said.
Williams is definitely game for going all out each and every play, a loss for the sport of soccer and a gain for Princess Anne, Boo Williams Elite and USA Basketball -- now and for the foreseeable future.
Discuss this on our Message Board
Mindi Rice is a National High School / ESPN HoopGurlz staff writer. She previously was an award-winning sportswriter at the Tacoma News Tribune and a barista at Starbucks, and grew up in Seattle, where she attended Roosevelt High School before graduating from the University of Oregon with a degree in journalism. She can be reached at mindi@hoopgurlz.com.
SPONSORED HEADLINES
ESPN TOP HEADLINES
MOST SENT STORIES ON ESPN.COM
GIRLS' BASKETBALL RANKINGS

Rank
School (City, State)
Rec
1
Saint Marys
Phoenix, AZ
30-0
2
McEachern
Powder Springs, GA
33-0
3
Whitney Young
Chicago, IL
34-0
4
Bolingbrook
Bolingbrook, IL
26-2
5
Riverdale
Murfreesboro, TN
34-3
See the full girls' basketball rankings »