Commentary
Top recruits gear up for invitational
Updated:
September 30, 2009, 3:51 PM ET
By
Glenn Nelson
| HoopGurlz
From Maya Moore to Skylar Diggins to Long Beach Poly, the T-Mobile Invitational has hosted some powerhouse high-school players and teams during its three short years of existence. Year No. 4 will be no different with three defending state champions and three players ranked in the top 25 of the ESPN HoopGurlz Hundred among the four-team field in Birmingham, Ala., Dec. 29-30.
[+] Enlarge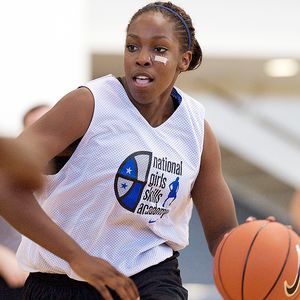 Glenn Nelson for ESPN.com Duke commit Chelsea Gray is among the players to see action at the T-Mobile Invitational Dec. 29-30.
Coming off a state runner-up performance last year, Hoover (Ala.) High School will serve as the host team on the girls' side of the 2009 T-Mobile Invitational bracket. Hoover will be joined by three defending state champions -- Stockton (Calif.) St. Mary's High School, a perennial national power featuring Duke commit Chelsea Gray, the No. 4 overall prospect in the 2010 class, according to ESPN HoopGurlz; Nashville (Tenn.) Hillsboro High School, which was 36-1 in 2008-09; and Pittsburgh (Penna.) Mt. Lebanon High School, which returns 18 of 20 players from last year's 31-0 championship team.
In addition to Gray, teammate and Cal commit Afure Jemerigbe, who is No. 15, and Hillsboro senior and Xavier commit Lakesha Crouch, No. 25, are the prospects ranked in the top 25 of the ESPN HoopGurlz Hundred for 2010. Hoover's Tyrese Tanner, who has verballed to Auburn, is No. 75. Crouch's teammate, Isabelle Harrison, a junior post, is No. 37 in the ESPN HoopGurlz Super Sixty for 2011.
The T-Mobile Invitational is the only high-school tournament sponsored by the National Federation of State High School Associations (NFHS) and is composed only of schools from NFHS-member associations.
The four boys teams feature a pair of defending state champions -- Houston (Texas) Yates High School and Huntsville (Ala.) Butler High School. Also taking part are Covington (Wash.) Kentwood High School and Winter Park (Fla.) High School. Kentwood features Joshua Smith, a 6-foot-10, 280-pound senior who some consider the top-rated center in the nation. Winter Park is led by junior sensation Austin Rivers, considered the top-rated shooting guard in the Class of 2011, and son of former NBA player Glenn "Doc" Rivers.
Kentwood's girls team competed in the inaugural T-Mobile Invitational, held in Seattle, Wash., in 2006, which was won by Moore's Collins Hill High School from Suwanee, Ga.
With Gray, Jemerigbe and sharpshooter Alle Moreno, a Sacramento State commit, leading the way, St. Mary's should be considered the early favorites to join Collins Hill (2006), Long Beach Poly (2007) and South Bend (Ind.) Washington (2008) as T-Mobile champions. Gray averaged 20 points, six rebounds and six assists, and Jemerigbe added 15.3 points and 8.0 rebounds per game, as St. Mary's finished 31-3 and beat Inglewood 71-62 to claim the California Interscholastic Federation (CIF) Division II state title.
The remaining three teams will present stout challenges, however. Crouch (14.0 points, 7.2 rebounds and 3.1 steals in 2008-09), Harrison (11.1 points, 6.3 rebounds and 1.2 blocks) and sophomore point guard Kearra Holt lead Hillsboro, which finished 36-1 en route to a Tennessee Class AAA state championship. Mt. Lebanon returns all but two starters from the first Western Pennsylvania Interscholastic Athletic League Class AAAA team to win a PIAA state title, beating Cardinal O'Hara, the 2008 Nike Tournament of Champions titlists, with an unbeaten (31-0) record.
Host teams served as sacrificial lambs until South Bend Washington cracked the trend last year, and Hoover continues the positive spin. Tanner and 6-foot-1 senior Kanaesha Burch, who averaged 8.9 points and 8.2 rebounds, will make certain of that. The Bucs were 29-6 and finished second in the 2009 AHSAA Class 6A state tournament, losing to Bob Jones of Madison, Ala., for the third time last season.
Follow us on Twitter, where you can ask questions and get instant updates.
Discuss this on our Message Board
sGlenn Nelson is a senior writer at ESPN.com and the founder of HoopGurlz.com. A member of the Parade All-American Selection Committee, he formerly coached girl's club basketball, was the editor-in-chief of an online sports network, authored a basketball book for kids, and was a longtime, national-award-winning newspaper columnist and writer. He can be reached at glenn@hoopgurlz.com.
ESPNHS HoopGurlz
Founder of HoopGurlz
Coached girls' club, high school and middle school basketball
Co-founder, former editor-in-chief of Scout.com and former NBA columnist/sportswriter
SPONSORED HEADLINES
ESPN TOP HEADLINES
MOST SENT STORIES ON ESPN.COM
GIRLS' BASKETBALL RANKINGS

Rank
School (City, State)
Rec
1
Saint Marys
Phoenix, AZ
30-0
2
McEachern
Powder Springs, GA
33-0
3
Whitney Young
Chicago, IL
34-0
4
Bolingbrook
Bolingbrook, IL
26-2
5
Riverdale
Murfreesboro, TN
34-3
See the full girls' basketball rankings »