State-by-state No. 1 teams
Updated:
November 12, 2009, 2:16 PM ET
ESPNRISE.com
Comparing ESPNRISE.com's girls' state-by-state No. 1 teams with the boys list released last week, one finds are only three schools that start the 2009-10 season No. 1 in both genders: Whitney Young (Chicago, Ill.); Heights (Wichita, Kan.); and Campbell County (Gillette, Wyo.). If you were to put the Findlay Prep ( Las Vegas, Nev.) boys in a separate category, Bishop Gorman also would be No. 1 for both. (All teams below listed with record from 2009-2010 season.)
Girls' Hoops Preview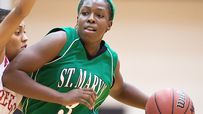 Girls' high school basketball is back and ESPN RISE is getting you ready for the season with a week's worth of previews, including the release of the Preseason ESPN RISE FAB 50 rankings.
Nov. 10
• FAB 50 Nos. 26 -- 50
• Five Burning Questions
Nov. 11
• FAB 50 Nos. 11 -- 25
• Best Teams By State
• Best Players By State
Nov. 12
• FAB 50 No. 1 -- 10
• Why St. Mary's Is The 1
ALABAMA
Hoover (Hoover) 30-6
ALASKA
Dimond (Anchorage) 19-7
ARIZONA
St. Mary's (Phoenix) 26-3
ARKANSAS
North Little Rock 23-4
CALIFORNIA
St. Mary's (Stockton) 31-3
COLORADO
ThunderRidge (Highlands Ranch) 22-4
CONNECTICUT
Hillhouse (New Haven) 25-2
DELAWARE
Sanford 17-7
DISTRICT OF COLUMBIA
H.D. Woodson 22-6
FLORIDA
Dillard (Fort Lauderdale) 27-2
GEORGIA
Redan (Stone Mountain) 27-0
HAWAII
Konawaena (Kealakekua) 28-2
IDAHO
Coeur d'Alene (Coeur d'Alene) 25-0
ILLINOIS
Whitney Young (Chicago) 30-2
INDIANA
Ben Davis (Indianapolis) 30-0
IOWA
Kennedy (Cedar Rapids) 16-7
KANSAS
Heights (Wichita) 22-3
KENTUCKY
DuPont Manual (Louisville) 23-7
LOUISIANA
St. Michael (Baton Rouge) 38-1
MAINE
Deering (Portland) 22-0
MARYLAND
Riverdale Baptist (Upper Marlboro) 25-3
MASSACHUSETTS
Central Cathollc (Lawrence) 23-3
MICHIGAN
Catholic Central (Grand Rapids) 27-1
MINNESOTA
Lakeville North (Lakeville) 20-8
MISSISSIPPI
Byers (Holly Springs) 35-5
MISSOURI
Incarnate Word (St. Louis) 26-3
MONTANA
Big Sky (Missoula) 22-1
NEBRASKA
Bellevue West (Bellevue) 25-2
NEVADA
Bishop Gorman (Las Vegas) 29-5
NEW HAMPSHIRE
Winnacunnet (Hampton) 25-0
NEW JERSEY
Shabazz (Newark) 30-2
NEW MEXICO
Eldorado (Albuquerque) 25-4
NEW YORK
St. Michael (New York) 25-3
NORTH CAROLINA
Butler (Matthews) 30-2
NORTH DAKOTA
Fargo South (Fargo) 24-1
OHIO
Regina (South Euclid) 27-0
OKLAHOMA
Midwest City 26-1
OREGON
South Eugene (Eugene) 27-1
PENNSYLVANIA
Germantown Academy (Fort Washington) 31-0
RHODE ISLAND
South Kingstown (Wakefield) 20-5
SOUTH CAROLINA
Spring Valley (Columbia) 27-1
SOUTH DAKOTA
Washington (Sioux Falls) 22-3
TENNESSEE
Hillsboro (Nashville) 36-1
TEXAS
MacArthur (Irving) 35-4
UTAH
American Fork 22-2
VERMONT
Spaulding (Barre) 21-3
VIRGINIA
Princess Anne (Virginia Beach) 31-1
WASHINGTON
Auburn Riverside (Auburn) 23-7
WEST VIRGINIA
North Marion (Farmington) 26-1
WISCONSIN
Vincent (Milwaukee) 25-1
WYOMING
Campbell County (Gillette) 27-2
GIRLS' BASKETBALL RANKINGS

Rank
School (City, State)
Rec
1
Saint Marys
Phoenix, AZ
30-0
2
McEachern
Powder Springs, GA
33-0
3
Whitney Young
Chicago, IL
34-0
4
Bolingbrook
Bolingbrook, IL
26-2
5
Riverdale
Murfreesboro, TN
34-3
See the full girls' basketball rankings »