Commentary
Cardinal benefits from Ogwumikes
Updated:
November 12, 2009, 8:03 PM ET
By
Glenn Nelson
| HoopGurlz
Telling the two Ogwumike sisters apart on the Stanford campus won't be as difficult as people might imagine.
[+] Enlarge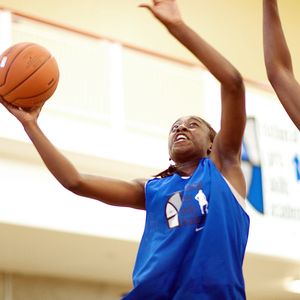 Glenn Nelson for ESPN.com Chiney Ogwumike will boost Stanford's front line.
The one jumping from behind the palm tree, thrusting out her hand and asking, "What's up?!" That would be Chiney, the playful, outgoing younger one, and the No. 1 player in the 2010 class who just signed to play for the Cardinal next season.
By the time Ogwumike, 6 feet 3, from Cypress, Texas, joins her older sister, Nneka will be among those in charge of Stanford's post-Jayne Appel era. She's the more reserved -- regal, almost -- of the two. They will have one more year with 6-4 Kayla Pedersen and two more with 6-3 Joslyn Tinkle (who then will have a third with Chiney) in a continuation of coach Tara VanDerveer's recent tradition of gigantic front lines.
The twist will be the athleticism of the Ogwumike sisters, fire (Chiney) and ice (Nneka), making it easier to field larger players like Pedersen or Tinkle at the "three" on offense. The Ogwumikes, plus guard Sara James, another ranked member of Stanford's 2010 signing class, give the Cardinal a level of athleticism they sorely lacked in losing to Connecticut in the NCAA semifinal last year. It will make a difference -- offensively in defeating pressure, and defensively, in extending in the halfcourt and reacting in transition. Those were the aspects that betrayed them when they fell behind to other elite teams like UConn.
Ogwumike's addition elevates Stanford's recruiting class to among the nation's top five. James is ranked No. 18 in the 2010 class by ESPN HoopGurlz. Toni Kokenis, the third member of VanDerveer's recruiting class, is ranked No. 60.
The Ogwumike sisters both are pogosticks, quick off the floor and dangerous around the offensive glass, with great balance and hands. Nneka has probably been more advanced from the perimeter, and Chiney has more of a reckless, in-your-face and all-over-the-place approach. They will both feed off each other.
The last time the two sisters were paired on a basketball court, they led Cy-Fair High School to a championship in the obstacle-strewn, talent-laden state of Texas. It would not be too much to expect an encore.
Follow us on Twitter, where you can ask questions and get instant updates.
Become a fan of the site on Facebook and get updates in your news stream.
Discuss this on our Message Board
Glenn Nelson is a senior writer at ESPN.com and the founder of HoopGurlz.com. A member of the Parade All-American Selection Committee, he formerly coached girl's club basketball, was the editor-in-chief of an online sports network, authored a basketball book for kids, and was a longtime, national-award-winning newspaper columnist and writer. He can be reached at glenn@hoopgurlz.com.
ESPNHS HoopGurlz
Founder of HoopGurlz
Coached girls' club, high school and middle school basketball
Co-founder, former editor-in-chief of Scout.com and former NBA columnist/sportswriter
SPONSORED HEADLINES
ESPN TOP HEADLINES
MOST SENT STORIES ON ESPN.COM
GIRLS' BASKETBALL RANKINGS

Rank
School (City, State)
Rec
1
Saint Marys
Phoenix, AZ
30-0
2
McEachern
Powder Springs, GA
33-0
3
Whitney Young
Chicago, IL
34-0
4
Bolingbrook
Bolingbrook, IL
26-2
5
Riverdale
Murfreesboro, TN
34-3
See the full girls' basketball rankings »