Commentary
Blue Devils take lead in 2011 recruiting
Updated:
March 22, 2010, 12:48 PM ET
By
Chris Hansen
| HoopGurlz
The recent commitment of junior guard Whitney Knight, a 6-foot-1 combo guard from Winston-Salem, N.C., was further evidence that the Duke Blue Devils, who reeled in the No. 1 overall recruiting class in 2010, will continue on this path.
[+] Enlarge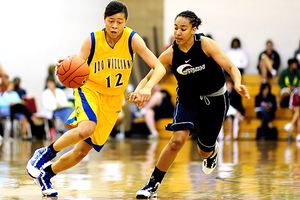 Glenn Nelson/ESPN.comWhitney Knight is the third player in the 2011 class to pledge to Duke.
Knight is the third player in the 2011 class to pledge to Duke head coach Joanne P. McCallie. The commitment also makes the Blue Devils the first program to bring in three commitments from the ESPN HoopGurlz Super 60. Duke also joins Texas A&M in the mythical recruiting race as the only two programs to secure two players from the top 20 in the 2011 class.
Duke has just 12 players on its roster this season and graduates three, Joy Cheek, Keturah Jackson and Bridgette Mitchell. The Blue Devils' 2010 signing class will take the team to 14, just one shy of the 15-scholarship player limit.
Jumping forward to the following season, in 2011 Duke graduates three more players, Karima Christmas, Jasmine Thomas, and Krystal Thomas. McCallie and her staff then have one more scholarship to use either on a late 2010-signee or in the 2011 class if they choose to go to the roster limit. Chances of a late 2010 addition are almost nil as the program anxiously waits on the top post player in the 2011 class, Elizabeth Williams.
Williams, a 6-3 prospect with springs for legs, has the physical tools to play a transition game, the skill to score from the blocks and is a difference-maker on both the glass and defensively with her shot-blocking ability. She has been tight-lipped about her recruitment but sources in the region say it's a three-horse race with Duke, North Carolina and Virginia as the likely suitors.
As impressive as the recruiting has been for Duke, Williams is the missing piece to the puzzle. After Krystal Thomas graduates, the team will have just one post on the roster, current freshman Allison Vernerey from Alsace, France. The team will not be without size as current sophomore Kathleen Sheer is 6-2 and Vernerey is 6-5.
[+] Enlarge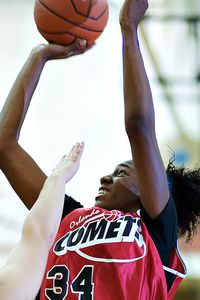 Glenn NelsonThe Blue Devils landed a top recruit with Amber Henson's recent verbal commitment.
The recruiting classes add some length as well, with Peters at 6-2 and Henson at 6-3, but neither are true posts. In fact, both are incredibly versatile and have interior and perimeter skills offensively.
In December we analyzed two-year recruiting classes for the 2009 and 2010 classes. The top two programs were Stanford and Baylor. Both signed five players over the two classes in the top 100 and the Cardinal edged out the Bears by signing four top 20 prospects, compared to three.
Those two programs were the only teams in the country to sign more than two top-20 players. This should give considerable context to the Duke two-year haul, even if Williams or another prospect do not join the existing commitments. The Cameron Crazies will have five players in the top 20 to cheer on and eight players are ranked among the top 100 in their respective class. Only Cal and Maryland signed as many in the 09-10 classes but again those schools didn't strike as hot in the top 20.
The program will have a plethora of ball handlers with two point guards signed in 2010 -- Chelsea Gray of Manteca, Calif., and Chloe Wells -- as well as verbal commitments from two combo-guards in the 2011 class -- Whitney Knight of Winston-Salem, N.C., and Ka'lia Johnson, of Chester, Va.
Duke has also added versatile swing players capable of playing on the wing or at the forward position with 2010 signees Richa Jackson of Oklahoma City, Okla., Tricia Liston of Oak Park, Ill., and Haley Peters of Shrewsbury, N.J., along with the verbal commitment of Amber Henson of Tampa, Fla.
The 2011 post class is not incredibly deep but does have some potential impact players and Williams is at the top of the list. Several of these top posts have already committed -- No. 7 overall Justine Hartman of Brea, Calif., committed to Boston College, and No. 13 Rachel Mitchell of Houston, Texas, to Texas A&M. Kiah Stokes, the No. 10 ranked player in the class according to ESPN HoopGurlz is the next highest rated post after Williams. There hasn't been much talk of Stokes being involved with Duke in recruiting but the player for Duke fans to keep an eye on is Reshanda Gray. The Los Angeles native is ranked as the No. 38 prospect in the country but is also among the most improved players from sophomore to junior year. She has a long list currently but sources have told ESPN HoopGurlz there is mutual interest despite being cross-country.
Based on the dominance of the Connecticut Huskies this year the game is ready for another team loaded with elite talent.
DUKE 2010 SIGNEES
These are the 2010 signees for Duke.
| Position | Name | Position/Overall Rank | Hometown | Height |
| --- | --- | --- | --- | --- |
| PG | Chelsea Gray | No. 2/4 | Manteca, Calif. | 5-11 |
| W | Richa Jackson | No. 3/6 | Oklahoma City, Okla. | 6-1 |
| F | Haley Peters | No. 4/19 | Shrewsbury, N.J. | 6-3 |
| W | Tricia Liston | No. 7/33 | Oak Park, Ill. | 6-0 |
| PG | Chloe Wells | No. 19/62 | Cary, N.C. | 5-7 |
DUKE 2011 VERBAL COMMITMENTS
These are the players who have made a verbal commitment to Duke for the Class of 2011.
| Position | Name | Position/Overall Rank | Hometown | Height |
| --- | --- | --- | --- | --- |
| F | Amber Henson | No. 1/4 | Tampa, Fla. | 6-3 |
| SG/PG | Whitney Knight | No. 4/19 | Winston-Salem, N.C. | 6-1 |
| PG/SG | Ka'lia Johnson | No. 10/55 | Chester, Va. | 5-9 |
Follow us on Twitter, where you can ask questions and get instant updates.
Become a fan of the site on Facebook and get updates in your news stream.
Discuss this on our Message Board.
Chris Hansen is the national director of prospects for ESPN HoopGurlz and covers girls' basketball and women's college basketball prospects nationally for ESPN.com. A graduate of the University of Washington with a communications degree, he has been involved in the women's basketball community since 1998 as a high school and club coach, trainer, evaluator and reporter. Hansen can be reached at chris.hansen@espn3.com.
ESPNHS HoopGurlz
National director of prospects for HoopGurlz
Coached girls' high school and club basketball
Girls and women's basketball trainer, evaluator and reporter since 1998
SPONSORED HEADLINES
ESPN TOP HEADLINES
MOST SENT STORIES ON ESPN.COM
GIRLS' BASKETBALL RANKINGS

Rank
School (City, State)
Rec
1
Saint Marys
Phoenix, AZ
30-0
2
McEachern
Powder Springs, GA
33-0
3
Whitney Young
Chicago, IL
34-0
4
Bolingbrook
Bolingbrook, IL
26-2
5
Riverdale
Murfreesboro, TN
34-3
See the full girls' basketball rankings »