Commentary
Crook-Williams takes game to new level
Updated:
June 10, 2010, 2:37 PM ET
By
Glenn Nelson
| HoopGurlz
A couple different, but related, explanations exist for the emergence of the new, leaner, quicker, stronger-leading and better-shooting Ariya Crook-Williams. The Long Beach, Calif., native will give you a simple version -- "eating less and running more" -- that was brought on by a more-complicated set of circumstances. Namely, that the nationally regarded point guard was cut last spring at the USA Basketball U16 trials.
[+] Enlarge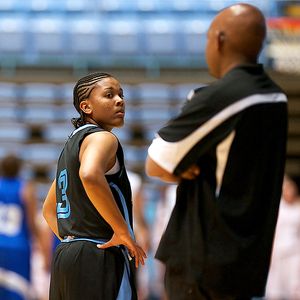 Glenn Nelson/ESPN.com Ariya Crook-Williams has been more focused, easier to coach and a better leader, according to her club coach, Elbert Kinnebrew, of the Cal Sparks.
Facing basketball rejection for the first time, Crook-Williams took the jolt and used it to spark a furious period of training and introspection.
"USA Basketball was for Ariya the first basketball test she did not excel in," said Elbert Kinnebrew, Crook-Williams' coach with the Cal Sparks club team. "When she came back, her focus was different. She had a renewed focus to get her body better and a focus to improve her game. "
Crook-Williams' junior season at Long Beach Poly hearkened back to her freshman year, when she was a swaggering, big-shot-making wunderkind. Her father's death and the after-effects of a concussion, which rendered her lethargic, essentially wiped out her sophomore year and subsequent club season. Crook-Williams still has a strong carriage that has made her a devastating finisher and passer off penetration, but her body is leaner and her feet subsequently quicker, showing mostly in a truer long-distance jump shot and at the defensive end.
The rising senior was elevated to No. 15 in the ESPN HoopGurlz ranking of the 2011 class, and Crook-Williams is the No. 3 point guard in a strong class at that position.
These are the kind of stories that were meant to evolve from the USA Basketball trials and development program. However, as ESPN HoopGurlz reported on Monday, several players already have been dropped from the fledgling youth pipeline. Crook-Williams, however, was a late addition and will join her club teammate, Reshanda Gray, at this week's U18 trials.
Crook-Williams had been expecting the slight, dismissing it as something of her own doing. Her response has been to re-take control of her basketball life. For the first time, she engaged in personal training. She has been a fixture, doing intervals at a park near La Cienega Boulevard, the major thoroughfare that links Long Beach with Los Angeles and, seemingly, Crook-Williams with her destiny.
"I feel lighter and [that] I can do more things on the court," Crook-Williams said. "I used to be a shooter and then I stopped. Now that's back, and it's made my game better."
Kinnebrew noticed a big difference in how long Crook-Williams can maintain her speed. "She can run alongside a ballhandler without bumping her," he said. "Last year those would have been fouls." During her debriefing last spring, USA Basketball officials told Crook-Williams she had potential, but that she tired too quickly.
[+] Enlarge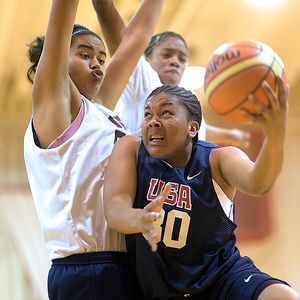 Glenn Nelson/ESPN.com Crook-Williams of Long Beach, Calif., finished strong at USA U16 trials last year after a slow start.
No one said anything about leadership, but that changed, too, the consequence of Crook-Williams' renewed commitment and self-confidence. Last fall, when the Sparks assembled its five young teams for workouts, it was the normally reserved Crook-Williams who stood in front of the underclass teams and exhorted them, "Let's go!" Kinnebrew was startled, but pleased.
"Ariya got a chance to play with the best," he said. "When you are on that level, you can't just be great in games. You have to be a practice player. If you want to be great, you always have to be working on your skills. It's nice to have someone around your program who has knows that. Club teams are collections of the best players off high-school teams and national teams are the best of the best. But even leaders need leaders, and that's something Ariya has learned."
Follow us on Twitter, where you can ask questions and get instant updates.
Become a fan of the site on Facebook and get updates in your news stream.
Discuss this on our Message Board
Glenn Nelson is a senior writer at ESPN.com and the founder of HoopGurlz.com. A member of the Parade All-American Selection Committee, he formerly coached girl's club basketball, was the editor-in-chief of an online sports network, authored a basketball book for kids, and was a longtime, national-award-winning newspaper columnist and writer. He can be reached at glenn@hoopgurlz.com.
ESPNHS HoopGurlz
Founder of HoopGurlz
Coached girls' club, high school and middle school basketball
Co-founder, former editor-in-chief of Scout.com and former NBA columnist/sportswriter
SPONSORED HEADLINES
ESPN TOP HEADLINES
MOST SENT STORIES ON ESPN.COM
USA BASKETBALL TRIALS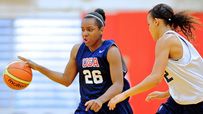 The nation's top players are competing for roster sports on USA Basketball's U17 and U18 teams. HoopGurlz Index

•
Tip sheets:
Three »
Two »
One »
•
U17 team characterized by speed
•
Selection process lacks clarity
•
U18 basketball roster announced
•
U17 basketball roster announced
•
U18 finalists announced
•
Podcast: U17 roster predictions
•
Podcast: U18 roster predictions
•
Bigs step up in second half of trials
•
Podcast: Recapping the trials
•
PG play highlights first half of trials
•
Snubs sparks Crook-Williams' resurgence
•
USA Basketball invites lead to confusion
•
Women's U18 team trials roster
•
Women's U17 team trials roster
GIRLS' BASKETBALL RANKINGS

Rank
School (City, State)
Rec
1
Saint Marys
Phoenix, AZ
30-0
2
McEachern
Powder Springs, GA
33-0
3
Whitney Young
Chicago, IL
34-0
4
Bolingbrook
Bolingbrook, IL
26-2
5
Riverdale
Murfreesboro, TN
34-3
See the full girls' basketball rankings »