Point guards shine during trials
Updated:
June 10, 2010, 2:35 PM ET
By
Chris Hansen, Mark Lewis
and
Kelvin Powell
| HoopGurlz
COLORADO SPRINGS, Colo. -- Wednesday's evening session brought the USA Basketball U17 and U18 National Team trials beyond the halfway point. Three sessions are in the books, and just two remain for players to prove their worth.
Strong play from the point guard position in both trials provided a theme for the early going, and three underclassmen are featured for their three stellar sessions.
[+] Enlarge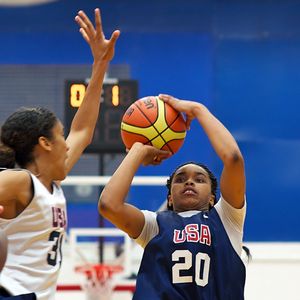 Glenn Nelson/ESPN.com Brittany Boyd of Berkeley, Calif., is one of several 2011 point guards making a mark during USA Basketball U18 trials in Colorado Springs, Colo.
Brittany Boyd -- U18: During each session of both the U17 and U18 trials, we often have heard the pleas of the floor coaches to "run the offense." These notions come as the coaches often see the play getting a bit out of control and offensive tactics being substituted for freelance one-on-one play. These cries are often directed at the teams, and in some cases, the point guard. One point guard who has not heard those remarks thus far has been California native Brittany Boyd. The 5-foot-7 Boyd has orchestrated one of the best displays of transition offense that you'll see in this type of environment. Her ability to transport the ball up the court at a rapid speed is second only to U17 trial participant and lightning bolt Moriah Jefferson. Boyd has been playing at the same speed during each session and does not seem to be slowing as we enter Thursday's final two sessions. Unlike many of the top-flight points in attendance, Boyd can get her team into a running game with her defensive play. Her anticipation defensively may be her strongest attribute as a basketball player. Whether it's reading the passing lanes or sliding her feet to stop dribble penetration, Boyd's crystal ball-like anticipation never lets her down -- and it's off to the races from there. Her decision-making ability is more than adequate, especially considering the offensive opportunities that she creates with her defense and her shooting will continue to improve with repetition. She gives new meaning to "Run The Offense." (Kelvin Powell)
Andraya Carter -- U17: Easily one of the most impressive players competing for a spot at point guard on the U17 team is the 5-foot-9 Carter, from the 2012 class. The native of Flowery Branch, Ga., and Buford High School already has made a verbal commitment to Tennessee and wasted no time showing the selection committee here why the folks in Knoxville are excited about her. While being forced to sit out the majority of Wednesday's second workout after taking a shot to the nose and swallowing some blood, her performance so far should have her in the thick of things when decision time comes. In the first two sessions, Carter demonstrated a constant and consistent command of the floor, both in the halfcourt and transition. Her speed and athleticism puts her in a position to keep defenses on their heels while her ballhandling and passing exploits risk takers and rotations. Further keeping opposing matchups honest has been her ability to knock down perimeter looks from mid- and long-range. Wednesday morning's session saw her connect time and again with her jumper while still attacking off the dribble and creating both shots and passes. At the other end of the floor, she's been aggressive on the ball and anticipating with success on the weakside. Carter herself says she would like to "see myself attacking more while reading defenses and shooting the pull up more effectively." (Mark Lewis)
Ariel Massengale -- U17: Experience counts for a lot in sports, and a player with the smarts and talent of Massengale is going to use that advantage in every way possible. Cool as the other side of the pillow describes her play through the first two days. She is in complete control on the floor, whether pushing the break, running the half-court offense, or getting her teammates in sync defensively. Her vision and decision-making have stood out. She is constantly scanning the floor, her brain calculating precisely when to attack, and then she casually makes the play. She has been masterful running the break. She isn't the fastest of the point guards. She isn't slow, either; she advances the ball with plenty of speed, but the pinpoint accuracy on her passes makes her the most dependable lead guard in the gym. Where others have been baited into throwing long, reactionary outlet passes down the middle of the floor to make a "home run" play, Massengale takes a dribble, two, three, whatever it takes, to create the optimal angle to execute. And while she constantly scans the floor for options, she rarely locks on to a teammate and gives the defense a chance to jump what she's got up her sleeve. As if that wasn't enough, she has also shot the ball consistently from behind the arc, making defenders too winded to close out or those who go under a ball screen, pay for their miscues. At this point it would be surprising if she didn't make the team again. (Chris Hansen)
Quick Hitters
Day Two saw three players miss one session apiece with various injuries. Imani Stafford, the 6-5 post from Los Angeles, suffered severe dehydration and sat out Wednesday morning's session. She returned for the evening session without issue and should finish the trials tomorrow. … Andraya Carter the 5-7 point guard from Burford, Ga., had a nosebleed which kept her out of the evening session. The nosebleed itself wasn't the culprit, but the ensuing nausea from some of the blood reaching her stomach was. She also is expected to return Thursday to finish the trials. … Xylina McDaniel, the 6-2 forward from Columbia, S.C., suffered a blow to the head during the morning session. Though not diagnosed as a serious injury, the bump and minor headache were enough for the USA Basketball trainers to sit her out. She also is expected to return Thursday.
USA Trial Pic of the Day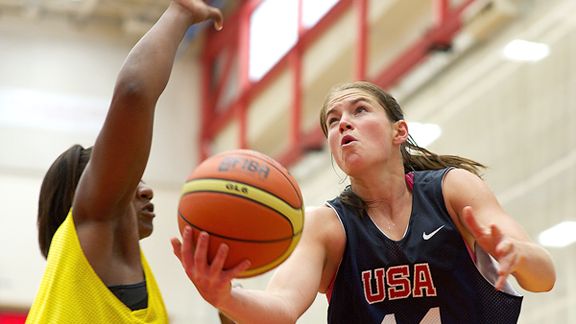 Glenn Nelson/ESPN.com Sara James of El Dorado Hills, Calif., has made an impact at USA Basketball U18 trials with her effort and acrobatic forays to the basket.
Follow us on Twitter, where you can ask questions and get instant updates.
Become a fan of the site on Facebook and get updates in your news stream.
Discuss this on our Message Board
Chris Hansen is the national director of prospects for ESPN HoopGurlz and covers girls' basketball and women's college basketball prospects nationally for ESPN.com. A graduate of the University of Washington with a communications degree, he has been involved in the women's basketball community since 1998 as a high school and club coach, trainer, evaluator and reporter. Hansen can be reached at chris.hansen@espn.com.
Mark Lewis is the national recruiting coordinator for ESPN HoopGurlz. Twice ranked as one of the top 25 assistant coaches in the game by the Women's Basketball Coaches Association, he has more than 20 years of college coaching experience at Memphis State, Cincinnati, Arizona State, Western Kentucky and, most recently, Washington State. He can be reached at mark@hoopgurlz.com.
Kelvin Powell is a national evaluator for ESPN HoopGurlz. A former coach and club-program director, he operates Roundball Journal, a leading prep scouting service, and is a contributing editor at SLAM Magazine, as well as a member of the McDonald's All-American and the Gatorade National and State Player of the Year Selection Committees. He can be reached at kelvin@hoopgurlz.com.
USA BASKETBALL TRIALS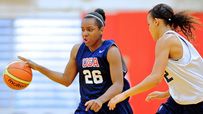 The nation's top players are competing for roster sports on USA Basketball's U17 and U18 teams. HoopGurlz Index

•
Tip sheets:
Three »
Two »
One »
•
U17 team characterized by speed
•
Selection process lacks clarity
•
U18 basketball roster announced
•
U17 basketball roster announced
•
U18 finalists announced
•
Podcast: U17 roster predictions
•
Podcast: U18 roster predictions
•
Bigs step up in second half of trials
•
Podcast: Recapping the trials
•
PG play highlights first half of trials
•
Snubs sparks Crook-Williams' resurgence
•
USA Basketball invites lead to confusion
•
Women's U18 team trials roster
•
Women's U17 team trials roster
GIRLS' BASKETBALL RANKINGS

Rank
School (City, State)
Rec
1
Saint Marys
Phoenix, AZ
30-0
2
McEachern
Powder Springs, GA
33-0
3
Whitney Young
Chicago, IL
34-0
4
Bolingbrook
Bolingbrook, IL
26-2
5
Riverdale
Murfreesboro, TN
34-3
See the full girls' basketball rankings »