Week 3 regional rankings
Updated:
January 6, 2011, 3:58 PM ET
ESPN HoopGurlz
ESPN HoopGurlz has ranked the top high school girls' basketball teams by region.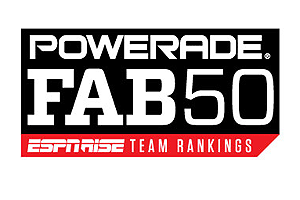 For more on the process,
click here
. For a look at the Powerade Fab 50,
click here
.
Records are through Dec. 14, 2010 games. Previous week's ranking is noted in parenthesis.
Previous Regional Rankings: Preseason | 1 | 2 |
East
1. Neptune (Neptune, N.J.) 0-0 (2)
2. Mt. Lebanon (Pittsburgh, Pa.) 0-0 (3)
3. Lake Taylor (Norfolk, Va.) 4-0 (5)
4. Nazareth (Brooklyn, N.Y.) 5-1 (4)
5. Christ the King (Middle Village, N.Y.) 2-1 (6)
6. St. John's (D.C.) 6-0 (9)
7. Riverdale Baptist (Upper Marlboro, Md.) 8-2 (1)
8. Germantown Academy (Fort Washington, Pa.) 0-0 (7)
9. Princess Anne (Virginia Beach, Va.) 3-0 (8)
10. William Penn Charter School (Philadelphia, Pa.) 3-0 (10)
11. Oak Hill (Mouth of Wilson, Va.) 4-0 (11)
12. St. John the Baptist (West Islip, N.Y.) 3-0 (12)
13. St. John-Vianney (Holmdel, N.J.) (13)
14. Trenton Catholic (Hamilton, N.J.) 1-0 (14)
15. Sanford (Hockessin, Del.) 2-0 (15)
16. Archbishop Carrol (Radnor, Pa.) 0-1 (16)
17. North Marion (Farmington, W. Va.) 1-0 (17)
18. Smyrna (Smyrna, Del.) 3-0 (18)
19. Holy Cross (Kensington, MD.) 5-2 (19)
20. Archbishop Spalding (Severn, Md.) 7-1 (NR)
Additions: Archbishop Spalding (Severn, Md.) 7-1 Subtractions: H.D. Woodson (D.C.) 2-2
Southeast
1. Buford (Buford, Ga.) 4-0 (6)
2. Memphis Central (Memphis, Tenn.) 9-2 (1) Lost to Brea Olinda (Calif.)
3. Potter's House Christian (Jacksonville, Fla.) 10-1 (2)
4. Norcross (Norcross, Ga.) 6-0 (7)
5. Goose Creek (Goose Creek, S.C.) 5-0 (3)
6. Spring Valley (Columbia, S.C.) 7-0 (10)
7. Clarksville (Clarksville, Tenn.) 8-2 (8)
8. Sparkman (Harvest, Ala.) 10-0 (11)
9. Butler (Matthews, N.C.) 6-0 (12)
10. Lake Mary (Lake Mary, Fla.) 10-1 (5)
11. Hoover (Hoover, Ala.) 7-2 (4)
12. Fayette County (Fayetteville, Ga.) 5-1 (9)
13. Redan (Stone Mountain, Ga.) 3-0 (13)
14. Ehret (Marrero, La.) 10-0 (20)
15. Helen Cox (Harvey, La.) 11-3 (14)
16. New Albany (New Albany, Miss) 10-0 (NR)
17. Riverdale (Murfreesboro, Tenn.) 9-0 (16)
18. Mount Juliet (Mount Juliet, Tenn.) 8-0 (17)
19. Dillard (Fort Lauderdale, Fla.) 6-1 (18)
20. Overton (Memphis, TN) 5-1 (19)

Midwest
1. Bolingbrook (Bolingbrook, Ill.) 3-0 (1)
2. Whitney Young (Chicago, Ill.) 6-1 (2) 3. Ben Davis (Indianapolis, Ind.) 9-0 (3)
4. Start (Toledo, Ohio) 4-0 (4)
5. Detroit Renaissance (Detroit, Mich.) 2-1 (4)
6. Marion County (Lebanon, Ky.) 4-0 (7)
7. Linn-Mar (Marion, Iowa) 7-0 (8)
8. Lakeville North (Lakeville, Minn.) 2-2 (6)
9. Racine Case (Racine, Wis.) 2-1 (9)
10. Montini Catholic (Lombard, Ill.) 8-0 (10)
11. McKinley (Canton, Ohio) 2-0 (11)
12. Martin Luther King (Detroit, Mich.) 0-0 (12)
13. DuPont Manual (Louisville, Ky.) 3-0 (14)
14. Inkster (Inkster, Mich.) 1-0 (15)
15. Nicolet (Glendale, Wis.) 4-0 (16)
16. Scott County (Georgetown, Ky.) 4-2 (13)
17. Eden Prairie (Eden Prairie, Minn.) 5-1 (17)
18. Twinsburg (Twinsburg, Ohio) 3-0 (18)
19. Lake Ridge Academy (North Ridgeville, Ohio) 4-1 (19)
20. Fort Wayne Canterbury (Fort Wayne, Ind.) 8-2 (20)
Southwest
1. Westbury Christian (Houston, Texas) 15-0 (1)
2. North Little Rock (Little Rock, Ark.) 8-0 (3)
3. Incarnate Word Academy (St. Louis, Mo.) 4-1 (2) Lost to Konawaena
4. MacArthur (Irving, Texas) 14-2 (4)
5. St. Joseph's Academy (St. Louis, Mo.) 4-0 (5)
6. Midwest City (Midwest City, Okla.) 2-0 (6)
7. Georgetown (Georgetown, Texas) 14-1 (7)
8. Cy Fair (Cypress, Texas) 14-1 (16)
9. Pflugerville (Pflugerville, Texas) 10-2 (9)
10. Heights (Wichita, Kan.) 3-0 (12)
11. Fayetteville (Fayetteville, Ark.) 8-0 (11)
12. DeSoto (De Soto, Texas) 12-2 (13)
13. Seward (Seward, Nebr.) 4-0 (14)
14. Santa Fe (Edmond, Okla.) 6-0 (15)
15. Olathe South (Olathe, Kan.) 5-0 (17)
16. Fort Bend Hightower (Missouri City, Texas) 14-3 (8)
17. Blue Springs (Blue Springs, Mo.) 4-1 (12)
18. Skyline (Dallas, Texas) 9-3 (18)
19. Webb City (Webb City, Mo.) 6-0 (19)
20. Cy Falls (Houston, Texas) 10-1 (20)
West
1. Mater Dei (Santa Ana, Calif.) 6-0 (1)
2. Brea Olinda (Brea, Calif.) 7-0 (2)
3. St. Mary's (Phoenix, Ariz.) 4-0 (3)
4. Long Beach Poly (Long Beach, Calif.) 3-1 (5)
5. Monarch (Louisville, Colo.) 1-0 (4)
6. La Jolla Country Day (La Jolla, Calif.) 5-0 (7)
7. Bishop O'Dowd (Oakland, Calif.) 1-1 (6)
8. St. Mary's (Stockton, Calif.) 2-0 (9)
9. Carondelet (Concord, Calif.) 0-0 (10)
10. Windward (Los Angeles, Calif.) 4-1 (11)
11. Berkeley (Berkeley, Calif.) 3-0 (12)
12. Federal Way (Federal Way, Wash.) 2-0 (13)
13. Highlands Ranch (Highlands, Colo.) 4-1 (14)
14. Jefferson (Portland, Ore.) 1-1 (8)
15. Centennial (Las Vegas, Nev.) 2-0 (18)
16. Syracuse (Syracuse, Utah) 5-0 (15)
17. Highland (Pocatello, Idaho) 7-0 (17)
18. Bishop Gorman (Las Vegas, Nev.) 5-1 (19)
19. Santa Monica (Calif.) 9-0 (20)
20. Tolleson Union (Tolleson, Ariz.) 10-2 (16)

SPONSORED HEADLINES
ESPN TOP HEADLINES
MOST SENT STORIES ON ESPN.COM
GIRLS' BASKETBALL RANKINGS

Rank
School (City, State)
Rec
1
Saint Marys
Phoenix, AZ
30-0
2
McEachern
Powder Springs, GA
33-0
3
Whitney Young
Chicago, IL
34-0
4
Bolingbrook
Bolingbrook, IL
26-2
5
Riverdale
Murfreesboro, TN
34-3
See the full girls' basketball rankings »