Week 5 regional rankings
Updated:
January 7, 2011, 4:27 PM ET
ESPN HoopGurlz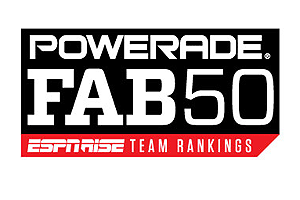 ESPN HoopGurlz has ranked the top high school girls' basketball teams by region. For more on the process,
click here
. For a look at the Powerade Fab 50,
click here
.
Records are through Jan, 4, 2011 games, where reported. Previous week's ranking is noted in parenthesis.
Previous Regional Rankings: Preseason | 1 | 2 | 3 | 4 |
East
1. Neptune (Neptune, N.J.) 3-0 (1)
2. Lake Taylor (Norfolk, Va.) 10-0 (3)
3. St. John's (D.C.) 12-0 (4)
4. Riverdale Baptist (Upper Marlboro, Md.) 14-4 (2)
5. Nazareth Regional (Brooklyn, N.Y.) 8-2 (5)
6. Princess Anne (Virginia Beach, Va.) 7-1 (7)
7. Christ the King (Middle Village, N.Y.) 6-3 (8)
8. Germantown Academy (Fort Washington, Pa.) 9-2 (6)
9. William Penn Charter School (Philadelphia, Pa.) 10-1 (9)
10. Mt. Lebanon (Pittsburgh, Pa.) 3-4 (10)
11. Oak Hill (Mouth of Wilson, Va.) 7-2 (11)
12. Shabazz (Newark, N.J.) 7-0 (NR)
13. Good Counsel (Olney, Md.) 12-0 (NR)
14. St. John-Vianney (Holmdel, N.J.) 2-0 (12)
15. St. John the Baptist (West Islip, N.Y.) 6-1 (13)
16. Holy Cross (Kensington, MD.) 10-2 (18)
17. North Marion (Farmington, W. Va.) 4-0 (16)
18. Smyrna (Smyrna, Del.) 8-0 (17)
19. Trenton Catholic (Hamilton, N.J.) 5-1 (14)
20. Archbishop Spalding (Severn, Md.) 12-2 (19)
Southeast
1. Potter's House Christian (Jacksonville, Fla.) 17-1 (2)
2. Riverdale (Murfreesboro, Tenn.) 15-0 (13)
3. Buford (Buford, Ga.) 7-1 (1)
4. Norcross (Norcross, Ga.) 10-1 (3)
5. Madison Academy (Madison, Ala.) 16-2 (15)
6. Spring Valley (Columbia, S.C.) 13-0 (4)
7. Memphis Central (Memphis, Tenn.) 8-5 (9)
8. Butler (Matthews, N.C.) 12-0 (10)
9. Hoover (Hoover, Ala.) 15-2 (12)
10. Sparkman (Harvest, Ala.) 15-1 (8)
11. Goose Creek (Goose Creek, S.C.) 11-2 (5)
12. Clarksville (Clarksville, Tenn.) 14-3 (7)
13. Hollywood Christian (Hollywood, Fla.) 16-1 (NR)
14. Overton (Memphis, Tenn.) 10-3 (6)
15. Lake Mary (Lake Mary, Fla.) 15-2 (11)
16. Mount Juliet (Mount Juliet, Tenn.) 12-2 (20)
17. Redan (Stone Mountain, Ga.) 6-0 (17)
18. Fayette County (Fayetteville, Ga.) 8-3 (14)
19. Helen Cox (Harvey, La.) 17-3 (18)
20. New Albany (New Albany, Miss.) 12-2 (19)

Midwest
1. Bolingbrook (Bolingbrook, Ill.) 10-2 (1)
2. Ben Davis (Indianapolis, Ind.) 13-0 (3)
3. Start (Toledo, Ohio) 5-0 (4)
4. Whitney Young (Chicago, Ill.) 9-2 (2)
5. Inkster (Inkster, Mich.) 5-0 (13)
6. Linn-Mar (Marion, Iowa) 10-0 (6)
7. Twinsburg (Twinsburg, Ohio) 9-0 (18)
8. Montini Catholic (Lombard, Ill.) 17-0 (10)
9. Detroit Renaissance (Detroit, Mich.) 3-3 (5)
10. Lakeville North (Lakeville, Minn.) 6-2 (8)
11. Racine Case (Racine, Wis.) 4-1 (9)
12. DuPont Manual (Louisville, Ky.) 9-3 (15)
13. McKinley (Canton, Ohio) 7-0 (11)
14. Marion County (Lebanon, Ky.) 8-3 (7)
15. Martin Luther King (Detroit, Mich.) 2-0 (12)
16. Nicolet (Glendale, Wis.) 8-1 (14)
17. Fort Wayne Canterbury (Fort Wayne, Ind.) 9-2 (20)
18. Eden Prairie (Eden Prairie, Minn.) 9-2 (17)
19. Scott County (Georgetown, Ky.) 6-4 (16)
20. Louisville Mercy (Louisville, Ky.) 10-2 (NR)

Southwest
1. Westbury Christian (Houston, Texas) 23-1 (1)
2. North Little Rock (Little Rock, Ark.) 10-0 (2)
3. Incarnate Word Academy (St. Louis, Mo.) 10-1 (3)
4. Cy Falls (Houston, Texas) 23-1 (4)
5. MacArthur (Irving, Texas) 17-2 (5)
6. St. Joseph's Academy (St. Louis, Mo.) 9-1 (6)
7. Heights (Wichita, Kan.) 6-0 (10)
8. Midwest City (Midwest City, Okla.) 10-0 (7)
9. Fayetteville (Fayetteville, Ark.) 10-0 (11)
10. Georgetown (Georgetown, Texas) 20-3 (8)
11. DeSoto (De Soto, Texas) 18-5 (12)
12. Seward (Seward, Neb.) 8-0 (13)
13. Pflugerville (Pflugerville, Texas) 18-4 (9)
14. Webb City (Webb City, Mo.) 9-2 (19)
15. Santa Fe (Edmond, Okla.) 7-0 (14)
16. Olathe South (Olathe, Kan.) 6-0 (15)
17. Fort Bend Hightower (Missouri City, Texas) 21-3 (16)
18. Blue Springs (Blue Springs, Mo.) 6-1 (17)
19. North Shore (Houston, Texas) 15-2 (20)
20. Skyline (Dallas, Texas) 15-4 (19)
West
1. Brea Olinda (Brea, Calif.) 11-0 (1)
2. Long Beach Poly (Long Beach, Calif.) 11-2 (2)
3. Mater Dei (Santa Ana, Calif.) 12-1 (3)
4. St. Mary's (Stockton, Calif.) 4-2 (4)
5. Monarch (Louisville, Colo.) 5-2 (5)
6. St. Mary's (Phoenix, Ariz.) 11-1 (6)
7. Troy (Fullerton, Calif.) 11-2 (7)
8. Highlands Ranch (Highlands, Colo.) 8-2 (8)
9. Cajon (San Bernardino, Calif.) 16-0 (NR)
10. Edison (Huntington Beach, Calif.) 12-1 (9)
11. Etiwanda (Etiwanda, Calif.) 7-1 (10)
12. Santa Monica (Calif.) 11-2 (16)
13. Carondelet (Concord, Calif.) 8-2 (9)
14. Berkeley (Berkeley, Calif.) 8-1 (14)
15. La Jolla Country Day (La Jolla, Calif.) 10-3 (11)
16. Centennial (Las Vegas, Nev.) 13-1 (17)
17. Windward (Los Angeles, Calif.) 6-3 (12)
18. Syracuse (Syracuse, Utah) 9-4 (18)
19. Highland (Pocatello, Idaho) 12-0 (19)
20. Federal Way (Federal Way, Wash.) 7-1 (15)

Follow us on Twitter, where you can ask questions and get instant updates.

Become a fan of the site on Facebook and get updates in your news stream.

Discuss this on our Message Board
SPONSORED HEADLINES
ESPN TOP HEADLINES
MOST SENT STORIES ON ESPN.COM
GIRLS' BASKETBALL RANKINGS

Rank
School (City, State)
Rec
1
Saint Marys
Phoenix, AZ
30-0
2
McEachern
Powder Springs, GA
33-0
3
Whitney Young
Chicago, IL
34-0
4
Bolingbrook
Bolingbrook, IL
26-2
5
Riverdale
Murfreesboro, TN
34-3
See the full girls' basketball rankings »