Commentary
Fantasy high-school all-star game
With the announcement of the 2011 McDonald's All American selections Thursday evening on ESPNU (5 p.m. ET), ESPN HoopGurlz writers and scouts Chris Hansen and Mark Lewis decided to put their own spin on senior All-Star teams and sized up how the two teams would compare on the court if they actually played.
The McDonald's selectees are split into two teams, East and West, to play the game, but nearly every year the implied regional boundaries are breached. The reasoning applied is that balancing out the teams with enough players at each position is more important than the regional titles of the teams.
In 2009 Stephanie Holzer of Philadelphia, Pa., and China Crosby of Manhattan, N.Y., played for the West team, while Sugarland, Texas, native Kelsey Bone played for the East team. The 2008 game saw LaSondra Barrett of Jackson, Miss., Ayana Dunning of Columbus, Ohio, and Tiffany Hayes of Lakeland, Fla., all play for the West team.
The McDonald's voting process doesn't split nominees into regions so it makes some sense that the game doesn't either. But as long as the teams are called East and West (as opposed to Red and Yellow or McFlurry and McNugget) it will continue to prompt questions.
With that in mind, Hansen and Lewis have chosen 10-player senior All-Star teams with the regional boundary being, for the most part, the Mississippi River with the exceptions of Wisconsin and Minnesota being considered west. The game will never be played, but that won't stop analyzing what could be if a truly regional All-Star game was to take place.
Lewis' Eastern All-Stars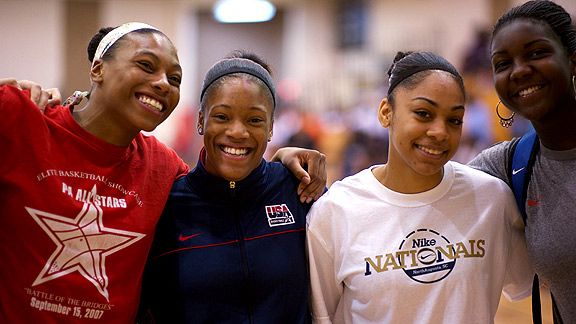 Glenn Nelson/ESPN.comBetnijah Laney, Briyona Canty, Bria Smith and Elizabeth Williams bolster the East team.
In this geographical grudge match we're going to embrace a playing style that represents the East Coast lifestyle -- fast paced.
With the nation's premier point guard in Ariel Massengale, the potential to break at every opportunity is a reality; off makes, misses and turnovers. If defenders look to take away the outlet to her the depth of skilled ball handlers in the backcourt, assure that the ball is still going to be crossing the halfcourt line in a matter of seconds.
LEWIS EAST ALL-STARS

Ahead of the McDonald's team selections, ESPN HoopGurlz scouts pick fantasy senior all-star teams based on region and speculate how the anecdotal game might go down.
| NAME | STATE | POS | HT |
| --- | --- | --- | --- |
| Brianna Banks | GA | PG/G | 5-9 |
| Cierra Burdick | NC | F | 6-2 |
| Briyona Canty | NJ | PG/G | 5-9 |
| Bria Goss | KY | G/W | 5-10 |
| Temi Fagbenle | NJ | F/P | 6-4 |
| Sarah Hammond | KY | F | 6-2 |
| Betnijah Laney | DE | W/F | 6-0 |
| Ariel Massengale | IL | PG | 5-6 |
| Bria Smith | NY | G | 5-8 |
| Elizabeth Williams | VA | P | 6-3 |
That same depth makes any press attack just that, an attack. We're not looking just to break the press; we're looking to score. The shot clock operator will need a book or iPod for this game because they're going to be bored. This group should be able to find and convert good looks in 12 seconds or less and has the athleticism to get on the offensive boards if the lid is on.
One-on-one there aren't many more talented performers than Bria Smith and Briyona Canty. Should we get into a halfcourt, set the individual skills are there to execute and create shots off the dribble or the cut as well as isolate Elizabeth Williams and company inside.
That interior game not only has size, but the agility and speed as well to start and finish the break. In the halfcourt that same mobility makes them a threat from the block, the high post or even in the perimeter in a four-out set.
On the defensive end, the athleticism, size and agility of the entire roster offers up the opportunity to maintain the offensive approach and continue to attack. Virtually any press is not only an option but has the potential to be a strength. The idea of Cierra Burdick or Temi Fagbenle on the top of a diamond press and closing traps would have most opposing ball handlers looking to unload the ball as quickly as possible.
The overall average height of this squad (6-0) combined with the quickness and speed of the perimeter players makes halfcourt pressure, in both man and zone, a given. In an effort to force turnovers and create offense from defense, this is a group meant to run-and-jump or to double off any ball screens.
Brianna Banks is one of the most active and aggressive individual defenders in the 2011 senior class and would relish the challenge of shutting down any opponent's leading scorer. When you have one of the most intimidating defenders in the class in Elizabeth Williams anchoring the backside of your defense you can take chances.
The strength and solid build of those playing the 3, 4 and 5 positions, should limit opposing second opportunities and trigger the transition game going the other way. The makeup and depth of this roster is exceptional in many ways. There's an inherent chemistry with five members of last summer's USA Basketball U17 FIBA gold medal squad, as well as Canty, who played in the 3-on-3 Youth Olympic Games for the USA.
If you're looking for flexibility in your lineups you've got three of the most versatile players in the senior class. Bria Goss has the size, skills and athleticism to play any spot on the perimeter effectively and at the highest level. Inside Sarah Hammond can work you over down low with a variety of post moves and smart reads but is equally efficient on the move anywhere in the paint or from the elbows. Betnijah Laney is that swing player who's made an impressive move to the perimeter but can still be a powerful force on the interior that causes opposing coaches gray hair.
What this group might be missing is a true shooter. There's an abundance of scoring depth, including several individuals who can put points up off the drive as well as from the perimeter, but no spot-up zone buster. Nonetheless, I like the potential of this group at both ends of the floor and think that each player is talented, multidimensional and able to contribute to a win over the West squad.
-- Mark Lewis
Hansen's Western All-Stars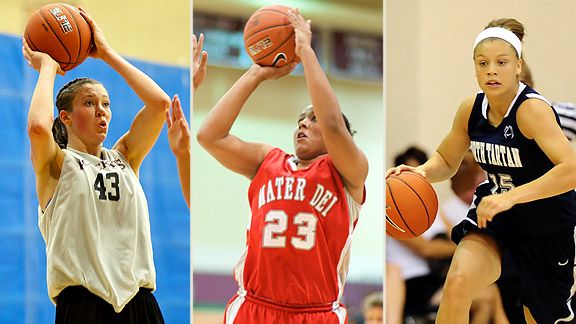 Glenn Nelson/ESPN.comWest team selections Eliza Normen, Kaleena Mosqueda-Lewis and Rachel Banham.
Two things stand out about the Western squad, strength on the interior and perimeter scoring.
Four players in this backcourt have logged considerable minutes and proven themselves as elite point guards. Two of these guards, Samantha Logic and Eliza Normen, have the size to play any perimeter position. And Arriya Crook-Williams and Rachel Banham are established scorers who can carry a team's offense when needed.
Having this wealth of handlers to deploy will be paramount to upsetting the favored team from the east and all its USAB players. The East has more team quickness and having eight capable hands to break all the pressure Coach Lewis (though can't you see Paul Westhead drooling over his roster) is bound to bring.
HANSEN'S WEST ALL-STARS

Ahead of the McDonald's team selections, ESPN HoopGurlz scouts pick fantasy senior all-star teams based on region and speculate how the anecdotal game might go down.
| NAME | STATE | POS | HT |
| --- | --- | --- | --- |
| Rachel Banham | MN | PG/G | 5-8 |
| Sheila Boykin | CA | F/P | 6-2 |
| Arriya Crook-Williams | CA | PG | 5-7 |
| Krystal Forthan | TX | F/P | 6-4 |
| Reshanda Gray | CA | F/P | 6-3 |
| Justine Hartman | CA | P | 6-2 |
| Samantha Logic | WI | PG/G | 5-11 |
| Kaleena Mosqueda-Lewis | CA | W/G | 6-0 |
| Eliza Normen | CO | G/W | 6-1 |
| Alexyz Vaioletama | CA | W/F | 6-1 |
This group can shoot the ball and with range so we will look to get Kaleena Mosqueda-Lewis going early and often. Her scoring ability can dictate what defenses can do and could keep the East from playing any zone.
With Sheila Boykin, Krystal Forthan, Reshanda Gray, Justine Hartman, and Alexyz Vaioletama on the squad, expect a series of mean screens -- double downs, staggered doubles, single doubles and vicious head hunting singles. Our ability to set those screens will set up slips and duck-ins for a more than capable interior cast.
Getting the ball inside is so much easier when the ball is going to the best post finisher as Hartman is. The athleticism and length of Forthan and Gray will lead to many second chance opportunities and hopefully keep the East from transition opportunities. The posts have to challenge the interior defense of the East and make them work and not leak out.
Though the East has a versatile group of forwards and posts, we have to use strength and length to play a physical brand of basketball in the halfcourt. When we pound the ball inside we have options to kick out and shoot the trey.
Defensively the West team is going to mix up some zone three-quarter court and half court schemes with some straight up man defense with a lot of help in the gaps. The zone deployed won't be to create a bunch of turnovers because Massengale isn't going to let that happen enough to use extended defenses in that way. We're going more for the Gonzaga approach to change things up and keep the East from running and gunning.
With our man defense the idea is to let Boykin and Gray showcase their defense skills on the interior as much as possible before doubling and keep the penetration lanes plugged. We want to keep the tempo under our control so bringing in Arizona State's Charli Turner Thorne to teach our team how to execute a stingy man-to-man defense is a must. We'll just ask Normen to call in the favor as a future Sun Devil.
This team can shoot the basketball so we are going to take any open shots we get in rhythm, even in transition but we have to control the pace of play to take advantage of our mismatches. We have enough ball handlers to savvy guard play to handle the pressure and enough strength and tenacity in the paint to compete on the boards and if the game comes down to making shots, just put it in the bag!
-- Chris Hansen
Follow us on Twitter, where you can ask questions and get instant updates.
Become a fan of the site on Facebook and get updates in your news stream.
Discuss this on our Message Board
Chris Hansen is the national director of prospects for ESPN HoopGurlz and covers girls' basketball and women's college basketball prospects nationally for ESPN.com. A graduate of the University of Washington with a communications degree, he has been involved in the women's basketball community since 1998 as a high school and club coach, trainer, evaluator and reporter. He is a member of the McDonald's All American team selection committee. Hansen can be reached at chris.hansen@espn.com.
Mark Lewis is the national recruiting coordinator for ESPN HoopGurlz. Twice ranked as one of the top 25 assistant coaches in the game by the Women's Basketball Coaches Association, he has more than 20 years of college coaching experience at Memphis State, Cincinnati, Arizona State, Western Kentucky and, most recently, Washington State. He can be reached at mark@hoopgurlz.com.
ESPNHS HoopGurlz
National director of prospects for HoopGurlz
Coached girls' high school and club basketball
Girls and women's basketball trainer, evaluator and reporter since 1998
Women's College Basketball Recruiting
Mark Lewis is a columnist and national evaluator for ESPN HoopGurlz. Twice ranked as one of the top 25 assistant coaches in the game by the Womenís Basketball Coaches Association, he has more than 20 years of college coaching experience at Memphis State, Cincinnati, Arizona State, Western Kentucky and, most recently, Washington State.
GIRLS' BASKETBALL RANKINGS

Rank
School (City, State)
Rec
1
Saint Marys
Phoenix, AZ
30-0
2
McEachern
Powder Springs, GA
33-0
3
Whitney Young
Chicago, IL
34-0
4
Bolingbrook
Bolingbrook, IL
26-2
5
Riverdale
Murfreesboro, TN
34-3
See the full girls' basketball rankings »