Commentary
Khadijah Sessions: A point of interest
Updated:
November 3, 2011, 10:31 AM ET
By
Brandon Clay, Chris Hansen
and
Keil Moore
| HoopGurlz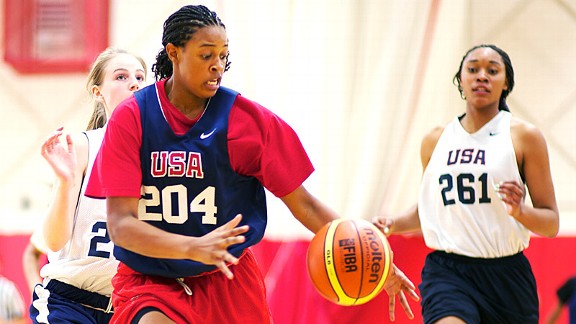 Glenn Nelson /ESPN.com The No. 16 prospect in the 2013 class, Erica McCall of Bakersfield, Calif., is one of a number of underclassmen taking unofficial visits in the West.
Khadijah Sessions, the scoring-minded point from Myrtle Beach, S.C., is the only remaining uncommitted lead guard in the ESPNU HoopGurlz Top 100 for the 2012 class. Ranked as the No. 40 prospect, Sessions would be a key recruit for any team. Although combo guards such as Jordan Adams, Caprice Dennis and Brittney Sykes are still undecided, Sessions, a true point guard, becomes a true prize for her future school of choice.
So far this fall, Sessions has taken an official visit to Auburn and plans to make visits to Florida State and South Carolina in the coming weeks.
Looking at Sessions' final three schools, all are trying desperately to sign a point guard in this class. Florida State was actively recruiting No. 43 Niya Johnson before she made the decision to give her verbal pledge to Baylor; South Carolina and Auburn find themselves in the same boat after No. 35 Janee Thompson picked Kentucky earlier this week. Thompson had considered the SEC schools among her finalists.
While there is still uncommitted talent out there, the number of impact guards left in the 2012 class is getting fewer by the day. As Sessions makes her rounds to Florida State and South Carolina in the coming weeks, she signifies in many ways a key piece for the three schools that she is still considering.
-- Keil Moore
Twins make trip to UCLA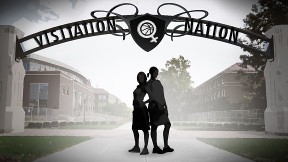 ESPN.com illustration
UCLA is hosting class of 2013 prospects Dakota Gonzalez and Dylan Gonzalez on an unofficial visit this weekend, according to their mother, Angie Gonzalez. The Gonzalez twins already have made unofficial visits to Oregon, Washington, Kansas, Gonzaga, Utah, Colorado and Arizona State. Future visits are in the planning stages with Vanderbilt, Northwestern and Notre Dame.
-- Chris Hansen
Top underclassmen visit Trojans
USC coach Michael Cooper has hosted some of the top 2012 prospects officially over the past two months. As the Trojans wait for No. 6 Jordan Adams and No. 10 Imani Stafford to make their college decisions, Cooper and his staff got a jump on the future by hosting several of the state's top young players last weekend. With the triple-overtime football thriller against Stanford (which ended in a 56-48 USC loss), the Women of Troy picked a good weekend to make an impression. From the class of 2013, they had No. 7 Kendall Cooper and No. 16 Erica McCall on hand. In the class of 2014, they had No. 4 Jordin Canada, No. 5 Gabby Green and No. 6 LaJahna Drummer on the yard as well.
-- Brandon Clay
Washington serious about Pacific Northwest
By picking up verbals from three in-state class of 2012 prospects, No. 21 Katie Collier, four-star guard Airashay Rogers and three-star guard Heather Corral, coach Kevin McGuff and his staff have shown that they plan on recruiting the best kids in the Pacific Northwest. The Huskies have an unofficial visit set for this weekend from Mercedes Russell, the No. 1 prospect both regionally and nationally in the class of 2013. No. 45 Jordan Reynolds, her Team Concept club teammate, also will be on the Pac 12 campus Saturday, giving the Huskies a chance to increase their reach inside the region they are aiming so hard to gain traction in.
-- Brandon Clay
Gottlieb wasting no time
New Cal coach Lindsay Gottlieb didn't waste any time getting some of the West Coast's top prospects to the Berkeley campus for "Junior Day." The Golden Bears had Bishop O'Dowd High (Oakland, Calif.) teammates Oderah Chidom and Kendall Waters, No. 32 and No. 34 respectively, on campus for the day. Both Chidom, a four-star center, and Waters, a four-star forward, would help Gottlieb and her staff add more Golden State talent to a program that has recruited that state well over the past several seasons.
-- Brandon Clay
In-state prospects visit Ohio State
There aren't many places in the country with a better football Saturday atmosphere than Columbus, Ohio. Three in-state class of 2014 prospects -- No. 9 Alyssa Rice, No. 17 Makayla Waterman and No. 19 Kathryn Westbeld -- headlined the group on hand for the Buckeyes' big win over Big Ten rival Wisconsin last weekend. All three of them are projected as forwards or centers at the next level, and coach Jim Foster's staff is known for developing post play.
-- Brandon Clay
Follow us on Twitter, where you can ask questions and get instant updates.
Become a fan of the site on Facebook and get updates in your news stream.
Discuss this on our Message Board.
Brandon Clay is a contributor and national recruiting analyst for ESPN HoopGurlz. He is also the publisher of the JumpOffPlus.com National Scouting Report and the owner of Peach State Basketball, Inc. Clay has been involved in the community since 2001 as a recruiting analyst, event operator and trainer. He can be reached at bclay@peachstatehoops.com or you can follow him on Twitter @peachstatehoops.
Chris Hansen is the national director of prospects for ESPN HoopGurlz and covers girls' basketball and women's college basketball prospects nationally for ESPN.com. A graduate of the University of Washington with a communications degree, he has been involved in the women's basketball community since 1998 as a high school and club coach, trainer, evaluator and reporter. Hansen can be reached at chris.hansen@espn.com.
Keil Moore is a contributor and national recruiting analyst for ESPN HoopGurlz. He is also the Director of Scouting for the JumpOffPlus.com National Scouting Report - a division of Peach State Basketball, Inc. Moore has been involved in the community since 2007 as a recruiting analyst and trainer. He can be reached at kmoore@peachstatehoops.com or you can follow him on Twitter @keilmoore.
ESPNHS HoopGurlz
Contributor, national recruiting analyst for HoopGurlz
Director of Scouting for JumpOffPlus.com
Women's basketball recruiting analyst and trainer since 2007
GIRLS' BASKETBALL RANKINGS

Rank
School (City, State)
Rec
1
Saint Marys
Phoenix, AZ
30-0
2
McEachern
Powder Springs, GA
33-0
3
Whitney Young
Chicago, IL
34-0
4
Bolingbrook
Bolingbrook, IL
26-2
5
Riverdale
Murfreesboro, TN
34-3
See the full girls' basketball rankings »