Commentary
Cicero-North Syracuse pulls off shocker
Updated:
December 20, 2011, 3:31 PM ET
By
Chris Hansen
| HoopGurlz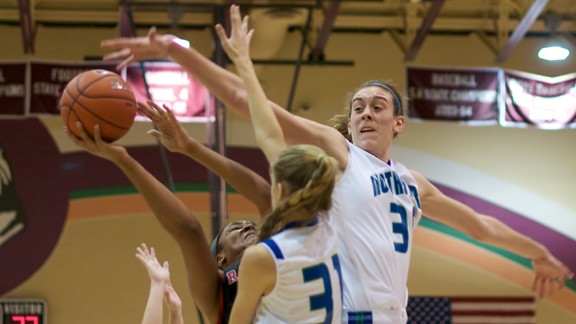 Chris Hansen/ESPN HoopGurlzBreanna Stewart and Hannah Nichols of Cicero-North Syracuse defend Bolingbrook star Morgan Tuck en route to an upset win.
CHANDLER, Ariz. -- The first day of the 2011 Nike Tournament of Champions proved exactly why the event has grown into the premier girls' basketball tournament in the country -- the best played the best.
As with almost every team sport, ranking means very little once the game starts, and five teams ranked in the top 11 spots of the POWERADE FAB 50 lost in the opening salvo on Monday.
Based on rankings alone, the biggest upset of the Joe Smith Division was recorded by unranked Windward (Los Angeles), which defeated No. 8 MacArthur (Irving, Texas) 56-50. But No. 24 Cicero-North Syracuse (Cicero, N.Y.) sent shock waves through the desert with a 43-40 victory over No. 6 Bolingbrook (Ill.).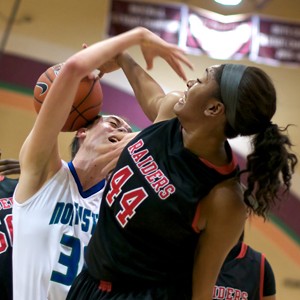 Chris Hansen/ESPN HoopGurlzFuture Connecticut teammates Morgan Tuck (44) and Breanna Stewart had a physical matchup in the opening round of the Nike TOC.
Despite the national ranking, the Northstars came to the TOC hearing they stood no chance and would be 30-point underdogs in all four of their games. Compounding the dim outlook was an opening-round matchup with Bolingbrook, the defending Illinois state champion, which is playing in its fourth consecutive TOC. But with the No. 1 player in the country on their side, the small community team from upstate New York has a chance in every game.
Oddly, it wasn't ESPN HoopGurlz's top-ranked senior, Breanna Stewart (Connecticut commit), who offered up the late-game heroics for Cicero-North Syracuse. Instead, the fourth quarter belonged to Brittany Paul. The 5-foot-9 senior scored eight of her 10 points in the final period, none bigger than her last shot.
First, Bolingbrook senior star Morgan Tuck (Connecticut commit) drained a 3-pointer to tie the game at 40-40 with 11 seconds to play. Instead of calling a timeout to set up a play, the Northstars advanced the ball, penetrated into the key and kicked it out to Paul, who swished her answer-back 3 with 2.1 seconds left in the game.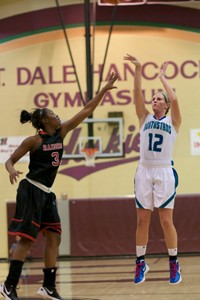 Chris Hansen/ESPN HoopGurlzSenior guard Brittany Paul of Cicero-North Syracuse shoots over Bolingbrook senior Kennedy Cattenhead.
"It was something that needed to happen, and I did it," Paul said.
Paul is a Division I athlete, having signed with Lafayette College in Easton, Pa., but her sport is softball, making her all the more unlikely of heroes.
"I thought it was going in," Stewart said. "I have confidence in every player on this team. I have complete confidence in them."
Bolingbrook did a pretty good job on Stewart, holding her to 15 points, but the contributions came from everywhere, including a gutsy performance by junior point guard Abbey Timpano, who had to handle the unrelenting pressure of Bolingbrook's defense all game long.
"We have the best player in the country and we have nothing to lose," Northstars coach Eric Smith said. "We're here because Bre brought us along."
So while many forget that this CNS team made it to the state finals in New York last season, Smith's team has no problem playing the part of Cinderella this season.
"Half of these kids don't know what this tournament means, the magnitude of it," Smith said.
There were other upsets in the Joe Smith Division on Monday, including No. 29 Marion County (Lebanon, Ky.) beating No. 5 Saint John's College (Washington, D.C.) 56-52 and No. 13 Good Counsel (Olney, Md.) knocking off No. 11 Wesleyan (Norcross, Ga.) 71-64.
And Tuesday will offer another chance for Cinderella to put on her sneakers and dance with the best teams in the country. Stewart and her teammates will face No. 22 Dr. Phillips (Orlando, Fla.), a team that rolled past No. 7 St. Mary's (Stockton, Calif.) 73-55. Just another new challenge for Cicero-North Syracuse and another chance to shock the country.
Follow us on Twitter, where you can ask questions and get instant updates.
Become a fan of the site on Facebook and get updates in your news stream.
Discuss this on our message board.
Chris Hansen is the national director of prospects for ESPN HoopGurlz and covers girls' basketball and women's college basketball prospects nationally for ESPN.com. A graduate of the University of Washington with a communications degree, he has been involved in the women's basketball community since 1998 as a high school and club coach, trainer, evaluator and reporter. He is a member of the McDonald's All-American team selection committee. Hansen can be reached at chris.hansen@espn.com.
ESPNHS HoopGurlz
National director of prospects for HoopGurlz
Coached girls' high school and club basketball
Girls and women's basketball trainer, evaluator and reporter since 1998
SPONSORED HEADLINES
ESPN TOP HEADLINES
MOST SENT STORIES ON ESPN.COM
TOURNAMENT OF CHAMPIONS

The Nike Tournament of Champions, in Chandler, Ariz., provides a showcase for top young talent. Follow all the action here.
HoopGurlz Index
•
St. Mary's wins Smith title
•
Video: Highlights of St. Mary's win
•
Video: Riverdale Baptist coach injured
•
Stewart headlines All-Tournament team
•
Six stars shine under TOC's brightest lights
•
Photo gallery: Title games' lasting images
•
Day 4 scoreboard
•
Recaps from Thursday's finals
•
Smith final the stuff of dreams
•
Expect clashing styles in Anderson final
•
Fans confront Villa Maria coach, disrupt game
•
Five emerging talents from Day 3
•
Day 3 scoreboard
•
The bigger the better in Smith Division
•
Anderson favorites survive, advance to semis
•
Stewart, Tuck, Jones master art of scoring
•
Six standout performances on Day 2
•
Day 2 scoreboard
•
Video: Monday's Top 10 plays of the day
•
Mater Dei holds tight to crown
•
Cicero-North Syracuse stuns Bolingbrook
•
Team concept carries Brea Olinda, Villa Maria
•
Six stars shine on Day 1
•
Day 1 scoreboard
•
Picking the winners: HoopGurlz predictions
•
Stars align for No. 2 St. Mary's
•
Chris Hansen: Joe Smith Division analysis
•
Glenn Nelson: John Anderson Division analysis
•
St. Mary's stars play tour guides
•
Video: Meet Courtney Ekmark
•
2011 Nike TOC: Best field ever?
•
Sara Hattis hopes to lift Cleveland
•
10 stars to watch at Nike TOC
•
Buford's Dynamic Duo hoping for TOC heroics
GIRLS' BASKETBALL RANKINGS

Rank
School (City, State)
Rec
1
Saint Marys
Phoenix, AZ
30-0
2
McEachern
Powder Springs, GA
33-0
3
Whitney Young
Chicago, IL
34-0
4
Bolingbrook
Bolingbrook, IL
26-2
5
Riverdale
Murfreesboro, TN
34-3
See the full girls' basketball rankings »