Commentary
Upset specialists on collision course
Updated:
December 20, 2011, 3:29 PM ET
By
Rebecca Gray
| HoopGurlz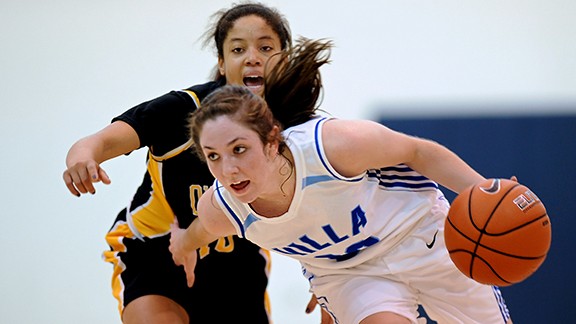 Glenn Nelson/ESPN HoopGurlzPoint guard Lisa Mifsud scored 24 points and helped engineer one of the many upsets at the Nike Tournament of Champions on Monday as Villa Maria (Erie, Pa.) beat Bishop O'Dowd (Oakland, Calif.).
CHANDLER, Ariz. -- Teamwork and execution seem to be the two things that can provide a spark when a team needs it most. When everything seems to be going wrong, there is nothing better than a teammate picking you up with a hustle play or an easy basket off a set that you've run a thousand times before.
This held true for Brea Olinda (Brea, Calif.) and Villa Maria Academy (Erie, Pa.) as they pulled off two unlikely upsets of POWERADE FAB 50 teams in the John Anderson Invitational Division of the Nike Tournament of Champions on Monday.
Brea Olinda, the returning Joe Smith champions, came into the TOC unranked and beat No. 44 Regis Jesuit (Aurora, Colo.) 60-51. After graduating key players from last year's team and having a change at the head coaching position, Brea Olinda seemed to be in rebuilding mode.
That could not be any further from the truth, as the Wildcats seemed to have just as much team chemistry as they did this time last year.
"Obviously, there has been a lot of changes to Brea," coach Kim Cram-Torres said. "I took over and a great group of seniors left last year, but a lot of people don't realize that the group of upperclassmen that returned are very good and talented as well as tight-knit. When I took over, I wanted to make sure that they understood that our first priority was to continue to win."
That point was made obvious as Brea came together against every run Regis Jesuit tried to make. Senior wing Keitra Wallace finished with 23 points and junior point guard Anna Kim added 18 points in the win.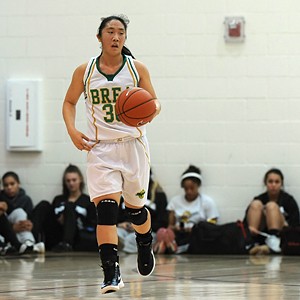 Glenn Nelson/ESPN HoopGurlzPoint guard Anna Kim is the "heartbeat" of Brea Olinda, coach Kim Cram-Torres says.
The execution and team chemistry seemed to flow effortlessly on every offensive possession and every full-court and half-court defensive set. It was almost like watching a scripted video on how to get your teammate open for a shot and how to drop down to help-side after someone gets beat down the middle or baseline. That is not something you usually see unless a team is selfless and indifferent to who gets all the glory.
"Anna is our heartbeat," Cram-Torres said. "She makes us go, and her teammates follow her because of the trust and confidence they have in each other."
The same team concept held true for unranked Villa Maria Academy, which knocked off No. 49 Bishop O'Dowd (Oakland, Calif.) 60-52.
Villa Maria is not a team that would necessarily pass the "look test," but the players work so well together that they find a way to win. Their tallest player is listed at 6-foot-1, but they all seem to play larger than they are because of their fundamentals and their perfection of the basics. Anything from a box-out to get a defensive rebound to setting the high ball screen so a teammate can flash for an easy lay-up was done in a methodical fashion.
"We've seen teams with pressure and we've seen the big teams," Villa Maria head coach Doug Chuzie said. "We felt if we could double-down on the post and make the correct rotations that we could strip the ball every time they put it on the floor."
Villa Maria proved that if you can work together as a unit without jealousy and get everyone to commit to the team and the game plan, then anything is possible. Lisa Mifsud led Villa with 24 points and she did that while being sick with a head cold that included a fever.
"I just tried to get under control and run the offense as best I could," Mifsud said. "I've been sick all week and our execution and the way we always play together by lifting each other up is key. I couldn't ask for anything better from my teammates."
Since Brea Olinda and Villa Maria Academy are now coined as "upset specialists," it is only fitting that they will meet in the quarterfinals on Tuesday. It will be a battle of similar styles of play and an almost identical roster as far as height is concerned. This match-up will showcase two of the most fundamental and unselfish teams in the entire tournament.
Follow us on Twitter, where you can ask questions and get instant updates.
Become a fan of the site on Facebook and get updates in your news stream.
Discuss this on our Message Board.
Rebecca Gray is an intern for ESPN HoopGurlz. She previously wrote a column for the website about her experiences as a freshman on basketball scholarship at the University of North Carolina. She transferred to and played at Kentucky and now plays basketball and golf at Union College. A 5-foot-10, sharp-shooting guard out of Georgetown, Ky., Gray was named Miss Basketball in the state of Kentucky after averaging 25.6 points, 6.3 rebounds, 4.1 steals and 4.8 assists during her senior season at Scott County High School. She can be contacted at rebecca@hoopgurlz.com.
ESPNHS HoopGurlz
HoopGurlz intern
Played college basketball at North Carolina, Kentucky, Union College
Former Kentucky Miss Basketball, nationally ranked prospect
SPONSORED HEADLINES
ESPN TOP HEADLINES
MOST SENT STORIES ON ESPN.COM
TOURNAMENT OF CHAMPIONS

The Nike Tournament of Champions, in Chandler, Ariz., provides a showcase for top young talent. Follow all the action here.
HoopGurlz Index
•
St. Mary's wins Smith title
•
Video: Highlights of St. Mary's win
•
Video: Riverdale Baptist coach injured
•
Stewart headlines All-Tournament team
•
Six stars shine under TOC's brightest lights
•
Photo gallery: Title games' lasting images
•
Day 4 scoreboard
•
Recaps from Thursday's finals
•
Smith final the stuff of dreams
•
Expect clashing styles in Anderson final
•
Fans confront Villa Maria coach, disrupt game
•
Five emerging talents from Day 3
•
Day 3 scoreboard
•
The bigger the better in Smith Division
•
Anderson favorites survive, advance to semis
•
Stewart, Tuck, Jones master art of scoring
•
Six standout performances on Day 2
•
Day 2 scoreboard
•
Video: Monday's Top 10 plays of the day
•
Mater Dei holds tight to crown
•
Cicero-North Syracuse stuns Bolingbrook
•
Team concept carries Brea Olinda, Villa Maria
•
Six stars shine on Day 1
•
Day 1 scoreboard
•
Picking the winners: HoopGurlz predictions
•
Stars align for No. 2 St. Mary's
•
Chris Hansen: Joe Smith Division analysis
•
Glenn Nelson: John Anderson Division analysis
•
St. Mary's stars play tour guides
•
Video: Meet Courtney Ekmark
•
2011 Nike TOC: Best field ever?
•
Sara Hattis hopes to lift Cleveland
•
10 stars to watch at Nike TOC
•
Buford's Dynamic Duo hoping for TOC heroics
GIRLS' BASKETBALL RANKINGS

Rank
School (City, State)
Rec
1
Saint Marys
Phoenix, AZ
30-0
2
McEachern
Powder Springs, GA
33-0
3
Whitney Young
Chicago, IL
34-0
4
Bolingbrook
Bolingbrook, IL
26-2
5
Riverdale
Murfreesboro, TN
34-3
See the full girls' basketball rankings »