Commentary
St. Mary's ascends to throne
Updated:
December 23, 2011, 4:57 PM ET
By
Glenn Nelson
| HoopGurlz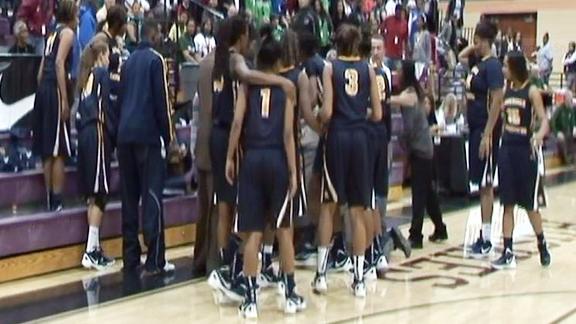 Diane Richardson injured during final
Riverdale Baptist (Upper Marlboro, Md.) players surround coach Diane Richardson after she was injured during the Smith Division final of the Nike Tournament of Champions.
Diane Richardson injured during final
CHANDLER, Ariz. -- The only way Chantel Osahor was going to fulfill the mission set out by her coach was to ascend to royalty. There was no way around that.
In terms of degree of difficulty, the St. Mary's (Phoenix, Ariz.) Knights were staring at about a 10 in Thursday night's Joe Smith Division championship of the Nike Tournament of Champions. They were pre-tournament favorites, ranked higher than any other team in the field at No. 2 in the POWERADE FAB 50 and playing four straight days virtually at home. Moreover, St. Mary's was facing No. 3 Riverdale Baptist (Upper Marlboro, Md.), a team just as talented, a little bigger and more than a little more athletic.
[+] Enlarge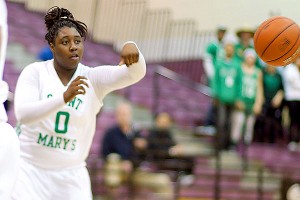 Glenn Nelson/ESPN.comAccording to St. Mary's teammates, Chantel Osahor is "the world's best passer."
Coach Curtis Ekmark knew he was going to have to trot out a secret weapon that, because of its impact the entire week, was losing its stealth value. He turned to Osahor, a junior as unassuming as her jersey number (zero).
"I told her that in the chess game, she was my queen," Ekmark said after his team's 79-69 victory gave it the Smith crown and the inside track on a national high school girls' basketball championship. "She's so versatile. She has size, passes the ball, can shoot and post up. She has a tremendously high basketball IQ."
Osahor does so much for St. Mary's, there were times you'd head out to the Hamilton High School gym lobby and swear you'd find her hawking T-shirts. Heck, during one moment in the Smith championship, she and Riverdale's Kelila Atkinson simultaneously claimed a rebound and the Crusaders guard lifted her legs off the floor while hanging onto the ball for dear life. Osahor dangled her opponent like a string of cheese stretching off a pizza slice.
Mostly, the 6-foot-2 forward dangled the aggressive Riverdale Baptist off her deft offensive game. Osahor scored only six points, but half of them came on a 3-pointer that serves as the red herring that entraps most St. Mary's opponents.
[+] Enlarge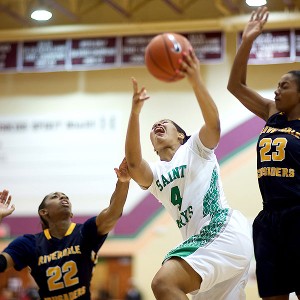 Glenn Nelson/ESPN.comSt. Mary's Dominique Williams is fouled by Riverdale Baptist's Kelila Atkinson. St. Mary's shot 57 free throws during its 79-69 victory in the Smith championship, 37 in the fourth quarter alone.
Osahor at the high post forces her defender, usually the opposing post, to evacuate the lane. Riverdale Baptist, like a lot of other teams, tried to take away St. Mary's lethal 3-point game, but the Knights' shooters are well-drilled enough to backdoor overplaying defenders. And then Osahor carves up the opposition with her pinpoint passing.
"Oh my gosh, she's the best passer in the world," teammate Shilpa Tummala said. "She wows people."
Tummala herself was a case in Osahor's point-forward spectacular. The Harvard-bound guard drilled a 3-pointer, then took her defenders to school, diving into the lane for Osahor feeds and a 10-oh-oh run by her lonesome in the first quarter. She finished with 24 points. Teammate Courtney Ekmark similarly performed the 3-point backdoor two-step for 26.
It was a disastrous start for Riverdale Baptist, which came out tight, then went into an emotional tailspin when coach Diane Richardson was knocked into her own bench and suffered a probable concussion with 2:10 left in the third quarter. St. Mary's Dominique Williams collided with Riverdale's Dominique Johnson, who spilled into Richardson. The Crusaders coach collapsed and, after a scary, silent wait, was tended to by medics called to the scene.
[+] Enlarge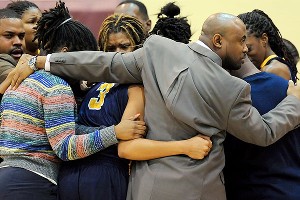 Glenn Nelson/ESPN.comRiverdale Baptist players and coaches embrace as head coach Diane Richardson is tended to by medics. Richardson suffered a likely concussion after a collision with one of her own players with 2:10 left in the third quarter.
"I couldn't get out of the way in time," Richardson said later, still dazed and in pain. "I'm too old, man."
The medics tried to persuade her to go to the hospital, but Richardson refused and coached the rest of the game.
By then the die was cast. The court was so wide open for St. Mary's, the Knights went to the basket relentlessly, forcing the Crusaders to foul. St. Mary's shot a mind-boggling 57 free throws, 37 during a fourth quarter in which Riverdale Baptist, trailing big by then, had its hand forced.
St. Mary's was so firmly in control that it survived the foul trouble to its Louisville-bound post, Cortnee Walton, who played only a handful of minutes before being disqualified. Up to the task, Osahor had her best rebounding game of the tournament and held down the lane defensively.
Afterward, Osahor shrugged off the post-game quizzing about her basketball dexterity. She's been with most of her St. Mary's teammates since they all were about 8, knows how unusual that is, and is therefore too smart to claim any credit for herself. In the end, the Knights' abundant team chemistry proved to be the decisive advantage in the biggest game they'd ever played.
"This is like the best group ever," Osahor said, beaming.
No one dared to differ. She was queen for the day, after all. And, as is usually the case with her team, there was room on the throne for everybody.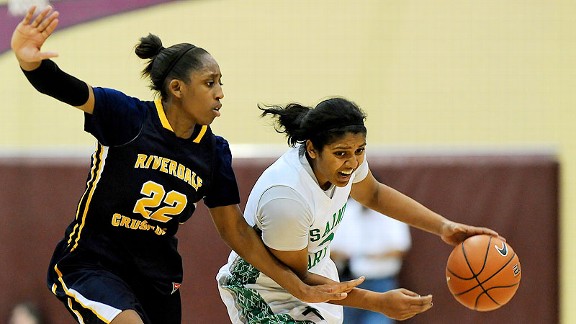 Glenn Nelson/ESPN.comKelila Atkinson of Riverdale Baptist defends Shilpa Tummala of St. Mary's during the Smith Division championship of the Nike TOC.
Follow us on Twitter, where you can ask questions and get instant updates.
Become a fan of the site on Facebook and get updates in your news stream.
Discuss this on our Message Board.
Glenn Nelson is a senior writer at ESPN.com and the founder of HoopGurlz.com. A graduate of Seattle University and Columbia University, he formerly coached girls' club basketball, was a co-founder and editor-in-chief of an online sports network, authored a basketball book for kids, has had his photography displayed at the Smithsonian Institute, and was a longtime, national-award-winning newspaper columnist and writer. He can be reached at glenn@hoopgurlz.com.
ESPNHS HoopGurlz
Founder of HoopGurlz
Coached girls' club, high school and middle school basketball
Co-founder, former editor-in-chief of Scout.com and former NBA columnist/sportswriter
TOURNAMENT OF CHAMPIONS

The Nike Tournament of Champions, in Chandler, Ariz., provides a showcase for top young talent. Follow all the action here.
HoopGurlz Index
•
St. Mary's wins Smith title
•
Video: Highlights of St. Mary's win
•
Video: Riverdale Baptist coach injured
•
Stewart headlines All-Tournament team
•
Six stars shine under TOC's brightest lights
•
Photo gallery: Title games' lasting images
•
Day 4 scoreboard
•
Recaps from Thursday's finals
•
Smith final the stuff of dreams
•
Expect clashing styles in Anderson final
•
Fans confront Villa Maria coach, disrupt game
•
Five emerging talents from Day 3
•
Day 3 scoreboard
•
The bigger the better in Smith Division
•
Anderson favorites survive, advance to semis
•
Stewart, Tuck, Jones master art of scoring
•
Six standout performances on Day 2
•
Day 2 scoreboard
•
Video: Monday's Top 10 plays of the day
•
Mater Dei holds tight to crown
•
Cicero-North Syracuse stuns Bolingbrook
•
Team concept carries Brea Olinda, Villa Maria
•
Six stars shine on Day 1
•
Day 1 scoreboard
•
Picking the winners: HoopGurlz predictions
•
Stars align for No. 2 St. Mary's
•
Chris Hansen: Joe Smith Division analysis
•
Glenn Nelson: John Anderson Division analysis
•
St. Mary's stars play tour guides
•
Video: Meet Courtney Ekmark
•
2011 Nike TOC: Best field ever?
•
Sara Hattis hopes to lift Cleveland
•
10 stars to watch at Nike TOC
•
Buford's Dynamic Duo hoping for TOC heroics
GIRLS' BASKETBALL RANKINGS

Rank
School (City, State)
Rec
1
Saint Marys
Phoenix, AZ
30-0
2
McEachern
Powder Springs, GA
33-0
3
Whitney Young
Chicago, IL
34-0
4
Bolingbrook
Bolingbrook, IL
26-2
5
Riverdale
Murfreesboro, TN
34-3
See the full girls' basketball rankings »