Commentary
McDonald's picks meet at The Mecca
Updated:
February 15, 2012, 6:37 PM ET
By
Glenn Nelson
| HoopGurlz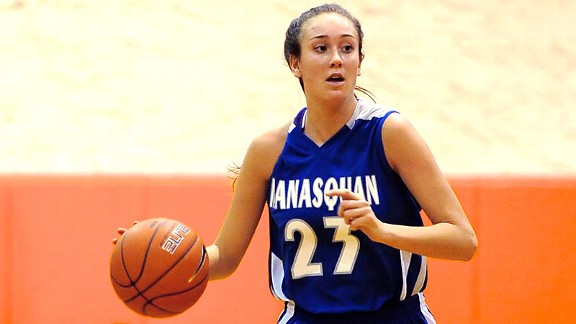 Glenn Nelson/ESPN.com Manasquan (N.J.) senior Michaela Mabrey, who was picked to play in the 2012 McDonald's All-American girls' game, first feared that news of her selection was "a joke."
BRONX, N.Y. -- When the athletic director at Manasquan (N.J.) pulled Michaela Mabrey out of practice last week, then handed her a symbolic basketball sent to each player selected to play in the 2012 McDonald's All-American Game, she stared at it in wonderment.
"Is that a joke?" Mabrey recalled asking.
[+] Enlarge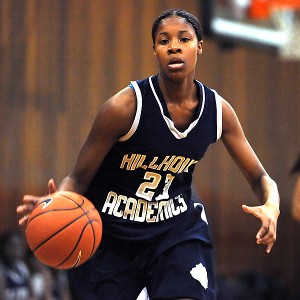 Glenn Nelson/ESPN.comWhen Bria Holmes of Hillhouse (New Haven, Conn.) was called out of practice to receive her symbolic McDonald's slection ball, she thought she was in trouble.
It wasn't. The 5-foot-9, Notre Dame-bound guard, ranked No. 32 among 2012 prospects by ESPN HoopGurlz, was one of four newly minted McDonald's All-Americans who played in The Mecca last weekend. All expressed excitement, but also surprise, at their selection.
It just goes to show that even the best of the best high school girls' basketball players in the country don't take anything for granted.
Breanna Stewart, the consensus No. 1 prospect in the class, was called into her athletic director's office before a game at Cicero-North Syracuse (N.Y.).
"He threw me the ball and I caught it," said Stewart, who is headed to Connecticut. "It's still a surprise, even if it's not."
Brianna Butler of Nazareth (Brooklyn, N.Y.), the No. 13 prospect in 2012, and Bria Holmes of Hillhouse (New Haven, Conn.), No. 28, both were pulled out of practice. Both said they thought they were in trouble.
Butler's late coach, Apache Paschall, talked a lot about his desire for the 5-11, Syracuse-bound guard to make the McDonald's team.
"I keep telling her that she is Apache's last All-American," said Butler's mother, Mitzi.
The West Virginia-bound Holmes said she hadn't even contemplated making the game, which will be played on March 28 at the United Center in Chicago. She said she looks forward to the challenge of playing against the best seniors in the country.
"I have been working really hard lately," Holmes said.
A big part of Holmes' motivation has been helping Hillhouse win the Connecticut state championship for the fourth time in her four years there.
Follow us on Twitter, where you can ask questions and get instant updates.
Become a fan of the site on Facebook and get updates in your news stream.
Discuss this on our Message Board
Glenn Nelson is a senior writer at ESPN.com and the founder of HoopGurlz.com. A graduate of Seattle University and Columbia University, he formerly coached girls' club basketball, was a co-founder and editor-in-chief of an online sports network, authored a basketball book for kids, has had his photography displayed at the Smithsonian Institute, and was a longtime, national-award-winning newspaper columnist and writer. He can be reached at glenn@hoopgurlz.com.
ESPNHS HoopGurlz
Founder of HoopGurlz
Coached girls' club, high school and middle school basketball
Co-founder, former editor-in-chief of Scout.com and former NBA columnist/sportswriter
GIRLS' BASKETBALL RANKINGS

Rank
School (City, State)
Rec
1
Saint Marys
Phoenix, AZ
30-0
2
McEachern
Powder Springs, GA
33-0
3
Whitney Young
Chicago, IL
34-0
4
Bolingbrook
Bolingbrook, IL
26-2
5
Riverdale
Murfreesboro, TN
34-3
See the full girls' basketball rankings »