Meet the Top 100 in 2013
Updated:
August 16, 2012, 12:47 PM ET
By
Chris Hansen
| HoopGurlz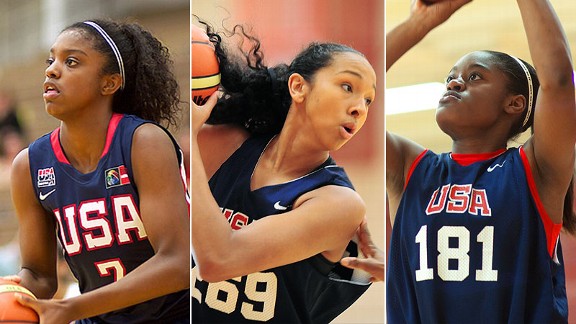 Glenn Nelson for ESPN.comMercedes Russell (center), Kaela Davis (right) and Diamond DeShields remain the top three prospects in the class of 2013.
The summer is nearing its end, which means it's time to expand the rising senior class prospect rankings from Super 60 to the ESPN HoopGurlz 100. While there were only two changes in the top 10, the excitement with this release comes from a handful of players making significant jumps, including Oderah Chidom of Oakland, Calif., who moved 15 spots up to No. 10. Those moves, plus the 41 new faces, give considerable context to the recruiting race ongoing for the best players in the 2013 class.
That race is still up for grabs with 14 of the players in the top 20 still uncommitted. Mercedes Russell of Springfield, Ore., keeps her position as the class' top-ranked prospect, followed by Kaela Davis of Buford, Ga., at No. 2. The highest-ranked committed players are No. 3 Diamond DeShields (North Carolina) of Norcross, Ga., and No. 4 Taya Reimer (Notre Dame) of Indianapolis, Ind.
Holding strong from fifth to eighth are Linnae Harper of Chicago, Ill., Rebecca Greenwell of Owensboro, Ky., Allisha Gray of Sandersville, Ga., and Jannah Tucker of Randallstown, Md. Moving up one spot, to No. 9, is Tyler Scaife of Little Rock, Ark., followed by Chidom to round out the top 10.
After missing the summer of 2011, Raiygne Moncrief of Lauderhill, Fla., wasted little time making 2012 hers. The 5-foot-10 guard's summer with the Miami Suns moved her from the likes of the unranked to the top 20 at No. 18 overall and the No. 6 shooting guard in the class.
Also making solid jumps in the rankings were Nia Coffey of Minneapolis, Minn., and Adriene Motley of Newport News, Va. Coffey, a 6-1 forward and Northwestern pledge, previously was ranked 41st in the class, but a breakout summer with North Tartan earned her a spot in the top 25 at 24th overall. Motley, a 5-9 point guard, moved up 13 spots, to No. 27, after helping lead her Boo Williams Summer League squad to the championship game of Nike Nationals.
Four states landed double-digit prospects in the ESPN HoopGurlz 100, led by 12 from Georgia. California, Florida and Texas checked in with 10 ranked players each. Also having a strong showing was Maryland, with nine, and four more states -- Arizona, Indiana, Kentucky and Ohio -- landed four each as well.
Click here to see the full ESPN HoopGurlz 100.
Follow us on Twitter, where you can ask questions and get instant updates.
Become a fan of the site on Facebook and get updates in your news stream.
Discuss this on our Message Board.
Rankings Panel
Chris Hansen is the national director of prospects for ESPN HoopGurlz and covers girls' basketball and women's college basketball prospects nationally for ESPN.com. A graduate of the University of Washington with a communications degree, he has been involved in the women's basketball community since 1998 as a high school and club coach, trainer, evaluator and reporter. He is a member of the McDonald's All-American team selection committee. Hansen can be reached at chris.hansen@espn.com.
Brandon Clay is a contributor and national recruiting analyst for ESPN HoopGurlz. He is also the publisher of the JumpOffPlus.com National Scouting Report and the owner of Peach State Basketball, Inc. Clay has been involved in the community since 2001 as a recruiting analyst, event operator and trainer. He can be reached at brandonclay@peachstatebasketball.com.
Keil Moore is a contributor and national recruiting analyst for ESPN HoopGurlz. He is also the Director of Scouting for the JumpOffPlus.com National Scouting Report - a division of Peach State Basketball, Inc. Moore has been involved in the community since 2007 as a recruiting analyst and trainer. He can be reached at keilmoore@peachstatebasketball.com.
ESPNHS HoopGurlz
National director of prospects for HoopGurlz
Coached girls' high school and club basketball
Girls and women's basketball trainer, evaluator and reporter since 1998
GIRLS' BASKETBALL RANKINGS

Rank
School (City, State)
Rec
1
Saint Marys
Phoenix, AZ
30-0
2
McEachern
Powder Springs, GA
33-0
3
Whitney Young
Chicago, IL
34-0
4
Bolingbrook
Bolingbrook, IL
26-2
5
Riverdale
Murfreesboro, TN
34-3
See the full girls' basketball rankings »