Commentary
St. Ursula-Strongsville a familiar matchup
Updated:
November 7, 2008, 12:37 PM ET
By
Sheldon Shealer
| ESPNRISE.com
St. Ursula vs. Strongsville. Sound familiar? It should.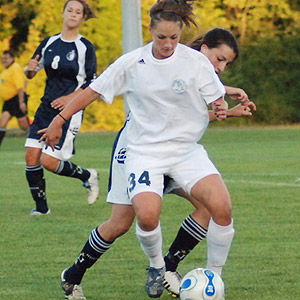 Strongsville SoccerDanielle Hubka has 16 goals and 16 assists for Strongsville.
For the fourth time since 2002, these Ohio girls soccer powers are meeting for the Division I state final. In addition to a state title, the winner, likely, will find itself in the FAB 50 Top 5 by season's end.
For FAB 50 No. 13 Strongsville, this is the farewell match for national recruit Danielle Hubka.
St. Ursula won last year's state final by blanking Strongsville, 2-0. Strongsville won the 2002 and 2005 state final meetings with St. Ursula.
Strongsville offers a more balanced attack, led by Maryland commit Hubka, who has 16 goals and 16 assists. Ashley Meier, a freshman who was recently invited to the U.S. Youth Soccer Interregional, has 10 goals and four assists.
St. Ursula's offense is focused around junior Elizabeth Burchenal, who has 32 goals. Burchenal scored a goal, assisted on the second and earned a penalty kick -- which was converted by a teammate, in St. Ursula's 3-0 state semifinal win over Upper Arlington. Freshman Marisa Wolf has added 17 goals, and junior keeper Aubrey Bledsoe has nine shutouts.
Here are several other contests to keep an eye on this weekend:

• La Salle (R.I.) goes for the Division I sweep this week with both the boys' and girls' teams vying for titles. With a combined one loss (that to highly ranked Acton-Boxboro, Mass., on the girls side), the squads are fixtures in the Rhode Island finals. The school swept the Division I titles in 2005. The girls were the 2006 state champs and finished as a runner-up in 2007. The La Salle girls face South Kingstown Saturday and the boys face Barrington on Sunday in state final action.

• In Kentucky, the Highlands boys and girls reached this weekend's state finals, and both will be facing uphill battles. St. Xavier boys and Sacred Heart girls flaunted their superiority in the state semifinals. St. Xavier, the defending champion and Top 20 squad, routed Boyle County, 7-0, to set up a Saturday final with Highlands. Sacred Heart handled Greenwood 6-0. It will also face Highlands on Saturday.

• While the Pennsylvania state titles will not be determined for another week, District 1 teams have a rare opportunity to show some muscle in the boys draw. The district received four bids to the 16-team state tournament, and all four advanced to Saturday's state quarterfinals. The pairings are such that one District 1 squad is guaranteed a state semifinal berth (the Lower Merion-Neshaminy winner), while the other team teams (Downingtown West and Central Bucks East) are favored to advance. If so, District 1 could produce three of the final four teams in the PIAA playoffs.

• This week's marquee boys soccer match in New York pits FAB 50 No. 1 Brentwood against a strong Massapequa squad. Massapequa was ranked in the FAB 50 early in the season before a pair of losses. Now, the teams meet in the Class AA boys quarterfinals Sunday. In the New York girls draw, Bethlehem faces Baldwinsville in a Class AA state quarterfinal battle of FAB 50 teams Saturday.
Sheldon Shealer covers high school sports from ESPN RISE.
SPRING GIRLS' SOCCER RANKINGS

Rank
School (City, State)
Rec
1
William A. Hough
Cornelius, NC
26-0-1
2
Bishop Kelley
Tulsa, OK
17-0
3
Naperville North
Naperville, IL
24-1-2
4
Olathe East
Olathe, KS
21-0
5
Green Hope
Morrisville, NC
25-1
See the full spring girls' soccer rankings »