Commentary
PHU keeps focus, keeps winning
Updated:
January 27, 2010, 1:44 PM ET
By
Nicholas Murray
| Special to ESPN RISE
PALM HARBOR, Fla. -- Ask Palm Harbor University's leading scorer Catherine Brinkman what has been the biggest key to the Hurricanes' success this season and the answer isn't the high-scoring forwards, the tight defense or the creative midfield.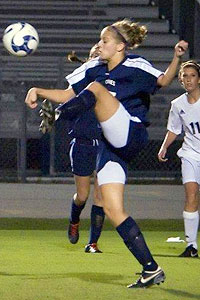 Chris SalemiCatherine Brinkman credits the team's success to pregame focus.
It's been the team's focus during warm-ups.
"I think our biggest key has been warming up correctly, and playing as a team right away," Brinkman said as the ESPN Rise No.10-ranked Hurricanes prepared to face Bloomingdale in the Class 6A-Region 2 quarterfinals Thursday. "Not waiting 20 minutes or 30 minutes to get ready. Coming out and playing our game from the start, getting a goal quickly and from there on playing as a team."
The Hurricanes have used that method to earn an 18-0-1 record, and their eighth straight district title last week with a 4-0 victory against Countryside in the Class 6A-7 final.
"If we can control a game for the first 10 minutes, put another team on their heels, it's a really big factor," coach John Planamenta said. "It sets a tone for the game if you can control the first few minutes."
That was the case in last season's Class 5A State championship game against George Jenkins, where the Hurricanes didn't allow the Eagles a chance to settle, and controlled the flow and tempo for much of the game. Brinkman scored twice to lead the Hurricanes to a 3-1 victory, giving the program its fourth state championship.
The focus Brinkman talks about has been there for the bulk of this season as well, but the moments where the early focus wasn't there has only driven home how critical preparation before the match begins is to the team's success.
"There was one game this year where the girls goofed around too much during warm-up, and it showed in the first 10 minutes, and they knew right away what it was, it was a poor warm-up, poor preparation," Planamenta said. "The girls know what they need to do to get ready for each game. These games, getting into the postseason especially, we try to prepare them for what to look out for for the opponents, but like Catherine said, they know what they're supposed to do in order to get ready, get prepared."
Being properly prepared is going to be critical as the Hurricanes prepare to try and win a second straight state title. While the Hurricanes have played well so far this season, the only blemish on their record a 1-1 tie with Seminole, the players don't think they've had as many challenging matches as in previous seasons.
"We haven't been challenged, challenged," defender Shannon Walisch said. "Countryside gave us a run for our money, (so did) Seminole, but Bloomingdale and the teams we're going to face are going to come at us strong."
The fact that they have been so dominant, though, may point to why the Hurricanes feel they haven't been tested yet. Brinkman has scored 37 goals and the defense hasn't conceded a goal in 2010, which explains their ascent up the national rankings. Brinkman, though, says the side hasn't really thought about their standing in the national scene, with the only thing on their minds taking the first step to a Class 6A state title.
"That sort of thing doesn't bother us. We don't go to those tournaments to get ranked higher, that's not our main goal. I mean, last year we beat the No.1 team in the nation, George Jenkins, and we were like 'They're No.1?' We don't see the rankings as that big of a deal." Brinkman said. "It's not all about status. If we come to a field and were ready to play, it doesn't matter if they're No.1 or No.50, if we come to play better than them, then we're going to win."
SPRING GIRLS' SOCCER RANKINGS

Rank
School (City, State)
Rec
1
William A. Hough
Cornelius, NC
26-0-1
2
Bishop Kelley
Tulsa, OK
17-0
3
Naperville North
Naperville, IL
24-1-2
4
Olathe East
Olathe, KS
21-0
5
Green Hope
Morrisville, NC
25-1
See the full spring girls' soccer rankings »