Commentary
Girls National Records Project
Updated:
January 25, 2012, 10:45 AM ET
By
ESPNHS Lacrosse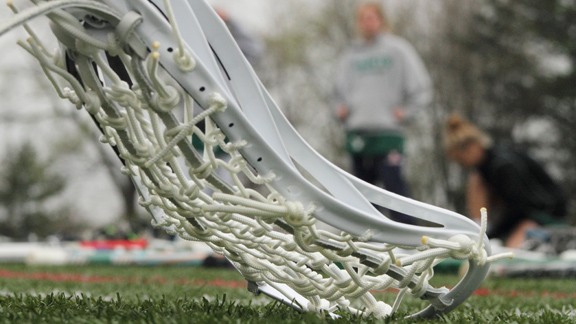 Jimmy Hurlburt/ESPNHSESPNHS updates the record book as we recieve stats.
ESPNHS is starting a National Career Records list. We are publishing an incomplete list now in hopes of participation from our readers. Records will be added as we recieve them.
To submit a performance to the national records list, have the head coach or official team statistician e-mail information to Mike Loveday at Michael.Loveday@espn.com


*indicates record was culled from 2008 National Federation High school Sports Record Book
# indicates record was culled from a state association

Editors Note: ESPNHS would like to extend a special thanks to those who helped contribute to this project: Chris Goldberg, PhillyLacrosse.com; Bruce Lerch, Boston Herald; Pat Stoetzer, Carroll County Times
INDIVIDUAL RECORDS: CAREER
Most goals scored (minimum 300)
Total
Detail
505#
Shannon Smith, West Babylon (West Babylon, N.Y.), 2003-2008
470#
Kate Ferris, Carthage (Carthage, N.Y.), 2006-2009
443*
Shari Masun, Clarkstown North (New City, N.Y.), 1999-2002
412
Lindsay Toppe, Fox Lane (Bedford, N.Y.), 2008-2011
406*
Emily Garrity, Strath Haven (Wallingford, Pa.), 2006-2009
380
Emma Lazaroff, Centarus (Lafayette, Colo.). 2009-2012
359
Kelly Rich, Westwood (Westwood, Mass.)
352#
Jenna Davis, Division Avenue (Levittown, N.Y.)
347#
Tracy Domm, Brighton (Brighton, N.Y.), 1997-2001
335
Carli Sukonik, Harriton (Rosemont, Pa.), 2008-2011
332
Kate MacDonald, Norwell (Norwell, Mass.)
331
Blake Dietrick, Wellesley (Wellesley, Mass.), 2008-2011
328#
Colleen McCaffrey, Mount Sinai ( Mount Sinai, N.Y.), 2004-2008
326#
Alison Chambers, Nyack (Upper Nyack, N.Y.), 1998-2001
317*
Amanda Mazzarella, Bay Shore (Bay Shore, N.Y.), 1992-1995
313
Addie Reilly, Portledge School (Locust Valley, N.Y.), 2008-2010
307
Katie Schwarzmann, Century (Sykesville, Md.), 2006-2009
306
Meredith Frank, Westwood (Westwood, Mass.)
300
Marcy Levatino, Laguna Hills (Laguna Hills, Calif.), 2008-2011
Most assists (minimum 250)
Total
Detail
297
Maura Mahoney, Westwood (Westwood, Mass.)
289*
Emily Garrity, Strath Haven (Wallingford, Pa.), 2006-2009
278
Alyssa Murray, West Babylon (West Babylon, N.Y.), 2007-2010
275#
Carolyn Davis, Skaneateles (Skaneateles, N.Y.), 2002-2006
274
AnnaElise Morello, Garnet Valley (Glen Mills, Pa.), 2009-2012
270#
Katherine Deronda, Carthage (Carthage, N.Y.), 2005-2008
250#
Abbie Gowen, Amherst (Snyder, N.Y.), 2006-2009
Most points (minimum 350)
Total
Detail
695*
Emily Garrity, Strath Haven (Wallingford, Pa.), 2006-2009
611*
Shannon Smith, West Babylon (West Babylon, N.Y.), 2005-2008
563
Alyssa Murray, West Babylon (West Babylon, N.Y.), 2007-2010
552
Meredith Frank, Westwood (Westwood, Mass.)
532
Kelly Rich, Westwood (Westwood, Mass.)
523
Lindsay Toppe, Fox Lane (Bedford, N.Y.), 2008-2011
511
Blake Dietrick, Wellesley (Wellesley, Mass.), 2008-2011
509#
Jenna Davis, Division Avenue (Levittown, N.Y.)
496
Kris Coppolino, Sr., Winter Springs (Fla.)
494
Maura Mahoney, Westwood (Westwood, Mass.)
480
Emma Lazaroff, Centarus (Lafayette, Colo.). 2009-2012
473
Kate MacDonald, Norwell (Norwell, Mass.)
463
Jessica Griffin, Lincoln-Sudbury (Sudbury, Mass.)
460
Andi Raymond, Rockford (Mich.), 2007-2010
455
Kaitlyn Pettengill, Hopkinton (Hopkinton, Mass.)
447
Alexie Marrocco, Duxbury (Duxbury, Mass.)
442
AnnaElise Morello, Garnet Valley (Glen Mills, Pa.), 2009-2012
435
Addie Reilly, Portledge School (Locust Valley, N.Y.), 2008-2010
425
Mackenzie Cyr, Winters Mill (Westminster, Md.), 2008-2010
423
Alex Frank, Westwood (Westwood, Mass.)
392
Brooke Rudden, Hopkinton (Hopkinton, Mass.), 2008-2011
388
Marcy Levatino, Laguna Hills (Laguna Hills, Calif.), 2008-2011
385
Taylor McCord, Bartram Trail (St. John's, Fla.), 2008-2011
365
Halley Barnes, Garnet Valley (Glen Mills, Pa.), 2009-2012
COACHING RECORDS: CAREER
Career Wins
Total
Detail
607
Kathy Jenkins, St. Stephen's & St. Agnes (Alexandria, Va.), 1976-Present
574
Phyllis Kilgour, Radnor (Radnor, Pa.)
404
Rick Mazzei, Maiden Catholic/Beverly (Mass.), 1979-2011
343
Mary Blake, St. Anne's Belfield (Charlottesville, Va.)
327
Sharon Sarsen, Lakeland-Panas (Shrub Oak, N.Y.)
316
Carol Rainson-Rose, Northport (Northport, N.Y.)
315
Joseph Tornetta, Great Valley (Glen Mills, Pa.)
307
Chris Molonea, Wellesley (Wellesley, Mass.), 1982-Present
303
Doug Rowe, Baldwinsville (Baldwinsville, N.Y.)
302
Courtney Vaughn, Winters Mill (Westminster, Md.)
298
Lisa Lindley, Darien (Ct.), 1994-Present
275
Wendy Kridel, Bryn Mawr (Baltimore), 1989 - Present
259
Paul Kesmodel, Cape Henlopen (Lewes, Del.)
254
Jay Watts, Westminster (Atlanta, Ga.), 1999-Present
253
Chris Robinson, Mount Hebron/McDonogh (Md.), 1996 - present
251
Ginger Kincaid, Glenelg (Glenelg, Md.)
242
Bob Elmer, West Genesee (Camillus, N.Y.)
236
Phil Luckette, Jamesville-DeWitt (DeWitt, N.Y.)
230
Wendy Pinta, Upper Arlington (Upper Arlington, Ohio)
229
Dee Wilkinson, Lafayette (St. Joseph, Mo.)
214
Lisa Parsons, Loomis Chaffee (Windsor, Conn.), 1994-Present
State Championships (state sanctioned, 5 minimum)
Total
Detail
10
Carin Peterson, Severna Park (Severna Park, N.Y.)
6
Kathy Jenkins, St. Stephen's & St. Agnes (Alexandria, Va.), 1976-Present
6#
Brooke Kuhl-McClelland, Mount Hebron (Ellicott City, Md.)
5#
Chris Robinson, Mount Hebron (Ellicott City, Md.)
TEAM RECORDS
State Championships (state sanctioned, min. 5)
Total
Detail
15#
Mount Hebron (Ellicott City, Md.)
12
Garden City (Garden City, N.Y.)
10
Moorestown (Moorestown, N.J.)
10
Severna Park (Severna Park, N.Y.)
9
Cherry Creek (Englewood, Colo.)
6
Milton (Milton, Ga.)
6
St. Stephen's & St. Agnes (Alexandria, Va.)
5#
Darien (Darien, Conn.)
5#
West Genesee (Camillus, N.Y.)
Consecutive Wins (40 minimum)
Total
Detail
73*
Carle Place (Carle Place, N.Y.), 1982-1985
69#
West Genesee (Camillus, N.Y.), 2001-03
63
Okemos (Okemos, Mich.), March 21, 2009 - May 6, 2011
60
Vero Beach (Vero Beach, Fla.), March 13, 2009 - Present
54
Mount Hebron (Ellicott City, Md.), April 1998 - April 12, 2011
52#
West Genesee (Camillus, N.Y.), 2001-03
51
McDonogh (Owings Mills, Md.), April 13, 2009 - Present
51
Londonderry (Londonderry, N.H.), April 21, 2009 - May 22, 2011
48
Garden City (Garden City, N.Y.), May 21, 2009 - Present
46
Los Alamitos (Los Alamitos, Calif.), March 6, 2009 - March 19, 2011
46*
Cicero-North (Syracuse, N.Y.)
SPONSORED HEADLINES
ESPN TOP HEADLINES
MOST SENT STORIES ON ESPN.COM
BOYS' LACROSSE RANKINGS

Rank
School (City, State)
Rec
1
Garden City
Garden City, NY
21-0
2
Gonzaga College
Washington, DC
20-1
3
Bridgewater-Raritan
Bridgewater Township, NJ
21-0
4
Haverford School
Haverford, PA
21-2
5
Conestoga
Berwyn, PA
23-3
See the full boys' lacrosse rankings »