Commentary
ESPNHS Top 50 Juniors
Updated:
January 27, 2012, 10:41 AM ET
By
Tom Peace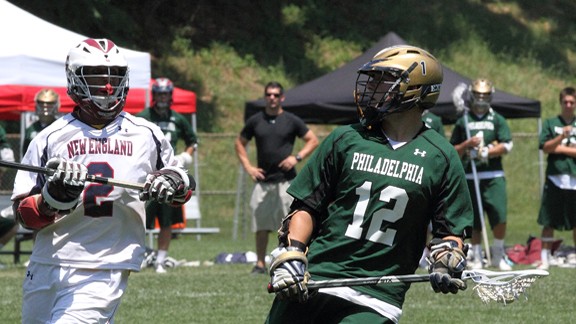 Jimmy Hurlburt/ESPNHSMatt Rambo from La Salle (Wyndmoor, Pa.) at the 2011 Under Armour Underclassmen Games.
ESPNHS Top 50 Juniors: Class of 2013
Over the past seven weeks ESPNHS has listed the Top 25 high school lacrosse players at each position and the Top 100 seniors overall. Completing our boys' rankings for the year is a look at the Top 50 juniors in the Class of 2013.

ESPNHS 100: Top 25 by position
Goalie | Defense | LSM | Midfield | Faceoff | Attack | ESPNHS 100: Class of 2012
| RNK | ATHLETE | HIGH SCHOOL (City, State) | POS | COLLEGE |
| --- | --- | --- | --- | --- |
| 1 | Matt Rambo | La Salle (Wyndmoor, Pa.) | A/M | Maryland |
| 2 | Tim Rotanz | Shoreham-Wading River (Shoreham, N.Y.) | A | Maryland |
| 3 | Nick Fields | Bullis (Potomac, Md.) | LSM | Johns Hopkins |
| 4 | Justin Guterding | Garden City (Garden City, N.Y.) | A/M | Duke |
| 5 | Will Reynolds | Delbarton (Delbarton, N.J.) | D | Princeton |
| 6 | Connor Cannizzarro | Cazenovia Central (Cazenovia, N.Y.) | A | Maryland |
| 7 | Ryan Lukacovic | Chaminade (Mineola, N.Y.) | A | Virginia |
| 8 | Tate Jozokos | Governor's Academy (Byfield, Mass.) | A | North Carolina |
| 9 | Stephen Kelly | Calvert Hall (Baltimore, Md.) | M/FO | North Carolina |
| 10 | Matt Emery | St. Ignatius Prep (San Francisco, Calif.) | M | Virginia |
| 11 | Colin Heacock | Boys' Latin (Baltimore, Md.) | A | Undecided |
| 12 | Jordan Evans | Jamesville-DeWitt (DeWitt, N.Y.) | A/M | Syracuse |
| 13 | Kieran Eissler | Coronado (Coronado, Calif.) | M | Johns Hopkins |
| 14 | Sean Coleman | La Salle (Wyndmoor, Pa.) | M | Undecided |
| 15 | Dylan Maltz | Stone Bridge (Stone Bridge, Va.) | A | Syracuse |
| 16 | Brian Ward | Bayport-Blue Point (Bayport, N.Y.) | A | Ohio State |
| 17 | Wilkins Dismuke | Rock Canyon (Littleton, Colo.) | A | Johns Hopkins |
| 18 | Matthew Ryan | Phillips Exeter (Exeter, N.H.) | LSM | Undecided |
| 19 | Ian King | St. Xavier (Cincinnati, Ohio) | A | Michigan |
| 20 | Danny Fowler | Chaminade (Mineola, N.Y.) | G | Duke |
| 21 | Nick Mazza | Calverton (Davidsonville, Md.) | M | Penn State |
| 22 | Mac Pons | Boys' Latin (Baltimore, Md.) | D | Maryland |
| 23 | Brian Balkam | Smithtown East (St. James, N.Y.) | G | North Carolina |
| 24 | Dylan Molloy | St. Anthony's (South Huntington, N.Y.) | A | Brown |
| 25 | Connor Whipple | St. Andrew's (Boca Raton, Fla.) | A | Georgetown |
| 26 | Nick Aponte | West Islip (West Islip, N.Y.) | M | Undecided |
| 27 | Ethan Powley | Paul VI (Fairfax City, Va.) | D | Duke |
| 28 | Matt Barrett | Malvern Prep (Malvern, Pa.) | G | Virginia |
| 29 | Shane Simpson | Salisbury School (Salisbury, Conn.) | M | North Carolina |
| 30 | Garrett Epple | Calvert Hall (Baltimore, Md.) | D | Ohio State |
| 31 | Jeffrey Kratky | Taft School (Watertown, Conn.) | F/O | Undecided |
| 32 | Adam Hardej | Groton School (Groton, Mass.) | M | Princeton |
| 33 | Austin Pifani | Abington (Abington, Pa.) | D | Undecided |
| 34 | Hayes McGinley | University School (Cleveland, Ohio) | M | Syracuse |
| 35 | Trevor Kupecky | Upper Merion (Upper Merion, Pa.) | A | Hofstra |
| 36 | Eli Lasda | Ithaca (Ithaca, N.Y.) | M | Penn State |
| 37 | Tyler Andreassi | Sachem North (Sachem, N.Y.) | LSM | Massachusetts |
| 38 | John Crawley | Port Washington (Port Washington, N.Y.) | A | Johns Hopkins |
| 39 | Christian Mazzone | Ward Melville (East Setauket, N.Y.) | M | Undecided |
| 40 | Austin Shanks | Brewster Academy (Wolfeboro, N.H.) | A | Michigan |
| 41 | Devon Lewis | Lake Highland Prep (Orlando, Fla.) | M | Georgetown |
| 42 | Joe Seider | Hereford (Parkton, Md.) | A | Towson |
| 43 | Ben Pridemore | Boys' Latin (Baltimore, Md.) | M | Notre Dame |
| 44 | Jake Woodring | Eden Prairie (Eden Prairie, Minn.) | M | Undecided |
| 45 | Ben Chisholm | South River (Edgewater, Md.) | A | Maryland |
| 46 | Patrick Coleman | Manhasset (Manhasset, N.Y.) | D | Undecided |
| 47 | Grant Mahler | St. Andrew's (Boca Raton, Fla.) | M | Cornell |
| 48 | Jake Clise | Loyola-Blakefield (Towson, Md.) | A | Maryland |
| 49 | Charlie Ford | St. Ignatius Prep (San Francisco, Calif.) | LSM | Georgetown |
| 50 | Peyton Klawinski | Memphis University School (Memphis, Tenn.) | M | North Carolina |
SPONSORED HEADLINES
ESPN TOP HEADLINES
MOST SENT STORIES ON ESPN.COM
BOYS' LACROSSE RANKINGS

Rank
School (City, State)
Rec
1
Garden City
Garden City, NY
21-0
2
Gonzaga College
Washington, DC
20-1
3
Bridgewater-Raritan
Bridgewater Township, NJ
21-0
4
Haverford School
Haverford, PA
21-2
5
Conestoga
Berwyn, PA
23-3
See the full boys' lacrosse rankings »