Commentary
Girls' ESPNHS 100
Updated:
March 7, 2012, 9:53 AM ET
By
Tom Peace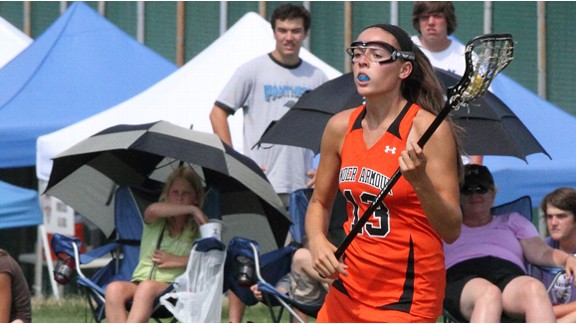 Jimmy Hurlburt/ESPNHSTaylor Cummings from McDonogh (Md.) is the No. 1 player in the ESPN 100.
ESPNHS 100: Class of 2012
Over the past five weeks ESPNHS has listed the Top 25 girls high school lacrosse players at every position. Now we unveil the ESPNHS 100, our choice for the Top 100 players in the nation.

ESPNHS 100: Top 25 by position
Goalie | Defense | Defensive Midfielders | Midfield | Attack | Top 50 Juniors
| RANK | ATHLETE | HIGH SCHOOL (City, State) | POS | COLLEGE |
| --- | --- | --- | --- | --- |
| 1 | Taylor Cummings | McDonogh (Owings Mills, Md.) | M | Maryland |
| 2 | Ally Heavens | Garnet Valley (Glen Mills, Pa.) | D | Penn State |
| 3 | Halle Majorana | Manhasset (Manhasset, N.Y.) | A | Maryland |
| 4 | Kelsey Duryea | Governor's Academy (Beverly, Mass.) | G | Duke |
| 5 | Paige Patterson | St. Stephen's & St. Agnes (Alexandria, Va.) | D-M | North Carolina |
| 6 | Alexandra Bruno | Garden City (Garden City, N.Y.) | A | Princeton |
| 7 | Madison Acton | Lincoln-Sudbury (Sudbury, Mass.) | M | Duke |
| 8 | Stephanie Peragallo | Hauppauge (Hauppauge, N.Y.) | D | Notre Dame |
| 9 | Anne Farnham | Andover (Andover, Mass.) | D | Massachusetts |
| 10 | Kelci Smesko | Ridgewood (Ridgewood, N.J.) | A | Duke |
| 11 | Kayla Treanor | Niskayuna (Niskayuna, N.Y.) | M | Syracuse |
| 12 | Molly Wolf | Bryn Mawr (Baltimore, Md.) | G | Loyola |
| 13 | Elizabeth Bannantine | McDonogh (Owings Mills, Md.) | D-M | Princeton |
| 14 | Taylor Ranftle | Hauppauge (Hauppauge, N.Y.) | A | Virginia |
| 15 | Halley Barnes | Garnet Valley (Glen Mills, Pa.) | A | Rutgers |
| 16 | Tory Waldstein | Needham (Needham, Mass.) | D-M | Harvard |
| 17 | Shelby Aubin | Needham (Needham, Mass.) | D | Georgetown |
| 18 | Erica Bodt | John Carroll (Bel Air, Md.) | M | Syracuse |
| 19 | Brooke Boyd | St. Paul's (Brooklandville, Md.) | M | Virginia |
| 20 | Aly Messinger | Mendham (Mendham, N.J.) | A | North Carolina |
| 21 | Shannon Nee | Manheim Township (Lancaster, Pa.) | G | Connecticut |
| 22 | Brooke Kiley | Germantown Academy (Fort Washington, Pa.) | D-M | Pennsylvania |
| 23 | Emily Pillion | Conestoga (Berwyn, Pa.) | D | James Madison |
| 24 | Caroline Cordrey | Summit (Summit, N.J.) | A | USC |
| 25 | Dene' DeMartino | Eastport-South Manor (Manorville, N.Y.) | M | Johns Hopkinss |
| 26 | Sammy Jo Tracy | Fox Lane (Bedford, N.Y.) | M | North Carolina |
| 27 | Kelsey Hart | North Babylon (North Babylon, N.Y.) | D-M | Florida |
| 28 | Kendall Speno | Summit (Summit, N.J.) | D | Virginia |
| 29 | Mia Capone | Watertown (Watertown, N.Y.) | D | Harvard |
| 30 | Claire Scarrone | Rumson-Fair Haven (Rumson, N.J.) | M | Duke |
| 31 | Emily Tripodi | West Genesee (Camillus, N.Y.) | A | Cornell |
| 32 | Hannah Saris | Moses Brown (Sharon, Mass.) | A | Dartmouth |
| 33 | Katrina Geiger | Haverford (Haverford, Pa.) | M | Loyola |
| 34 | Olivia Long | Vero Beach (Vero Beach, Fla.) | D | Johns Hopkins |
| 35 | Emily Tropsa | Darien (Darien, Conn.) | D-M | Gettysburg |
| 36 | Erin McNulty | Sachem North (Lake Ronkonkoma, N.Y.) | G | Binghamton |
| 37 | Corinne Etchinson | McDonogh (Owings Mills, Md.) | A | Georgetown |
| 38 | Sofia Robins | McDonogh (Owings Mills, Md.) | D-M | Boston |
| 39 | Jordan Porretto | Ward Melville (East Setauket, N.Y.) | D | St. Francis |
| 40 | Kate Lazzeri | Fallston (Fallston, Md.) | D-M | Navy |
| 41 | Catherine Dickinson | Garden City (Garden City, N.Y.) | A | Pennsylvania |
| 42 | Annie Heagerty | St. Anthony's (South Huntington, N.Y.) | A | Georgetown |
| 43 | Sarah Mannelly | New Canaan (New Canaan, Conn.) | M | Boston College |
| 44 | Anne Zabel | Marriotts Ridge (Marriottsville, Md.) | D | UMBC |
| 45 | Chelsey Sidaras | William Floyd (Mastic Beach, N.Y.) | G | Fairfield |
| 46 | Rachel Waldron | GC Marshall (Falls Church, Va.) | D-M | Coastal Carolina |
| 47 | Christina Esposito | West Babylon (West Babylon, N.Y.) | M | Northwestern |
| 48 | Carly Palmucci | Oakton (Vienna, Va.) | A | Connecticut |
| 49 | Ally McLaughlin | Harriton (Lower Merion Township, Pa.) | D | Undecided |
| 50 | Taylor Gait | Christian Brothers (Syracuse, N.Y.) | M | Syracuse |
| 51 | Kate Walker | Bryn Mawr (Baltimore, Md.) | D | Yale |
| 52 | Shelby Milne | West Genesee (Camillus, N.Y.) | D | Undecided |
| 53 | Maddy Lynch | Springfield-Delco (Springfield, Pa.) | A | Princeton |
| 54 | Kelly Boyd | St. Paul's (Brooklandville, Md.) | M | Virginia |
| 55 | Kara Dattellas | West Genesee (Camillus, N.Y.) | D-M | Delaware |
| 56 | Hannah Hartman | Notre Dame Prep (Baltimore, Md.) | D-M | Notre Dame |
| 57 | Caitlin Crouse | St. Mary's | A | Maryland |
| 58 | Maggie Fobare | Hockaday (Dallas, Texas) | A | Northwestern |
| 59 | Kate Farnham | Andover (Andover, Mass.) | D-M | Massachusetts |
| 60 | Tayler Bowman | Oswego (Oswego, N.Y.) | G | Undecided |
| 61 | Kelly Cross | Upper Dublin (Fort Washington, Pa.) | M | Syracuse |
| 62 | Lauren Lea | Archbishop Spalding (Severn, Md.) | A | Florida |
| 63 | Michele Phillips | St. Stephen's & St. Agnes (Alexandria, Va.) | M | Notre Dame |
| 64 | Mary Alati | Glen Ridge (Glen Ridge, N.J.) | M | Virginia |
| 65 | Liz Hyde | Chatham (Chatham, N.J.) | D-M | Dartmouth |
| 66 | Nicole Lescano | St. Thomas Aquinas (Ft. Lauderdale, Fla.) | D | San Diego State |
| 67 | Maddy Aldave | St. Paul's (Brooklandville, Md.) | M | Johns Hopkins |
| 68 | Jaclyn Leto | Chatham (Chatham, N.J.) | M | Dartmouth |
| 69 | Taylor Giglio | Oswego (Oswego, N.Y.) | A | Albany |
| 70 | Kate Anello | Blair Academy (Blairstown, N.J.) | G | Undecided |
| 71 | Molly Fleming | Marriotts Ridge (Marriottsville, Md.) | D | Maryland |
| 72 | Maddie Ward | Spring Ford (Royersford, Pa.) | A | Massachusetts |
| 73 | Bridget Vilbig | Island Tree (Bethpage, N.Y.) | D-M | Ohio State |
| 74 | Kristen Bandos | Academy of Notre Dame (Villanova, Pa.) | M | Georgetown |
| 75 | Maeve Flaherty | Staples (Staples, Conn.) | M | Brown |
| 76 | Amanda Ackerman | Kent Island (Stevensville, Md.) | A | Penn State |
| 77 | Megan Gulmi | Syosset (Syosset, N.Y.) | G | North Carolina |
| 78 | Steph Toy | Moorestown (Moorestown, N.J.) | M | Notre Dame |
| 79 | Darcy Messina | St. Anthony's (South Huntington, N.Y.) | A | Florida |
| 80 | Madison Cyr | Winters Mill (Westminster, Md.) | A | Penn State |
| 81 | Emily Barron | Cicero-North (North Syracuse, N.Y.) | D | Iona |
| 82 | Emma Lazaroff | Centarus (Lafayette, Colo.) | M | Duke |
| 83 | Jessica Thon | Victor (Victor, N.Y.) | M | Virginia Tech |
| 84 | Mackenzie Rafferty | Downingtown East (Exton, Pa.) | A | Delaware |
| 85 | Megan Ward | St. Mary's (Annapolis, Md.) | G | North Carolina |
| 86 | Meredith Abrahamson | Loyola Academy (Wilmette, Ill.) | M | Marquette |
| 87 | Caroline Hagan | Hatboro-Horsham (Horsham, Pa.) | D-M | St. Joseph's |
| 88 | Betsy Angel | Roland Park (Baltimore, Md.) | A | James Madison |
| 89 | Heather Harman | Milton (Milton, Ga.) | M | Penn State |
| 90 | Lely Desimone | Suffern (Suffern, N.Y.) | D-M | Pennsylvania |
| 91 | Liz Gully | Kent Place (Summit, N.J.) | D | Pennsylvania |
| 92 | Nicole Markowitz | Baldwin (Baldwin, N.Y.) | D | Monmouth |
| 93 | Carter Reifsnider | Collegiate (Richmond, Va.) | D-M | James Madison |
| 94 | Kallan Murray | Chatham (Chatham, N.J.) | A | Colgate |
| 95 | Michelle Gildea | Springfield-Delco (Springfield, Pa.) | D | Towson |
| 96 | Olivia Schneider | St. Paul's (Brooklandville, Md.) | D | Villanova |
| 97 | Lauren Bosse | Towson (Towson, Md.) | D | Penn State |
| 98 | Liz Rullan | Ward Melville (East Setauket, N.Y.) | D-M | Navy |
| 99 | Meganne Weissenfels | Coronado (Coronado, Calif.) | G | Undecided |
| 100 | Kristen Cannon | Manchester Valley (Manchester, Md.) | D-M | Johns Hopkins |
BOYS' LACROSSE RANKINGS

Rank
School (City, State)
Rec
1
Garden City
Garden City, NY
21-0
2
Gonzaga College
Washington, DC
20-1
3
Bridgewater-Raritan
Bridgewater Township, NJ
21-0
4
Haverford School
Haverford, PA
21-2
5
Conestoga
Berwyn, PA
23-3
See the full boys' lacrosse rankings »