Girls' ESPNHS Top 50 Juniors
Updated:
May 21, 2012, 11:14 PM ET
By
Tom Peace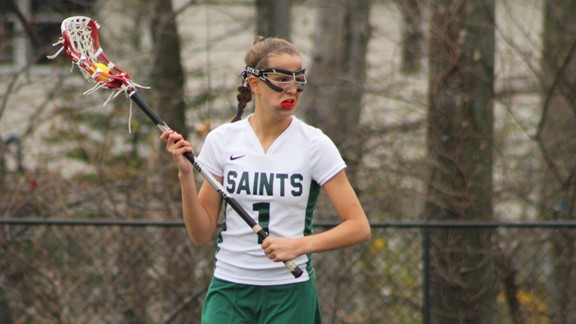 Jimmy Hurlburt/ESPNHSCarly Reed from St. Stephen's & St. Agnes (Va.).
ESPNHS Top 50 Juniors: Class of 2013
Over the past six weeks ESPNHS listed the Top 25 girls high school lacrosse players at every position and unveiled the ESPNHS 100. Now we unveil the ESPNHS Top 50, our choice for the Top 50 juniors in the nation.

ESPNHS 100: Top 25 by position
Goalie | Defense | Defensive Midfielders | Midfield | Attack | ESPNHS 100
| RNK | ATHLETE | HIGH SCHOOL (City, State) | POS | COLLEGE |
| --- | --- | --- | --- | --- |
| 1 | Cortney Fortunato | Northport (Northport, N.Y.) | A | Notre Dame |
| 2 | Carly Reed | St. Stephen's & St. Agnes (Alexandria, Va.) | A | North Carolina |
| 3 | Maggie Bill | St. Anthony's (South Huntington, N.Y.) | M | North Carolina |
| 4 | Sydney Holman | East Chapel Hill (Chapel Hill, N.C.) | M | North Carolina |
| 5 | Casey Black | McDonogh (Owings Mills, Md.) | A | Duke |
| 6 | Caroline Peters | Good Counsel (Olney, Md.) | M | Vanderbilt |
| 7 | Zoe Stukenberg | Marriotts Ridge (Marriottsville, Md.) | M | Maryland |
| 8 | Casey Pearsall | Wilton (Wilton, Conn.) | M | Notre Dame |
| 9 | Stephanie Lazo | St. Mary's (Annapolis, Md.) | A/M | Penn State |
| 10 | Besser Dyson | St. Stephen's & St. Agnes (Alexandria, Va.) | A | Virginia |
| 11 | Morgan Torggler | Severna Park (Severna Park, Md.) | M | Maryland |
| 12 | Mollie Stevens | Queen Anne's (Centreville, Md.) | M | Florida |
| 13 | Jenny Schwalje | St. Anthony's (South Huntington, N.Y.) | M | Georgetown |
| 14 | Linda Attanasio | Garden City (Garden City, N.Y.) | D | Undecided |
| 15 | Samantha Burgess | McDonogh (Owings Mills, Md.) | M | Florida |
| 16 | Colleen Lovett | Wantagh (Wantagh, N.Y.) | A | Georgetown |
| 17 | Caroline Federico | Maryvale Prep (Baltimore, Md.) | G | Undecided |
| 18 | Olivia Hompe | New Canaan (New Canaan, Conn.) | A | Princeton |
| 19 | Kelsey Murray | New Trier (Winnetka, Ill.) | A | Stanford |
| 20 | Heidi Annaheim | Kinnelon (Kinnelon, N.J.) | A/M | Notre Dame |
| 21 | Taryn Deck | Radnor (Radnor, Pa.) | A | Undecided |
| 22 | Bairre Reilly | Locust Valley (Locust Valley, N.Y.) | A | Maryland |
| 23 | Mackenzie Orr | Conestoga (Berwyn, Pa.) | M/D | Navy |
| 24 | Isabelle Montagne | Lake Forest (Lake Forest, Ill.) | D | Duke |
| 25 | Nicole Kopyta | Indian Hills (Oakland, N.J.) | A | Rutgers |
| 26 | Abby Smucker | C. Milton Wright (Bel Air, Md.) | M | Penn State |
| 27 | Carolina Fitzgerald | Mount Siani (Mount Siani, N.Y.) | M | Florida |
| 28 | Posey Valis | McDonogh (Owings Mills, Md.) | M | Virginia |
| 29 | Cristina McCarthy | Holy Cross (Kensington, Md.) | A | James Madison |
| 30 | Maggie Auslander | Green Hope (Cary, N.C.) | D | North Carolina |
| 31 | Alex Poplawski | Springfield-Delco (Springfield, Pa.) | M | Undecided |
| 32 | Haley Bordner | Century (Sykesville, Md.) | A/M | Undecided |
| 33 | Marisa Romeo | Christian Brothers (Syracuse, N.Y.) | A | Undecided |
| 34 | Annie Ruland | Milton (Milton, Ga.) | A | USC |
| 35 | Kendall D'Amore | Canandaigua (Canandaigua, N.Y.) | M | Undecided |
| 36 | Brenna Carberry | Lake Forest (Lake Forest, Ill.) | A | Undecided |
| 37 | Jessica Volpe | Hauppauge (Hauppauge, N.Y.) | D/M | Stony Brook |
| 38 | Maggie Preas | McDonogh (Owings Mills, Md.) | D | Virginia |
| 39 | Samantha Brookhart | Mount Hebron (Ellicott City, Md.) | M | Towson |
| 40 | Tegan Helms | Wilton (Wilton, Conn.) | M | Columbia |
| 41 | Liz O'Sullivan | New Canaan (New Canaan, Conn.) | G | Stanford |
| 42 | Margaret Tucker Fogarty | St. Stephen's & St. Agnes (Alexandria, Va.) | M | James Madison |
| 43 | Meredith Bushell | Shoreham-Wading River (Shoreham, N.Y.) | M | Northwestern |
| 44 | Stephanie Carr | Pingry School (Martinsville, N.J.) | A | Harvard |
| 45 | Taylor Hardison | Darien (Darien, Conn.) | A | Undecided |
| 46 | Hannah Rees | McDonogh (Owings Mills, Md.) | D | Undecided |
| 47 | Shea Cassidy | Good Counsel (Olney, Md.) | A | Undecided |
| 48 | Jillian Doherty | Brooks School (North Andover, Mass.) | M | Vanderbilt |
| 49 | Michaela Michael | Menlo School (Atherton, Calif.) | M | USC |
| 50 | Lane Huger | Cardinal Gibbons (Raleigh, N.C.) | M | Undecided |
SPONSORED HEADLINES
ESPN TOP HEADLINES
MOST SENT STORIES ON ESPN.COM
BOYS' LACROSSE RANKINGS

Rank
School (City, State)
Rec
1
Garden City
Garden City, NY
21-0
2
Gonzaga College
Washington, DC
20-1
3
Bridgewater-Raritan
Bridgewater Township, NJ
21-0
4
Haverford School
Haverford, PA
21-2
5
Conestoga
Berwyn, PA
23-3
See the full boys' lacrosse rankings »