Commentary
Bertulfo brings island tradition to the field
Updated:
April 1, 2009, 12:37 PM ET
By
Garland Cooper
| ESPNRISE.com
When people think of Hawaii, they often think of leis, hula skirts, luaus, surfing and Polynesian dancing.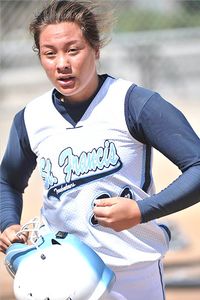 Scott Kurtz for ESPNRISE.comKeala Bertulfo impressed at the Faster to 1st Tournament.
What they don't realize is that the culture goes far deeper than flowers, food and dancing.
Hawaii has maintained much of its rich culture, and many Hawaiians grow up immersed in the traditions of the islands.
One such Hawaiian is the junior first baseman for St. Francis (Honolulu) High School, Keala Bertulfo.
She grew up attending a Hawaiian immersion school on the south side of Oahu, where classes were taught in Hawaiian. The first language she spoke was not English, but Hawaiian. Although she could speak English, it wasn't until the fifth grade when she began to learn to read and write the language.
"Everyone spoke English, but I couldn't read or write it until the fifth grade," Bertulfo said. "Even then, we had to start with the basics in the English classes."
School also was where Bertulfo participated in many cultural aspects of her native island.
"We practiced Hawaiian religion and seasons. The god Lono is the god of harvesting, and during a certain part of the year we would go and clean up the beaches. We also can't fish during that time because the fish are replenishing."
Until fifth grade, Bertulfo didn't have too much trouble learning English. But as she grew older and moved into more advanced classes, reading and writing became more difficult.
"When I was going into the fifth grade, it wasn't too bad when I was learning English. My school was able to bring English across at a pace I could handle," Bertulfo said.
"As I advanced in grades, that's where it got most stressful and difficult, because they started to give us work that was meant for average sixth-, seventh- or eighth-graders," she said. "Because I was still new to the whole reading and writing English concept, it was frustrating trying to do work at a whole different level."
Before her freshman year in high school, Bertulfo decided to move to St. Francis. "It was better academically, and I wanted to play softball," Bertulfo said.
However, attending St. Francis made learning even more challenging.
"I felt as if I was really behind in English, going from an environment where everyone is at the same point as I was to one where the majority of the students exceeded my English skills. It was hard work and frustrating to get to the point where I could confidently keep up with them."
Along with a more rigorous academic schedule, St. Francis offered Bertulfo the opportunity to play softball. The immersion school didn't offer softball, which she had played for years.
"I played baseball when I was young, and I started playing club softball when I was 12," she said. "My cousin encouraged me to play baseball, and I got hooked."
Now, despite having been off the island only four times in her life, Bertulfo is finding her way to some of the best tournaments in the country. One of them is the Faster to First Tournament, hosted by Canyon (Anaheim, Calif.) High School and held in Huntington Beach, Calif.
Bertulfo continues to try to improve her game to reach the next level. Her coach, Mark Glushenko, says she works hard enough to get there.
"She is one of the hardest workers I have seen," Glushenko said. "Sometimes she wears me out!"
As Bertulfo improves her English, she also improves her "pohili palupalu," or softball. Now a junior, Bertulfo looks to college as her next challenge.
Garland Cooper covers high school softball for ESPN RISE.
SPONSORED HEADLINES
ESPN TOP HEADLINES
MOST SENT STORIES ON ESPN.COM
SOFTBALL RANKINGS

Rank
School (City, State)
Rec
1
Norco Senior
Norco, CA
31-2
2
Porter Ridge
Indian Trail, NC
33-1
3
Red Mountain
Mesa, AZ
35-3
4
James Logan
Union City, CA
24-1
5
Amador Valley
Pleasanton, CA
26-1
See the full softball rankings »