Commentary
Perfection 22 times and counting
Updated:
April 30, 2009, 11:09 AM ET
By
Garland Cooper
| ESPNRISE.com
When No. 21 stepped onto the field Thursday, she pitched perfectly. She didn't realize the number on her back would take on several meanings that day.
[+] Enlarge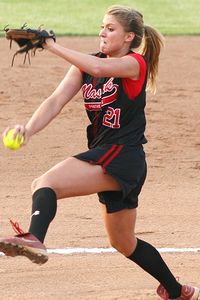 Courtesy of Fico FamilyRachele Fico owns the national record with 22 career perfect games.
Senior ace Rachele Fico of Masuk High (Monroe, Conn.) pitched her 21st perfect game and struck out 21 batters in the process. Her career milestone also set the national record for perfect games; the record previously was held by California native Marissa Marzan.
"I tried not to think about it," Fico said. "I just went out there focusing on one pitch at a time. There was a lot of talk before the game, but I just ignored it."
It must have been hard to ignore all the hype around that game against Bethel High, but if Fico was nervous, no one could tell. Even in the most pressure-packed moment of the game -- two outs in the seventh -- Fico kept her cool. She said she didn't even think about the record.
"I treated the last batter like I treat any other batter," she said. "My mentality didn't change from the first pitch to the last pitch."
Even though that game was a one-woman show with Fico fanning every batter she faced, she was quick to credit her team for her success.
"This is a great team accomplishment. I can't throw a perfect game without my team behind me," Fico said. "I have my catcher Shayna [Ramalho] working hard behind the plate every pitch, framing balls and squeezing pitches. I know I can be on my A-game when I have a solid team behind me."
Clearly, sportsmanship is one of Fico's strengths, along with the ability to lead from the circle. In fact, Fico was so focused on winning and performing for her team, she forgot she was plowing through the Bethel lineup and breaking a national record.
"I didn't realize I struck out all 21 batters until the game was over," Fico said. "I was just going one pitch at a time and entering every play with great enthusiasm."
Enthusiasm turned to straight domination as Fico mowed down batter after batter. She plans on doing much more of this, since her team is headed into the postseason.
"Our team actually qualified for state playoffs on Thursday when I broke the record," Fico said. "From here, we are just trying to secure our seeding for league and state playoffs."
After her high school career ends, Fico will move south to pitch for LSU.
"I can't wait until I get down there and I can play in warm weather all year 'round," Fico said. "Right now, I just look forward to playing with my team here and having the time of my life."
National high school records are not broken every day, and it looks like Fico might blow this one right out of the water. She already has racked up an impressive 87-2 record with 1,547 career strikeouts, 78 shutouts and 41 no-hitters. She threw another perfect game this week to put the record at 22. It is safe to say Fico is on a roll, but don't tell her that.
"I guess you could say that," she said, hesitating. "I don't know though. I don't want to jinx anything!"
Garland Cooper covers high school softball for ESPN RISE.
SOFTBALL RANKINGS

Rank
School (City, State)
Rec
1
Norco Senior
Norco, CA
31-2
2
Porter Ridge
Indian Trail, NC
33-1
3
Red Mountain
Mesa, AZ
35-3
4
James Logan
Union City, CA
24-1
5
Amador Valley
Pleasanton, CA
26-1
See the full softball rankings »