No. 1 Miami Northwestern trumps No. 2 Southlake Carroll
DALLAS -- Miami Northwestern left no doubt who is the nation's top high school football team.
And that's no bull.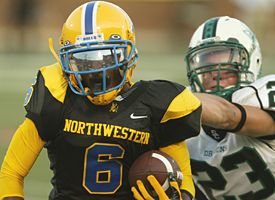 Mike Fuentes/AP PhotoMiami Northwestern evaded Southlake Carroll's defenders on Saturday night.
OK, actually, the Northwestern Bulls are No. 1 in the ESPN Super 25 rankings and will stay atop the fray after traveling to No. 2 Southlake (Texas) Carroll. In Saturday night's 29-21 victory over Carroll, the Bulls demonstrated the essence of their pass-oriented offense. Northwestern's superior speed beat out Carroll's historic four-year run of 49 consecutive wins and an emerald green-clad Carroll throng. "That's a great team we played," Northwestern coach Billy Rolle said. "Our offenses mirror each other; we both go with no huddle and spread [the field]." Northwestern (3-0) totaled 358 offensive yards, including 280 through the air against a ball-hawking defense. And the overflow crowd of 31,896 at Southern Methodist University's Ford Stadium -- the game also was televised nationally on ESPNU -- can confirm it. To wit: • Wide receiver Tommy Streeter had 140 receiving yards on four catches and three touchdown receptions, delivering a stellar performance when the Bulls needed it most. Streeter, an uncommitted senior, broke open the game in the third quarter with a 75-yard TD gallop down the sideline untouched for a 27-21 lead. The play was called Southlake. "It was something we picked up on film watching them [Carroll] this week," Streeter said. "I made a double move, in and out." He also scored twice in the opening half, from 32 and 16 yards. • University of Miami-bound Jacory Harris, the quarterback and brains of the offense, dissected Carroll's secondary with hot reads. Harris completed 75 percent of his passes (21 of 28) without an interception for 280 yards. "Without my offensive line, I'd never have the time," Harris said. "They covered my back." • Rolle, who is in his second coaching stint with Northwestern, made the critical halftime adjustments by adding a defensive back while employing a three- or four-man line. The beefed-up secondary flustered Carroll quarterback Riley Dodge, who threw two interceptions. "The game came down to us not making mistakes," said Rolle, who was hired in late July. • With Northwestern leading 27-21 in the third, a pivotal play stretched the lead to eight points. The Bulls were awarded a safety when a snap sailed over the head of punter Loarn Hinkle, who alertly kicked the loose ball out of the end zone with 4:47 left. "Actually, those [two] points were big, turned the game around," Rolle said. "Instead of six points, Southlake needed a touchdown and two-point conversion just to tie." Carroll (1-1) rallied to make it 21-21 late in the second quarter when Oregon-bound wide receiver Blake Cantu caught a 26-yard TD pass from Dodge, who hit on 15 of 18 passes for 173 yards in the opening 24 minutes. Dodge, who will sign with North Texas, never found his rhythm in the second half. "It's disappointing," Carroll coach Hal Wasson said. "Hats off to Northwestern; they capitalized on our [five] turnovers." Wasson, who served as an assistant at Carroll in 2001 and '02 under Dodge's father, Todd Dodge (now the coach at the University of North Texas), inherited a squad that has won the past three Class 5A Division I state titles. In his second game, the Dragons had their win streak stopped one short of 50. Carroll and Abilene (from 1954 to '57) share the Texas large-school record. "I never gave much thought to the win streak," Wasson said. "We'll correct some mistakes this week and focus on district and state titles." Both teams came out throwing on their opening drives. Carroll took a 7-0 lead when Chris Brainard (eight receptions, 116 yards) caught a 35-yard pass, but Northwestern equalized with a 32-yard catch by Streeter, capping a neat nine-play, 71-yard drive. Meanwhile, Northwestern regained its mental edge, something that might have drifted off in a 28-18 victory over Homestead in Week 2. Defensively, the Bulls buried the run (40 yards on 24 carries) behind tackle Marcus Forston and linebacker Sean Spence, a pair of ESPN 150 players from the Class of 2008. Harris found mismatches to exploit against a smaller secondary, while crediting his opponent for a signature play. When asked about a sideline route on which Streeter juked his defender with fancy footwork, Rolle smiled. "I learn from others," Rolle said. "That's the way I coach."
Christopher Lawlor covers high school sports and compiles the ESPN Super 25 for ESPN.com.
High School Basketball
Christopher Lawlor has covered high school sports for more than 20 years, most recently with USA TODAY, where he was the head preps writer responsible for national high school rankings in football, baseball and boys and girls basketball. He also ran the Gatorade national player of the year program for nine years.
SPONSORED HEADLINES
ESPN TOP HEADLINES
MOST SENT STORIES ON ESPN.COM
FOOTBALL RANKINGS

Rank
School (City, State)
Rec
1
Don Bosco
Ramsey, NJ
11-0
2
Armwood
Seffner, FL
15-0
3
Trinity For Boys
Louisville, KY
14-0
4
Grayson
Loganville, GA
15-0
5
Good Counsel
Olney, MD
13-0
See the full football rankings »