Commentary
No. 3 St. Xavier looks to survive "region of death"
This is first of a three part series chronicling the postseason for teams in the ESPN HIGH Elite 25 high school football rankings. Part I analyzes the East and Midwest regions. Next up is the West Region on Nov. 9.
Darius Ashley, the running back with more moves than a Ryder truck and quick cutback ability, finds his once-tender ankle is finally 100 percent healthy.
As the focal point of a smashmouth-style offense, Ashley missed three games earlier this season before returning to the St. Xavier (Cincinnati) lineup. Playing one of the most difficult schedules in the ESPN HIGH Elite 25 high school football rankings, Ashley slowly regained his form as the Bombers completed a second undefeated regular season in three years.
Ashley, who earlier this week chose Louisville over Virginia, knows the cliché -- 110 percent will be needed if No. 3 St. Xavier expects to succeed in Ohio's Division I (largest classification), Region 4 (Cincinnati area) playoffs, which kick off this weekend.
[+] Enlarge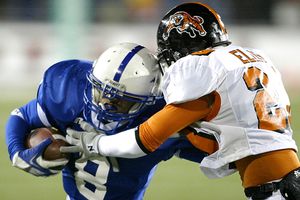 AP Photo/Ron SchwaneSt. Xavier running back Darius Ashley is back after missing three games earlier this season.
"We have the experience on our side, and that will help in this region," said Ashley, who has rushed for 813 yards and scored 10 touchdowns this season.
Region 4 should be dubbed "the region of death" for its depth and quality of teams. Winning the region doesn't always punch a ticket for a state championship.
To wit, No. 10 Colerain (Cincinnati) expended so much energy in winning the Region 4 title that it fell to Region 3 (Columbus area) champion, Hilliard Davidson, in the semifinals last year. Davidson, which did not qualify for the postseason this season, eventually won the state championship over Mentor, 36-35, in overtime.
"There wasn't any gas left in the tank after the region," said Colerain head coach Tom Bolden, who was an assistant and offensive coordinator last year.
Ohio, like most Midwest states, is in full playoff mode. Ohio traditionally is the strongest of the Midwest states in high school football (92 NFL players on opening weekend rosters attended Ohio schools, giving the state the fourth-most NFL players after hotbeds California, Texas and Florida). After successful regular seasons, now comes the tough part -- winning the "second season" or the postseason.
History is on the side of Region 4, annually considered the top in Ohio, and it lives up to its haughty status this year.
--Since the inception of the Ohio state tournament, 27 of the 35 Division I finals have featured a Cincinnati-area school. Region 4 is 4-0 in the final since 2002.
• 15 champions: Moeller (seven state titles, last in 1985); Princeton (four, last in 1987); Elder (two, last in 2003); St. Xavier (2005); and Colerain (2004).
• 12 runners-up: Most recently, St. Xavier in 1998.
Top-seeded St. Xavier hosts league rival Elder (7-3) on Saturday (7 p.m. ET) at Ballaban Field, and second-seeded Colerain entertains Clayton Northmont (7-3). If St. Xavier wins, it will play Centerville or Princeton (Cincinnati). If Colerain advances to the semifinals, it will play Moeller (Cincinnati) or Sycamore (Cincinnati).
The semifinal doubleheader will be played Nov. 10 at Paul Brown Stadium (home of the Cincinnati Bengals). Semifinal doubleheaders have attracted more than 55,000 people in the past.
If Colerain and St. Xavier make it to the final, both clubs will be 12-0.
"Can't worry about it," Bolden said of the potential matchup. "It's one play at a time. One quarter at a time, and one game at a time. Sounds cliché, but we're focused on the next game, and that's Northmont."
Colerain features a triple-option offense. The attack is triggered by quarterback Doug Reynolds but is most successful when Eastern Michigan-bound running back Dominick Sherrer breaks the first wave of tacklers for large chunks of yardage. Sherrer averages 8.2 yards per carry, having gained 1,313 yards and scored 24 touchdowns.
Undersized defensive end Brandon Mills (5-10, 260 pounds) also set school records with 12.5 sacks and 26.5 tackles for loss.
"If he's 3 or 4 inches taller, Brandon would be going to Ohio State," Bolden said.
Colerain, a member of the Greater Miami Conference, has won 58 straight regular season games and is one of three conference teams in the region. Colerain did not face Sycamore or Princeton this year.
The Greater Cincinnati Catholic League South sent three of four teams to the region, including St. Xavier, Moeller and Elder. All three have won Division I state titles, with St. Xavier the last to secure a championship in 2005.
Should St. Xavier survive the region, it would be a byproduct of a collaborative effort, coach Steve Specht said.
"Each week, someone else steps up," Specht said. "We have a number of kids who fulfill their roles and come up with a great effort."
Last month, starting quarterback John Hurley went down with a torn anterior cruciate ligament in his knee during a 45-0 victory over St. Edward (Lakewood). Sophomore backup Luke Massa suddenly was thrust into the lineup and is 3-0. Massa is surrounded by 10 seniors on offense and has been asked to "manage the game, not necessarily make the big play," Specht said.
With offensive weapons such as running backs Ashley and Luca Romeo and wide receiver/kicker Danny Milligan all contributing, it's a group of unsung heroes who might have the greatest impact.
The FOOLS -- Fraternity Order of Offensive Linemen Society -- are the glue of a powerful offense that averages 31 points against a schedule with three defending state or conference champions and Ohio heavyweights St. Ignatius and Glenville (both from Cleveland).
"They do a great job but never seem to get the credit or the headlines," Specht said.
Tackles Ian Godofsky and Matt Deye, center Andrew Carpenter and guards Max Bauman and Kyle Wenker are senior starters, with 6-7, 270-pound sophomore Matt James seeing plenty of snaps for the cohesive unit.
"We know what we do for the team," Bauman said. "We've been stable all season."
Ashley concurs.
"I always give them credit. They need more accolades for their hard work."
Specht said 11 players were named first-team all-league, including Bauman and Carpenter on offense. Strong safety Fred Craig, a Stanford recruit, was the league's defensive player of the year.
St. Xavier and Colerain aren't the only 10-0, ranked Ohio schools aiming for a state title. No. 13 Cardinal Mooney (Youngstown) hopes to make it back-to-back titles in Division IV (third-smallest class).
The Cardinals host Coshocton (7-3) on Saturday in one of the four Region 13 quarterfinal matchups. If they win, the Cardinals will play either St. Vincent-St. Mary (Akron) or Perry in the semifinals. Two weeks ago, Mooney scored 21 points in the fourth quarter to turn back SVSM (LeBron James' alma mater), 21-17.
Steubenville (10-0) won't make it three straight Division III state crowns because it was reclassified prior to this season. Steubenville opens Region 13 play against Cuyahoga Valley Christian (Cuyahoga Falls) and could face the Cardinals on Nov. 17 in the region final.
More Midwest Region states
The ESPN HIGH Elite 25's Midwest Region rankings might be top-heavy with three Ohio schools but also includes schools from Oklahoma, Indiana, Minnesota, Missouri and Illinois.
Here's a closer look:
• Oklahoma: It's a two-team race in Class 6A (largest class) between traditional powers, No. 23 Union (Tulsa) and reigning champion Jenks. Since 1996, only Jenks (eight) and Union (three) have won 6A titles. In this year's regular season meeting, Union won an overtime thriller 43-42 on Sept. 7. Jenks (9-1) and Union (9-0) have clinched district titles and could meet in the 6A final Dec. 1. Union closes out the regular season Friday against Ponca City.
• Indiana: Penn (Mishawaka), No. 10 in the Midwest, goes for the Class 5A, Section 2 title Friday against Goshen. Warren Central (Indianapolis), the four-time Class 5A champion, has recovered from a mediocre regular season and is 8-3 heading into the Sectional 5 final against Hamilton Southeastern (Fishers). In Sectional 6, undefeated Pike (Indianapolis) is the favorite and could meet Penn for the 5A crown at the RCA Dome in Indianapolis over Thanksgiving weekend.
• Minnesota: Cretin-Derham Hall (St. Paul), Eden Prairie and Edina are the favorites in Class 5A. CD Hall (10-0), No. 6 in the Midwest, faces Tartan (7-3) Saturday for the Section 4 title.
Edina and Eden Prairie, both 10-0, play for the Section 6 Saturday. Eden Prairie, coached by Mike Grant (son of Hall of Fame coach Bud Grant of the Minnesota Vikings), has won four 5A title since 1997. The Section 4 and 6 winners could meet in the final on Nov. 23 at the Metrodome in Minneapolis.
• Missouri: When Midwest regionally-ranked teams No. 6 Blue Springs South and No. 7 Rockhurst (Kansas City) meet Friday, a District 7 title is on the line, with the loser coming home. Four of the eight quarterfinal slots in Class 6 have been determined. Friday's battle of unbeatens is being called "the unofficial state championship." The winner figures to waltz through the Class 6 bracket, with the final Nov. 23 at the Edward Jones in St. Louis. Blue Springs South is the defending state champ.
• Illinois: Two regional teams Mount Carmel (Chicago) and Wheaton-Warrenville South are zeroing in on crowns in different classes. No. 5 Mount Carmel (10-0) is the top seed in the large-school class (8A) upper bracket and opened with a 48-7 win over Leyden in the first round to face Palatine in the second round. Fremd (Palatine) and Downers Grove South likely will challenge the Caravan on the Road to Champaign on Nov. 24 at Memorial Stadium. In 7A, No. 9 WWS is the top seed in the lower bracket and must play defending champion St. Rita (Chicago) in a second-round "trap game." Boylan (Rockford), Geneva and Glenbrook North (Northbrook) are serious contenders.
East Region
In Pittsburgh, Friday launches four weekends of "knock down and a battle to the finish," as Central Catholic (Pittsburgh) coach Terry Totten described the Western Pennsylvania Interscholastic Athletic League playoffs.
The WPIAL, founded in 1906, is a confederation of 138 high schools and 147 junior high schools in the greater Pittsburgh area. The organization is older than the Pennsylvania Interscholastic Athletic Association, the commonwealth's governing body, organized in 1914.
In the 18 years since the playoffs were introduced in 1988, WPIAL schools have won the 4A title nine times, including the past three seasons -- Central Catholic (2004), McKeesport (2005) and Upper St. Clair (2006). WPIAL teams have lost in the state final six times.
The largest classification (4A or "Quad A") traditionally is the strongest, but, like the three other classes, sends only one representative to the PIAA's quarterfinal round.
This year's WPIAL 4A bracket is loaded, with Central Catholic, No. 15 in the ESPN HIGH Elite 25 rankings, as its top seed. Central Catholic is the state's top-ranked team regardless of class.
The Vikings play Plum (Pittsburgh) on Friday (7 p.m. ET) at Fox Chapel High in the opening round, but don't let Plum's 2-7 record fool you. The wins were sandwiched around seven losses, but the largest margin of loss was 11 points. Plum quarterback Kyle Simmons, a two-year starter, is a concern, Totten said.
"He can beat you with his arm and feet."
Central Catholic (9-0), though, has wiped out all nine opponents, averaging 43 points per game. The Vikings ride the strong right arm of quarterback Tino Sunseri, a Louisville recruit, and running backs Dan Vaughan and Andrew Taglianetti.
"The (WPIAL) playoffs are a grind," Totten said. "Sometimes it's a letdown when you play in the [PIAA]."
Tradition-rich Western Pennsylvania (District 7) has sent 15 teams to the 18 PIAA 4A title games. Coach Terry Smith's regionally ranked Gateway (Monroeville, Pa.), the state's No. 2 team behind Central Catholic, is on a collision course with the Vikings for the WPIAL final on Nov. 23 at Heinz Field in Pittsburgh.
"One game at a time," said Smith, who won a WPIAL title as a player at Gateway. "We can't look at the entire bracket, because we might not be around that long."
After a 27-6 loss in the opener to No. 13 Mooney of Youngstown, Ohio, the Gators have peeled off eight victories and captured the WPIAL 4A Big East Conference title. Gateway plays Penn-Trafford (Harrison City) on Friday in the first round. The winner gets reigning state champion Upper St. Clair or Shaler. Undefeated North Allegheny (Wexford), No. 6 in the East, and Penn Hills (Pittsburgh) are in Gateway's bracket.
"The WPIAL is like the Southeastern Conference (of college football); every week is a challenge," Smith said. "Winning it goes a long way for bragging rights, and seems the kids know someone on the other team or are somehow affiliated."
The WPIAL kicks off this weekend, but the rest of Pennsylvania starts Nov. 9. New York, Maryland, New Jersey and Massachusetts also have East Region teams.
• Pennsylvania: The PIAA opens with district tournaments next week. In 4A, the favorites include Ridley (Folsom), Parkland (Allentown), Central Bucks South (Warrington), Liberty (Bethlehem), Neshaminy (Langhorne) and North Penn (Lansdale).
In WPIAL Class 2A, Terrelle Pryor, the nation's No. 3 prospect according to the ESPN 150, is looking to close out his stellar career at Jeannette with a second straight state championship. In order to capture the WPIAL title, Jeannette needs to fend off 8-1 clubs such as Mars, Riverside (Ellwood City), Beaver Area and Beaver Falls.
In PIAA, the favorites in 3A are Thomas Jefferson (Jefferson Hills), Berwick and West Scranton. In the smallest class (1A), Clairton and Serra Catholic (McKeesport) from the WPIAL could meet in the final, but District 4 entrants Southern Columbia (Catawissa) and Bloomsburg also are contenders. Southern Columbia has won the past five state titles.
• New York: The state does not crown an overall champion. New York City public and Catholic schools conduct their separate tournaments, as do Long Island public schools from Nassau and Suffolk counties. The state's public schools are in their playoffs, with champions to be crowned Nov. 23 and 25 in Syracuse.
William Floyd (Mastic Beach), No. 9 in the East, has won a Long-Island-record 29 straight games and is on target for a third straight Division I championship.
• New Jersey: The state boils down to Non-Public, Group 4, where No. 21 Don Bosco Prep (Ramsey) and regionally ranked St. Peter's Prep (Jersey City) look to meet again for the title in December at Giants Stadium. In the previous two seasons, the teams have split title game tilts, with Don Bosco winning last year's final. QB-DB Will Hill, the No. 2 player in the ESPN 150, leads St. Peter's. The non-public teams compete for state championships, while the public schools play for one of four Group sectional titles. The brackets won't be released until next week.
Don Bosco (7-0) still has a key game Saturday against neighboring rival Bergen Catholic (7-0). BC holds a 26-25-2 lead in the all-time series, but Don Bosco won 34-10 last year.
• Maryland: DeMatha (Hyattsville), No. 20 in the ESPN HIGH Elite 25, does not compete for a Maryland state championship, but that doesn't mean the Stags have an empty trophy case. In fact, DeMatha has won the Washington Catholic Athletic Conference title 12 times in 16 years, including the past four. DeMatha (8-1), which opened the season with a 28-7 loss to No. 3 St. Xavier (Cincinnati), plays Good Counsel (Olney) in the finale. The two teams likely will meet for the fourth straight year in the WCAC final in two weeks.
• Massachusetts: Everett (8-0), No. 8 in the East, is on a roll. The Greater Boston Conference team still has three regular season games left (including a traditional Thanksgiving Day game versus Cambridge) but should win another Eastern Massachusetts, Division I Super Bowl. Boston College-bound running back Isaac Johnson is the top player, and coach John DiBiaso recently surpassed 200 career wins. Boston College High and Brockton are the Crimson Tide's main competition.
Christopher Lawlor has covered high school sports for more than 20 years, most recently with USA TODAY, where he was the head preps writer responsible for national high school rankings in football, baseball and boys and girls basketball. He also for worked for Scholastic Coach magazine, where he ran the Gatorade national player of the year program for nine years. Lawlor, a New Jersey resident, grew up in Rochester, N.Y. and is a graduate of St. Bonaventure University.
High School Basketball
Christopher Lawlor has covered high school sports for more than 20 years, most recently with USA TODAY, where he was the head preps writer responsible for national high school rankings in football, baseball and boys and girls basketball. He also ran the Gatorade national player of the year program for nine years.
SPONSORED HEADLINES
ESPN TOP HEADLINES
MOST SENT STORIES ON ESPN.COM
FOOTBALL RANKINGS

Rank
School (City, State)
Rec
1
Don Bosco
Ramsey, NJ
11-0
2
Armwood
Seffner, FL
15-0
3
Trinity For Boys
Louisville, KY
14-0
4
Grayson
Loganville, GA
15-0
5
Good Counsel
Olney, MD
13-0
See the full football rankings »