Commentary
Future looks bright for Morgan Newton
Updated:
October 21, 2008, 2:32 PM ET
By
Mike Grimala
| ESPNRISE.com
Morgan Newton knows he's not close to the finish line.
[+] Enlarge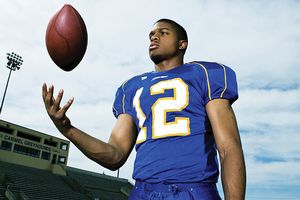 Brian SpurlockMorgan Newton led Carmel to an Indiana Class 5A state championship and grabbed All-State honors as a junior.
As a quarterback, he has a long way to go before he can be considered a finished product. His coach at Carmel says the senior can improve his passing accuracy, speed up his release, make quicker decisions and clean up his footwork.
Newton knows this, and that's what makes him so scary. Despite his relative rawness, he is the most dangerous player in the state. At 6-foot-4 and 217 pounds, Newton possesses 4.5 speed in the 40-yard dash and as strong an arm as anyone in the area can remember.
"Physically, there's nothing that can hold him back," Carmel head coach Mo Moriarity says. "He's a freak athlete. He can throw the ball as far as anybody I've seen, and he's got the speed to run it. As far as athleticism, he's probably as good as I've ever had. And I'd be surprised if there's another 17-year-old as athletic as him anywhere."
Last year, Newton began the process of putting the pieces together and turning his talent into production. He led the Greyhounds to a 13-2 record and a Class 5A state championship in his first year as the full-time starter, earning All-State honors in the process.
Favorites
Movie: "Beverly Hills Cop"
Actor: Denzel Washington
Actress: Halle Berry
Musical Artist: Lil Wayne
Now in his final prep season, Newton is rated the nation's No. 16 signal-caller in the Class of 2009 in the ESPNU 150.
"Last year was great; I can get better, though," Newton says. "Last year was my first full season, and I feel like I have the experience now. I've been blessed with size and versatility to do different things, and I need to keep working to become the player that I can be."
Newton has been getting better since the third grade, when he first began playing organized football. Back then, the offense consisted primarily of giving him the ball and watching him slice through the defense for long touchdowns. The game plans are a little more sophisticated these days, but the end result is often the same.
Operating in Moriarity's spread-option offense, Newton was the ultimate dual threat last fall. He passed for 1,883 yards and 25 touchdowns and ran for 750 yards and 11 scores. And he left his imprint on every game.
Throwing to a talented core of experienced receivers, Newton mastered the quick-hitting passing style employed by Moriarity. He completed 58.2 percent of his passes and tossed just seven interceptions, and when he couldn't find an open man he was still able to make things happen with his legs.
Newton pulled the ball down 132 times, rushing for an average of 5.7 yards per attempt. His big arm and crazy legs combined to make the Carmel offense a juggernaut, averaging 36.1 points per game.
"I felt like I was in control last year," Newton says. "My sophomore year, I was a backup, and when I played it was more about making sure I didn't mess anything up coming in. As I gained experience, I learned how to play the game within the game reading defenses, running the ball."
[+] Enlarge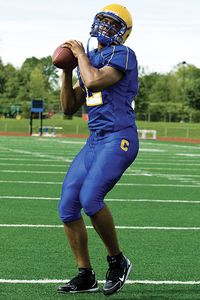 Brian SpurlockNewton has committed to Kentucky
After thoroughly toying with defenses as a junior, scholarship offers from college programs began rolling in. With the versatility to fit into just about any type of offense, Newton received offers from heavy hitters like Florida, Clemson, Illinois, South Carolina, Indiana and Purdue before picking Kentucky in August.
In addition to making his college decision, Newton spent plenty of time during his summer vacation fine-tuning his game in hopes of leading Carmel to another state title this season. Occasionally, however, his thoughts drifted a little further down the line.
"I'm going to take football as far as I can," Newton says. "I want to play major Division I football. And if the opportunity presents itself, I want to play in the NFL. That's my dream. So I'd like a college program to prepare me to take that next step. I'm willing to put in the work it takes to get there."
As dominant as Newton was last year, he fully understands that he remains a work in progress. Moriarity says he can still improve his touch and accuracy on short and intermediate passes, as well as his footwork in the pocket.
"I'm not there yet," Newton says. "I know I can still elevate my game. I take advice from people like my father and coach Moriarity, and if I keep improving I know I can make it."
His father, Dr. John Newton, played football collegiately at Grambling and says his NFL contacts are intrigued with what they've seen from his son.
Former No. 1 draft pick and 14-year NFL veteran Jeff George has worked with Newton privately and come away impressed. Newton also sat down and watched tape with former Super Bowl MVP Doug Williams a college teammate of his father's while on a trip to Florida this summer.
"His potential is unlimited," Moriarity says. "I can't say he's the best quarterback I've ever had yet, because I had Rex Grossman. But with Morgan, the way he can run, and with his arm, he's got it all. The NFL and all that will be determined by how much he wants it."
Newton may not be a finished product just yet. But if the present is any indication, the future will be well worth watching.
Mike Grimala covers high school sports from ESPN RISE.
FOOTBALL RANKINGS

Rank
School (City, State)
Rec
1
Don Bosco
Ramsey, NJ
11-0
2
Armwood
Seffner, FL
15-0
3
Trinity For Boys
Louisville, KY
14-0
4
Grayson
Loganville, GA
15-0
5
Good Counsel
Olney, MD
13-0
See the full football rankings »