Commentary
Meier and Meier thrive on the green
Updated:
November 11, 2008, 1:13 PM ET
By
Christopher Parish
| ESPNRISE.com
Rochester girls' golf coach Jeff Haney learned early on not to push too hard at sibling rivalry. The year was 2006. Amy Meier was a freshman and her sister, eighth-grader Christine, had joined the golf team at a spring practice.
Christine birdied a hole, and Haney attempted to spark some friendly competition between the siblings. He told Amy about Christine's birdie. No response. The sisters, he recalls, each seemed uncomfortable at the thought of one-upping the other.
Haney quickly found out that the two golfers weren't particularly interested in competing with each other. But in the years that have followed, he's found they have had no problem one-upping the rest of the state.
[+] Enlarge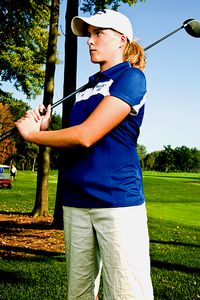 Scott StewartAmy Meier is swinging for a state title this year.
Amy, now a senior, and Christine, a junior, have emerged as two of the state's best golfers. They have also risen quickly up the national ranks --"Golfweek" rated both among the Top 200 in the U.S. as of press time.
While Amy is ranked slightly higher, Christine beat her older sister at last year's Lower Peninsula Division 1 state golf tournament, finishing in a tie for second while Amy placed eighth. Together, they led Rochester to a runner-up finish.
To the Meier sisters, it doesn't matter who finishes first as long as the team does well and they're near the top of the leaderboard. Luckily, that's usually the case -- both have finished in the top 10 at state every season since they were freshmen.
"One day she'll beat me and another day I'll beat her," Amy says. "We're always happy for each other. We're always encouraging."
Sometimes, such as during match-play competitions, Haney is faced with the unenviable task of ranking the girls.
Amy Meier Favorites
TV Show: "House"
Movie: "Alvin and the Chipmunks"
Athlete: Lorena Ochoa
Food: Cookie Dough Ice Cream
Last year, he pulled them both aside and floated one possible tactic to accomplish this, attempting to gauge their responses in the process.
"I guess I'm just assuming Amy is No. 1 and Christine you're No. 2 because Amy is older," he said. Both of them nodded. "Fine with us," they replied. And that was that.
"They're great competitors," Haney says. "And I'm sure they are competitive with each other. But I've never seen it."
That's because it's subtle -- and practical. After all, someone has to win.
"There's always going to be competition," Amy says.
"It's a different kind of competition, though," adds Christine. "We're not 'mean' competitive. But if I want to win, it means I have to beat her."
One person they don't mind beating is their dad, Randy, who introduced them to the sport when they were "about 8 years old or so." He and his wife, Phyllis, had just joined a local country club and the girls enjoyed tagging along, although they were more interested in playing on the golf cart than learning the game.
Eventually, with their parents encouraging them, they stepped up to the tee. First was Amy -- Christine initially resisted -- but it wasn't long before both were hooked on the sport. Randy gave the sisters lessons until they started improving too quickly,and then he hired a swing coach.
"By the time they were about 11, they were beating me," he says. "They're much better than me now."
Randy was intent not to become an overbearing parent. Both Amy and Christine say they've never felt pressured to hit the links. Their parents are never over their shoulders, tweaking their swings or dragging them out to hit one more bucket at the driving range. They do that on their own.
Christine Meier Favorites
TV Show: "Greek"
Movie: "The Dark Knight"
Actor: Reese Witherspoon
Musical Artist: Maroon 5
"They both individually want to be the best, and they work at it," Haney says.
Though their careers have progressed similarly, there are differences between the two. Amy is the longer hitter. Christine has a small edge with her short irons. Both have an impeccable short game -- chipping and putting.
Of the two, Amy is the more stoic and serious, while Christine has a much more easygoing temperament. "She doesn't really get worked up about anything," Haney says.
[+] Enlarge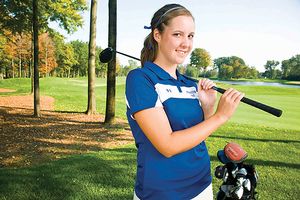 Scott StewartChristine Meier says she couldn't live without her clubs --her golf clubs.
The 5-foot-6 Amy gave up her second love -- basketball -- to focus on golf year-round.
"I don't think I regret it," she says, "but it's hard."
The 5-foot-11 Christine, however, couldn't bring herself to quit hoops and still plays on the varsity team.
"I considered quitting, but I love it," she says. "It's a good transition (from golf). You have to rely on your teammates so much more and it's an intense atmosphere."
But Christine's commitment is to golf first and foremost, as it is with her sister. The two spent much of their summer playing in AJGA tournaments, with Amy claiming a win at the Nationwide Insurance Junior tournament and Christine finishing runner-up at the Randy Wise Junior Open.
Both golfers have aspirations far beyond high school. Amy has committed to Ohio State and hopes to play professionally someday.
"I'd love to go pro, but even if I don't, I'll always play," she says. "I don't think I could go into teaching -- I'm not that patient -- but maybe I could run my own golf course or something."
Christine has only just begun the college search but won't base the decision on where her sister is going. "If we go to the same school, awesome. But if we don't, that's cool too," she says.
Even with Christine returning next year, Haney already admits the team won't be the same without both Meier sisters around.
"It's been great because they're not just great players," he says. "I see so many golfers who can make life difficult for the team and the coach, but I couldn't be luckier. They're both team-first people. They want to do well, but they want our team to do well first."
Christopher Parish covers high school sports for ESPNRISE.com.
FOOTBALL RANKINGS

Rank
School (City, State)
Rec
1
Don Bosco
Ramsey, NJ
11-0
2
Armwood
Seffner, FL
15-0
3
Trinity For Boys
Louisville, KY
14-0
4
Grayson
Loganville, GA
15-0
5
Good Counsel
Olney, MD
13-0
See the full football rankings »