RISE National Athletes of the Week
Updated:
October 22, 2008, 11:43 AM ET
ESPNRISE.com
Kelly Griffin, a volleyball player from Mother McAuley High of Chicago, and Andrew Springer, a cross country runner from Westerly High of Westerly, R.I., have been chosen as the latest ESPN RISE National Boys and Girls Athletes of the Week for the 2008-09 school year.
Griffin led ESPN RISE No. 12-ranked Mother McAuley to a title in the Autumnfest tournament last weekend that included five FAB 50 teams. The Mighty Macs defeated No. 20 Joliet Catholic (which def. No. 4 Benet) in the finals 27-25, 17-25, 29-27.
[+] Enlarge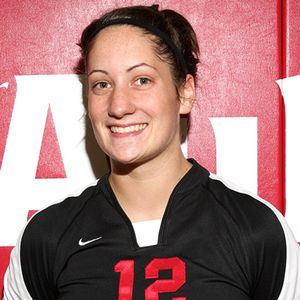 Mother McAuleyKelly Griffin leads FAB 50 No. 12 Mother McAuley of Chicago.
Griffin, a senior outside hitter, was awarded the MVP of the tournament and had 21 kills and three digs in the final. She also had 17 kills in a quarterfinal match and racked up 47 for the tournament in all.
A standout track distance runner, Springer had not participated in cross country until now. He has made it clear, though, he's a contender at the national level with a big victory last weekend at the Brown Invitational.
Springer outran Brookline, Mass., senior David Wilson, who has been considered one of the top two to three runners in New England, 15:03 to 15:10 on the 5k course. Last spring, Springer had clocked 9:14.96 for 2 miles, which was the leading mark in his state.
For more coverage of that meet and for more on Springer, go to DyeStat.com.
Athletes of the Week Week 1 | 2 | 3 | 4 | 5 | 6 | 7 | 8 | 9 | 10 | 11 | 12 | 13 | 14 | 15 |
The full list of this week's ESPN RISE regional boys and girls athletes of the week follows:
East Region Athletes of the Week
Andrew Springer (Westerly, R.I.) -- Also named ESPN RISE National Boys Athlete of the Week.
Carolyn Wiley (Lenape, N.J.) Known for her skills as a defensive stopper for one of the top soccer teams in the nation, Wiley scored three goals last week without seeing second-half action in any match for FAB 50 Top 10 Lenape. On Monday of this week, she added another goal in a 6-0 win over Camden Catholic as Lenape improved to 14-0-0.
Southeast Region Athletes of the Week
Matt Mizereck (Leon, Tallahassee, Fla.) Mizereck showed he's the head of the class among a group of young Florida cross country talent with his 15:18 5k win at the Florida Pre-State Meet in Dade City. While some of the state's best girls were missing from the field, virtually all of Florida's young, up-and-coming boys talent was there. Mizereck, who ran a PR of 15:07 two weeks earlier, won the 3A state meet last year as a sophomore and now appears ready to make a bid to qualify for the Nike Team Nationals or Foot Locker finals.
Amanda Winslow (Collins Hills, Suwanee, Ga.) This standout senior placed a strong fifth at Great American Race of Champions a week earlier, but maybe Winslow is only getting started. She ripped a 17:32 5k last weekend at the Coach Wood Invitational, winning by 50 seconds against many of Georgia's best harriers, and took down the course record of Emily Reese, a World Junior XC Team member last winter. Winslow's Collins Hill team is ranked third in the country in the latest Harrier U.S. Top 25.
Midwest Region Athletes of the Week
Joe Carlson (St. Viator, Arlington Heights, Ill.) The junior golfer rallied from a 4-shot deficit on the final five holes to finish with a 7-under-par 137 to claim medalist honors as the Lions repeated as state Class 3A golf champion at The Den at Fox Creek course in Bloomington, Ill. He became the first state medalist at the school after trailing Quincy's Parker Freiburg most of the day. St. Viator's 7-over 583 was a team record at The Den and tied the best team total in state history.
Kelly Griffin (Mother McAuley, Chicago, Ill.) -- Also named ESPN RISE National Girls Athlete of the Week.
Top Basketball Players
The ESPN RISE high school athletes of the week program will honor a national girls and boys player of the week as well as five regional players of the week each week for the rest of the season.
Southwest Region Athletes of the Week
Reed Connor (The Woodlands, Texas) The leader and a real team player for the U.S. No. 9-ranked Texas cross country powerhouse, Connor gained some individual recognition with his biggest invitational victory, clocking a 14:58 for 5k last weekend at the Chile Pepper Festival at the University of Arkansas. With last fall's health setbacks behind him, Connor appears poised for national honors as the Texas season heads toward the state meet and his team prepares for the postseason and beyond. Connor also hit 9:08.16 on the track last spring for 3,200 meters.
Chelsea Sveinsson (Greenhill, Texas) With a 17:11 5k at the Chile Pepper Festival at the University of Arkansas, Sveinsson, just a sophomore, won her second major invitational in three weeks. This time, she defeated many of Texas' top distance runners and confirmed that she's ready to make a return to a national meet this December. Sveinsson's even more renowned for her accomplishments on the track, where her victorious time in the Nike Indoor freshman mile was faster than the championship.
West Region Athletes of the Week
Amadeo Escobar (Skyview, Nampa, Idaho) Escobar netted two goals to start the week in a 4-0 win over Bishop Kelly of Boise and then came up with one goal and one assist in a 3-1 victory over Middleton. The two wins put Skyview's record at 19-0-0 heading into the state soccer tournament next week. Escobar has been a top playmaker all season for the unbeaten squad. Last year, Skyview also was unbeaten for the regular season only to lose its only match in the state final.
Shelby Babcock (Legacy, Broomfield, Colo.) The junior fireballing pitcher is being hailed by some as the best softball player ever from Colorado, which is one of a handful of states in which softball is conducted as a fall sport instead of in the spring. In last week's state tournament, Babcock pitched a two-hitter with 12 strikeouts and had an RBI double in a 4-1 win over Ralston Valley in the Class 5A state final. She also threw a no-hitter in the semifinals and over four games in the tourney she struck out 60 and had just five hits allowed. Babcock, who also led Legacy to the state title as a sophomore, has trimmed her list of college choices down to national powerhouses Arizona and Texas A&M.
Nominations can be sent in each week for consideration. Include brief reasons why the athlete should be chosen and what he or she did in the previous week, and send the nomination to mark@studentsports.com.
SPONSORED HEADLINES
ESPN TOP HEADLINES
MOST SENT STORIES ON ESPN.COM
FOOTBALL RANKINGS

Rank
School (City, State)
Rec
1
Don Bosco
Ramsey, NJ
11-0
2
Armwood
Seffner, FL
15-0
3
Trinity For Boys
Louisville, KY
14-0
4
Grayson
Loganville, GA
15-0
5
Good Counsel
Olney, MD
13-0
See the full football rankings »