2008 EA SPORTS Girls' Golf All-Americans
Updated:
January 30, 2009, 1:17 PM ET
ESPNRISE.com
Congratulations to the 2008 EA SPORTS Girls' Golf All-Americans:

Jane Rah (Torrance, Calif.), Senior
Rah becomes the only player to be named an EA SPORTS Girls' Golf All-American all four years. She finished in fifth place at the Southern California Regional, shooting a 71. Her Torrance team finished in second place with a team total of 383. The next day, Rah shot a 73 in helping guide her team to a California state title. In November, she tied for ninth at the Polo Golf Junior Classic. She signed to play at Oklahoma State next fall.
Jenny Shin (Torrance, Calif.), Junior
The Torrance Tartars have produced some top golf talent, both boys and girls. Like her teammate, Jane Rah, Shin was an integral part of Torrance's success this year. In the state tournament, where Rah finished No. 3, Shin came out on top -- winning in a playoff to capture individual state honors.
Courtney Gunter (Porter Ridge, Matthews, N.C.), Senior
Gunter is off to play for her home state North Carolina Tar Heels next year. In 2008, she won her third straight North Carolina 1A/2A/3A championship. Because of her golf skills and 4.5 grade point average, she was named to the HP All-America team. She was also named to the Rolex Junior All-America team. Gunter was named the Charlotte Observer Girls' Golfer of the Year, an award that honors her as the best player in the Observer's 110-school coverage area in North and South Carolina.
Lindy Duncan (American Heritage, Fort Lauderdale, Fla.), Senior
Duncan is Duke bound next year, like her future teammate Amanda Blumenherst, who was also on the EA SPORTS Girls' Golf All America Team. In 2008 Duncan led American Heritage to the 1A state championship, which was the school's third title in the four years. She was also the individual girls' state champion with a five under par 67.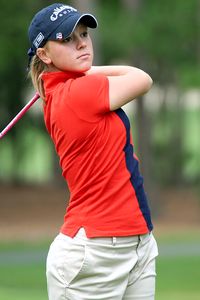 American Junior Golf Association Madison Pressel is finding success on the links like her older sister Morgan.
Madison Pressel (Spanish River, Boca Raton, Fla.), Senior
Pressel accepted a golf scholarship to the University of Texas this past November. She completed a dominating senior year by winning the district title, regional title, and the Class 2A state championship. Two years ago, Pressel finished third and last year came in fourth. This year she won the state title by four shots. For Pressel, winning the state championship her senior year was perfect, according to the Palm Beach Post.
Courtney Ellenbogen (Blacksburg, Va.), Senior
The senior lettered four years on the Blacksburg boys' golf team and helped guide the squad to two state championships. Her senior year, she finished in fourth place overall, after finishing in third her junior year. In 2008 she had the opportunity to play in the U.S. Women's Open, where she missed the cut, but did shoot two rounds of 79. She will join a fellow EA SPORTS All-American, Lindy Duncan, at Duke next fall.
Lauren Weaver (Cave Creek, Cactus Shadows, Ariz.), Senior
Weaver dominated in the Class 4A-I state tournament in 2008, shooting a two-round total of 134 (68-66), six shots ahead of the second place finisher. Along with her sister (Lindsey), Lauren helped guide her team to a second straight team title. In 2008, Weaver was named to HP Scholastic Junior All-America Team by the American Junior Golf Association. She signed to play at Northwestern next fall.
Mary Michael Maggio (Conway, Ar.), Senior

EA SPORTS All-American

ESPN RISE congraulates the EA SPORTS All-Americans for the 2008-09 season:
• Football first team
• Football second team
• Football junior team
• Football sophomore team
• Girls' golf

The senior had an amazing high school career that included 37 wins. In 2008, she was runner-up in the state tournament; she took home top honors in 2007. She was named to the All-State team four times. In November of 2008, the Conway star signed a letter of intent to play at LSU next year.
Tiffany Lua (Los Altos, Calif.), senior
Lua signed with UCLA this past November. Lua aided in her team shooting a 403, which was good enough for second place in the team competition of the California state title, they finished second to Torrance, and fellow EA All Americans, Jane Rah and Jenny Shin. In the CIF Southern Section regional, Lua finished in fourth place, placing higher than Rah and Shin. In the state tournament, she finished tied for eighth. She is currently the No. 3 golfer in the Polo Junior Golf Rankings.
Brittany Altomare (Shrewsbury, Mass.), Senior
She was a four-year member of the Shrewsbury High School boys' golf team, a second All-American to play with the guys. She helped guide the team to a fourth place finish, in 2008. She was named team captain her junior and senior year and in November of 2008 signed to play at Wake Forest. She has been a Massachusetts Junior State champion three times.
SPONSORED HEADLINES
ESPN TOP HEADLINES
MOST SENT STORIES ON ESPN.COM
FOOTBALL RANKINGS

Rank
School (City, State)
Rec
1
Don Bosco
Ramsey, NJ
11-0
2
Armwood
Seffner, FL
15-0
3
Trinity For Boys
Louisville, KY
14-0
4
Grayson
Loganville, GA
15-0
5
Good Counsel
Olney, MD
13-0
See the full football rankings »