Commentary
Better late than never for Trainer
Updated:
May 7, 2009, 9:28 AM ET
By
Mike Grimala
| ESPN RISE Magazine
Other elite junior golfers may have gotten a head start, but that's not a problem for Martin Trainer. The Gunn (Palo Alto, Calif.) senior is a fast finisher.
[+] Enlarge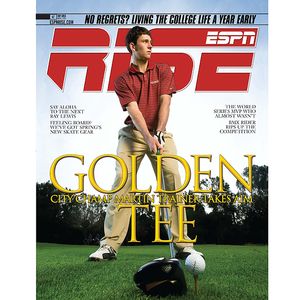 ESPN RISE MagazineCover boy Martin Trainer will take his sweet swing to USC next year.
Most of the country's best amateurs started on the links when they were 5 or 6 years old, growing up with personal coaches to help hone their games 24/7. Trainer, meanwhile, didn't swing a club for the first time until his father took him to Palo Alto Municipal Golf Course when he was 12.
He's definitely made up for lost time. In the short time since picking up the sport, Trainer has become one of the nation's top amateur golfers. He has qualified for the U.S. Amateur Championship, won a prestigious local tournament and accepted a full golf scholarship to USC -- and that's just in the past two years.
"I haven't enjoyed the privileges some of the other top juniors have, but that's stuff you can't control," Trainer says. "I practiced a lot, and I'm kind of proud of the fact that I've come so far." When Trainer started out, just about all he could do was hit with his driver. He could blast it far and fairly straight but knew little about navigating the golf course. Trainer spent much of his first summer on the links learning how to play different shots and experimenting with his game. He made enough progress to convince his father to hire an instructor the next spring.
With a teacher smoothing out his mechanics, Trainer's development kicked into high gear. He logged daily hours on the course and at the range, with his short game making so much progress it eventually became a strength. Amazingly, less than two years after picking up the sport, Trainer became a scratch golfer. And by the time he got to high school in the fall of 2005, his all-around ability was on full display. Trainer went out for the varsity team at Gunn and put on a show from the very first practice, becoming the team's No. 1 golfer as a freshman.
"What really impressed me was how good he got in his first two years," Gunn coach Chris Redfield says. "Most of the times when you see these prodigies, they've been playing since they were 5 years old or younger. Martin had been playing less than two years and he was already so polished when he got to high school."
Martin Trainer Favorites
TV Show: "24"
Actor: Ed Norton
Movie: "Pulp Fiction"
Musical Artist: Led Zeppelin
Through his first two years of high school, Trainer had focused mostly on prep and local competition. With his game continuing to advance, however, he figured it was time to test himself against tougher opposition after his sophomore season despite failing to even play at the state meet. Trainer entered the nation's biggest national tournaments that summer, qualifying for the U.S. Amateur Public Links Championship, U.S. Amateur Championship and U.S. Junior Amateur Championship. Playing in all three events gave him a confidence boost and proved he belonged with the best junior golfers in the country.
"That summer I really got intense," Trainer says. "When I qualified for those three tournaments, I thought, 'Wow, I can be a pretty good player.'"
Trainer carried that swagger back to Cali. Last March, he entered the San Francisco City Golf Championship, one of the state's most esteemed amateur tournaments. Playing the best golf of his career to that point, Trainer reached the match-play portion of the tournament and defeated every opponent put in front of him.
In the final round, Trainer faced a 48-year-old former champion, but the experience gap didn't deter him. Less than five years after taking his first swings, Trainer won, 2-up, becoming at 16 the youngest champ in the 92-year history of the event. "That just validated that Martin was a heck of a player," Redfield says. "The San Francisco City is one of the oldest continuous running tournaments in the country, and you get serious competitors there. It's not a junior event. That's why it was such a great win for Martin."
Since then, Trainer has been a hot name around the Bay Area and beyond. "It seemed like after that, everyone knew who I was," Trainer says. "Even people outside the golf community know me as the kid that won the City tournament, so I guess I made a name for myself."
After the big win, Trainer opted not to compete for Gunn in 2008, instead choosing to practice on his own schedule. He plans on skipping the high school season again this year so he can focus on getting ready for college and summer tournaments.
Trainer came within three strokes of qualifying for the U.S. Open last year, finishing 13th at a sectional qualifying event (the top seven made it). He considers that to be his greatest accomplishment as a golfer and plans to try again this summer.
"I expected to go out there and shoot a horrendous score and just get murdered," Trainer says. "There were actual touring professionals there. Now, obviously I played out of my mind and had the best round of my life, but just knowing that it's possible is enough to keep me going. Qualifying for the U.S. Open is my dream right now."
With the way Trainer's game seems to be set on fast-forward, simply qualifying might be underselling his potential. He might skip straight to the final round on Sunday.
Mike Grimala covers high school sports for ESPN RISE Magazine.
FOOTBALL RANKINGS

Rank
School (City, State)
Rec
1
Don Bosco
Ramsey, NJ
11-0
2
Armwood
Seffner, FL
15-0
3
Trinity For Boys
Louisville, KY
14-0
4
Grayson
Loganville, GA
15-0
5
Good Counsel
Olney, MD
13-0
See the full football rankings »