Commentary
Highland Park cruises to a ninth Texas title
Updated:
March 26, 2009, 11:19 AM ET
By
Jeff Miller
| Special to ESPNRISE.com
DALLAS -- Even an incredible run like the Highland Park (Dallas) girls' swimming and diving team's record nine consecutive Class 4A state championships isn't accomplished without crossing a few fingers. Or whatever the Scots think will affect their fate.
[+] Enlarge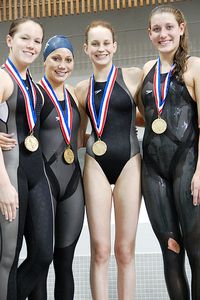 Warren ChangKatie Streepey, Hannah Ferrin, Tanner Harris and Allison Arnold cruised in the 200 medley finals.
Freshman Lindsey Streepey has a certain chamois that serves as a security blanket near the diving board. Senior Delaney Rolfe must have a cup of coffee in the morning before a meet. If senior Hannah Ferrin has a good performance, she'll attempt to recreate that day's previous events when she next competes.
Then there is senior Tanner Harris' rule of numbers, which came to her two years ago.
"We do not say numbers before the state meet," Harris said sternly. "There are so many other teams at our high school that have tried to go for, you know, their fifth state championship. Anytime a number comes up in slogan, they have not won."
And a number was of particular significance a few weeks ago at the state meet in Austin. No other sports team in the history of University Interscholastic League competition has run off nine consecutive state titles since records were first kept in 1910.
"It was No. 9, but we never mentioned it right before state," said Harris, who will swim for Tulane.
That practice, not to mention another dominating performance that included junior Allison Arnold breaking two state records, brought state title No. 9 back to Highland Park. The Scots finished 85 points ahead of second-place Montgomery.
"I think it's almost more relief," Scots coach Jesse Cole said. "We get to the end of the season; the pressure is just mounting on them. We don't try to talk about it, but we all know we want to win. And they all want to be a part of that and do their part."
After the closing 400-yard freestyle relay, the Highland Park girls gathered on the deck before the formal announcement of the final standings.
"We all kind of stood around in a huddle with our arms around each other," Rolfe said. "It was kind of cool because we all kind of bonded together for that one moment. Kind of like a pep talk among all of us. Then we started jumping up and down and screaming."
And the fun was just beginning for some after the team returned home. Streepey and sister Katie, a junior, were pretty quiet until they actually got in the front door.
"I think we were kind of in shock for a little bit," Katie said. "Tensions were still running pretty high. Then we just broke out in big smiles and started hugging each other and jumping around the living room like idiots."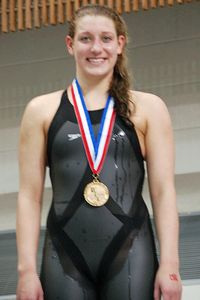 Warren ChangAllison Arnold has been named Texas' 4A swimmer of the year.
Cole was pretty confident going into the meet, thanks to the number of state qualifiers that the Scots had coming out of regional competition.
"But our attitude here is we never take anything for granted," said the second-year coach. "We kind of knew that if we didn't make any errors, we were in good shape."
The 200 medley relay team of freshman Tanner Harris, Arnold, Ferrin and Katie Streepey opened the finals by knocking more than 2½ seconds from its previous time. ("Berserk," Cole called it.) Then Arnold set her first state record of the day by winning the 200 freestyle, breaking the mark set eight years ago by Highland Park's Candace Blackman. After Arnold added another state record in the 500 free, Cole could see another title in sight with four events left.
Highland Park's 400 free relay team of Ferrin, Rolfe, Bolton Harris and Arnold simply needed to avoid disqualification to win the meet. With Montgomery favored to capture the final race, Highland Park won by more than 2 seconds.
"That last relay," said Ferrin, who has signed with New Mexico State, "I've never seen any of us swim like that before."
Ferrin collected third-place honors in the 100 butterfly and 100 backstroke. Lindsey Streepey placed third in 1-meter diving. Bolton Harris finished third in the 200 free and fifth in the 100 free. Rolfe was fifth in the 200 free and 500 free. Katie Streepey finished eighth in the 50 free and 16th in the 100 free. Tanner Harris added a 15th-place finish in the 100 back.
In addition to the two relay wins, the 200 free relay combination of Katie Streepey, Rolfe, Tanner Harris and Bolton Harris finished fourth.
Arnold, a two-time individual winner for the third consecutive state meet, was named the girls' 4A swimmer of the year. Her performance more than offset her practice of arriving at the starting blocks much later than most swimmers do.
"Especially on relays -- they get nervous that I'm not going to get there," Arnold said with a smile. "But I think they've gotten used to it by now."
Cole is the fifth coach during Highland Park's string of titles. He attributes much of the team's success to the Dallas Mustangs club program that gets many of these girls into competitive swimming well before they reach high school.
"The other thing is Highland Park has a pretty heavy tradition of excellence in every sport," said Cole, whose Plano teams won four state titles. "So the kids come in with the attitude that they can win. They have a really good work ethic. I think that's the key."
Most team members start their day with a 6 a.m. high school practice that lasts almost two hours and return in the evening for a club practice of two and a half hours. Most of them just ended a swimming "vacation" of a week or two following the state meet and returned to the pool with the Mustangs.
As for Cole and the Scots' program, "We're already plotting and planning for next year."
Whatever number championship that might be.
Jeff Miller is a freelance writer in Texas and can be reached at miller.jeff55@gmail.com.
SPONSORED HEADLINES
ESPN TOP HEADLINES
MOST SENT STORIES ON ESPN.COM
FOOTBALL RANKINGS

Rank
School (City, State)
Rec
1
Don Bosco
Ramsey, NJ
11-0
2
Armwood
Seffner, FL
15-0
3
Trinity For Boys
Louisville, KY
14-0
4
Grayson
Loganville, GA
15-0
5
Good Counsel
Olney, MD
13-0
See the full football rankings »