Commentary
Gaming around with Lincecum
Updated:
April 7, 2009, 12:31 PM ET
By
ESPNRISE.com
San Francisco Giants ace Tim Lincecum fires away on winning the 2008 Cy Young, being the cover boy for "MLB 2K9" and growing up a gamer.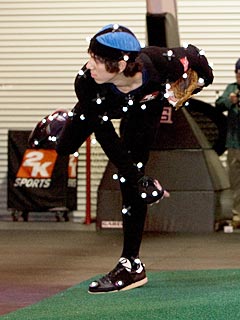 MLB 2K9Pitcher Tim Lincecum sported a motion-capture suit for "MLB 2K9."
ESPN RISE: What was it like being named cover athlete of "MLB 2K9" the same day you won the Cy Young?
Tim Lincecum: It was a tremendous day for me. There were a lot of smiles, a lot of congratulations from people. But what really got to me was seeing what (the Cy Young) meant to others. The way my dad reacted and being able to share it with the friends I had around/ That whole experience was amazing. Then, getting announced as the "2K" cover boy, that was just the cherry on top of the cake.
RISE: How should gamers play as the Giants in "2K9?"
Lincecum: You have to learn to play a lot of small ball. I know we're not a big power team, so it's all about doing the right things in certain situations. You'll need to move runners over when you can. And even though this is a video game, that doesn't mean it's all about the home run.
RISE: What were your favorite games as a kid?
Lincecum: I used to play "R.B.I." and the Ken Griffey Jr. game for Super Nintendo all the time. I played every kind of game I could back when I was a kid, especially the baseball games and games like "Contra."
RISE: What games do you and your teammates play?
Lincecum: We actually still have some guys who play "R.B.I." in the clubhouse. When we travel, there are clubhouses where they have those old "R.B.I." arcade machines set up and people are always playing. It's cool how you could make the pitches bend so far at the last second. I wish I could do that for real.
SPONSORED HEADLINES
ESPN TOP HEADLINES
MOST SENT STORIES ON ESPN.COM
FOOTBALL RANKINGS

Rank
School (City, State)
Rec
1
Don Bosco
Ramsey, NJ
11-0
2
Armwood
Seffner, FL
15-0
3
Trinity For Boys
Louisville, KY
14-0
4
Grayson
Loganville, GA
15-0
5
Good Counsel
Olney, MD
13-0
See the full football rankings »