Commentary
Swimmers turn passion into summer profit
Updated:
June 26, 2009, 11:22 AM ET
By
Julie Turner
| ESPNRISE.com
Lifeguards at the pools in Kearney, Neb., have regular "in-services" at which they practice rescue drills and have to swim a workout of 300 meters and 50-meter drills.
The drills aren't a problem for Kearney High senior Mariah Anderson, who has lifeguarded for three years.
[+] Enlarge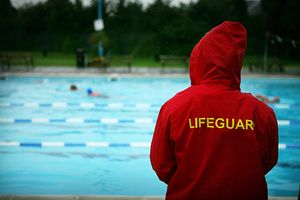 Peter Macdiarmid/Getty ImagesMariah Anderson says, "As you progress as a swimmer you'll progress as a lifeguard."
Anderson swims the 50- and 100-meter freestyle, and she competed at state in those events and in the 200-meter freestyle and IM relays. Kearney High medaled in the IM relay.
Anderson says being a swimmer gives her confidence as a lifeguard.
"I don't have to worry that if I have to save someone that I might not get to them," she says.
Anderson started swimming when she was 6 years old. She lived across the street from a fitness center and used to walk over with her sisters to go to the pool for swim practice.
Anderson swims for the Greater Nebraska Swim Team in the summers, and she gets in extra practice at the pool in the mornings. Getting into the pool for free is a perk of lifeguarding.
Anderson used to look up to the lifeguards when she was little. Now that she is one, she says working with little kids is one of her favorite parts of the job.
"I like to get to know all the little kids," she says. "The little ones, you see them come back the next year and they can go down the slide."
There is a height requirement to go down the slide.
Last year, Anderson also taught private swim lessons but doesn't have any scheduled yet this summer.
Swimmers spend a lot of time at the pool, so lifeguarding and teaching swimming lessons is a way to make some summer cash and lets them stay active in their sport.
Norman (Okla.) High School junior Gene Ilichez lifeguards and helps teach swimming lessons at Westwood Waterpark.
"It's a lot of fun working with the little kids," says the 100-meter back and breaststroke swimmer.
Ilichez learned to swim about six years ago. After he learned to swim, he started volunteering as a teacher's aide for swimming lessons. He says being a swimmer makes him a better teacher.
"It helps with swim lessons knowing all the strokes. I know what's right."
Anderson says the same for guarding.
"As you progress as a swimmer, you'll progress as a lifeguard."
Working at a pool is the best of both worlds in the summer, because lifeguards spend the day outside and they can cool off in the water.
Ilichez is in his second season as a lifeguard and says the best part of the job is working with his friends and teammates.
"It's most of the people you know," he says. "During breaks we mess around on the slides."
The guards also have fun when they make announcements over the PA system, talking with funny accents and trying to make the other lifeguards laugh.
After-hours swimming and working with your teammates can make a summer job at a pool seem more like fun than work. Not a bad job if you can get it.
Julie Turner is an editor at ESPNRISE.com
FOOTBALL RANKINGS

Rank
School (City, State)
Rec
1
Don Bosco
Ramsey, NJ
11-0
2
Armwood
Seffner, FL
15-0
3
Trinity For Boys
Louisville, KY
14-0
4
Grayson
Loganville, GA
15-0
5
Good Counsel
Olney, MD
13-0
See the full football rankings »