Prep football dramas put Texas on the pop culture map
Updated:
July 11, 2009, 12:28 PM ET
ESPNRISE.com
[+] Enlarge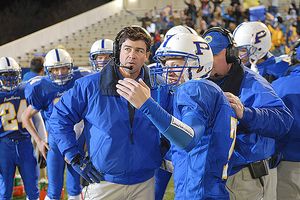 Bill Records/NBCU Photo Bank/AP ImagesCoach Taylor and his QB1 are turning Texas high school football into an art form.
Which state is the coolest and most relevant when it comes to the world of pop culture? ESPN RISE's editors have narrowed the list down to four states. It's up to you to answer the ultimate question.
No. 2 seed Texas
Population
: 24.3 million
Famous Texans
: Dwight Eisenhower (U.S. President); Kelly Clarkson ("American Idol" winner); Hillary Duff (actress, musician); Wes Anderson (director); "Stone Cold" Steve Austin (pro wrestler); Jamie Foxx (actor, comedian); Duane "Dog" Chapman (famous bounty hunter).
Texas Trivia
: The world's first rodeo was held in Pecos on July 4, 1883.
The Case for Texas
More than 1,000 schools play high school football in Texas. The state won the ESPN RISE Great State Debate of football, crowning the Lone Star State as the best state for the sport. But just how big is high school football in the state? Big enough to have inspired books, movies and television. H.G. Bissinger took us to state in '88 with his documentary of the Permian High School Panthers called "Friday Night Lights: A Town, a Team, and a Dream," which subsequently inspired a movie and TV series.
It's not just the "Lights" franchise. "Dazed and Confused" featured Texas football players, and then there's 1999's "Varsity Blues," which depicts the football-driven community of a small town in Texas. These films have been able to master the formula for effective high school football dramas.
Here's a look at the key ingredients of the successful Texas high school football drama: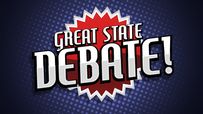 The Great State Debate of Pop Culture is out to settle the score once and for all. Which state is the coolest and most pop-culturally relevant? You decide. Here are the finalists:
• No. 1 seed California
• No. 2 seed Texas
• No. 3 seed North Carolina
• No. 4 seed New Mexico

Agree? Disagree? Join the debate.

Blog about what makes your state cool.
A major injury: If you're the star player of a high school football team in Texas that's involved in some sort of drama, your days are numbered. This curse ended the promising careers of Boobie Miles, Lance Harbor and Jason Street. Devastating injuries (two torn ACLs and a broken vertebra) lead to questions about the teams' offenses, and create senses of impending doom. Rest easy defensive players, no cataclysmic injury has ever befallen a defender in the history of the Texas high school football genre.
The rise of the backup: If only real second-stringers could have the luck of the players forced into service after the above-mentioned injuries plagued starters. The stand-ins are the smart kids, the art kids or the unheralded nobodies, but once they hit the field, they become instant all-stars. This raises the questions: How are these guys so good? Why didn't they push harder for playing time? Why didn't Jonathan Moxon transfer to another school when it looked like he'd never play behind Lance Harbor?
It's not all touchdowns and rally girls, though. Call it the "Matt Saracen Scenario." Saracen took over for the Dillon Panthers after Jason Street was paralyzed. However, he was benched shortly thereafter for Hurricane Katrina refugee Voodoo Tatum before regaining the job and winning a state championship. The tough times didn't end there. He broke up (and then got back together) with his girlfriend, was moved to wide receiver and watched Smash Williams take over as manager of the Alamo Freeze.
The team falls apart: What happens to the team when its star fullback goes to Mexico, or the team stages a coup to overthrow the head coach at halftime? Problems occur. Billy Bob gets a concussion, and Smash can't handle his performance enhancers/recruiting/girlfriend issues and the team crumbles. But without this, the drama couldn't come to its happy conclusion.
The happy resolution: So what if your team lost its best-ever player to a town-altering injury and turned things over to some unknown, unathletic backup? So what if your coach is either an authoritative egomaniac or is trying his best to find a new job or justify his current job? It doesn't matter that you'll have to win out or face a former nemesis, which is always the state's nastiest team, in the state finals, things will work out. A trick play here, a motivating speech there and some heroics from an unlikely source will have the team winning it all, or at least learning a valuable lesson.
If art truly imitates life, then there is certainly a wing at the pop culture museum for the Texas football genre. While some storylines may be over the top, the passion for the sport is real. After all, the book that inspired the rest of the "Lights" franchise was a work of nonfiction.
FOOTBALL RANKINGS

Rank
School (City, State)
Rec
1
Don Bosco
Ramsey, NJ
11-0
2
Armwood
Seffner, FL
15-0
3
Trinity For Boys
Louisville, KY
14-0
4
Grayson
Loganville, GA
15-0
5
Good Counsel
Olney, MD
13-0
See the full football rankings »