Commentary
ESPNHS: Best NFL blogs 7/30-8/1
ESPNHS: Best NFL blogs 7/30-8/1
Updated:
September 18, 2009, 2:44 PM ET
By
ESPNRISE.com
Editor's note: ESPNHS is a collection of the best blogs and videos from high schoolers across the country. Want to get involved with ESPNHS? Start blogging and uploading videos today!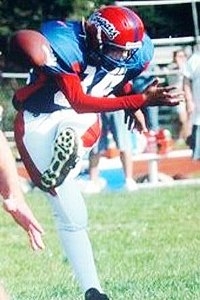 jfran347JFran: Kicking it
T.O.
By j-dog77759
I think that TO will help the bills because he is being hero-worshiped in buffalo and he is getting his own breakast cereal. First in training camp Trent Edwards will treat him like any other reciever because he is sick and tired of being asked about what it is like to play with one of the most interesting sports stars of the 2000's. T.O. will take some time to get used to it but right before the season starts he will start t fit in and mesh. T.O. in the first couple of games will putup some nice numbers and will keep his mouth shut and play the part that buffalo is trying to reinvent him in as the "good quiet reciever wh doesn't complain if he doesn't get the ball every other play". He will get a few endorsments and ride his productive numbers to the final weeks were the Bills will contend for a wild card but in the last few weeks they will collapse and miss the playoffs. T.O. will be outspoken but in the off-season will be offered enough money to stay and be quiet. Buffalo will then go down as the team that tamed T.O.

What do you think about T.O.? Will he help the Bills?
Top quarterbacks
By mikewhit61
1. Ben Rothlisberger (Steelers) coming off a great season trying to have a repeat. With Brady coming back Ben is really going to have ot play hard for his team to stay the champs and not go on a slump like after the 2005 season.
2. Tom Brady (Patriots) I see him coming off of this injury better than ever.

See the other QBs who make mikewhit61's list!
Favre
By k-town cubbie
Ok im shure that alot of people are bloging about Brett Favre but, i just have to comment.....
this guy just loves the spot light. I mean its eather im retiring, im nott, o wait i am i mean come on. I hpoe he stays retired but, i doubt he will.

What's your take on Favre staying retired?
Cleveland Browns
By 19jasonc94
Thow do u ppl think they will do plz answer with records of ur predictions

How do you think the Browns will do this season?
Check out the ESPNHS archive.
SPONSORED HEADLINES
ESPN TOP HEADLINES
MOST SENT STORIES ON ESPN.COM
FOOTBALL RANKINGS

Rank
School (City, State)
Rec
1
Don Bosco
Ramsey, NJ
11-0
2
Armwood
Seffner, FL
15-0
3
Trinity For Boys
Louisville, KY
14-0
4
Grayson
Loganville, GA
15-0
5
Good Counsel
Olney, MD
13-0
See the full football rankings »