Commentary
Toughest high school sports: spring season
Toughest high school sports: spring season
Updated:
August 12, 2009, 11:35 PM ET
By
ESPNRISE.com
This week, as some schools are back in session and others are only a few weeks away from the first bell of the school year, ESPNRISE.com is ranking the toughest high school sports. On Wednesday we look at spring sports.
[+] Enlarge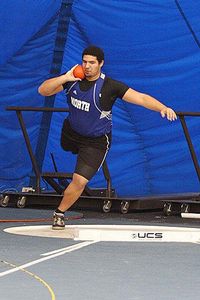 Courtesy of Corey Abernathy With a variety of events, track and field is rated a 4 in our toughness rankings.
We ranked each sport based on five aspects of toughness:
How physically demanding the sport is
The athletic ability required
Training required
How much endurance is needed
How much strategy goes into the sport
The rankings are on a scale of 1 to 5, with 1 being the easiest and 5 the toughest, and we are taking varsity-level play into account.
Lacrosse: 5
This sport combines the quickness and agility of basketball, the speed and precision of hockey and the toughness of football into one heart-pounding game. Lacrosse players have to have the speed to be able to play both sides of the field, the endurance to run for long periods of time, the stick skills to evade defenders and the ability to make smart decisions on the fly. It's America's first sport - and one of its most dangerous, as players can rifle shots at more than 100 mph.
Track and field: 4
With a variety of events that attract all types of athletes, this sport pushes individuals to push themselves. Yes they have coaches, but the runners, throwers and jumpers are the ones deciding if they are going to slack off a little at practice or go all out on every drill, so the athletes need mental toughness. All events require athletes to be in the weight room building muscle. Explosiveness is key - sprinters need a strong start off the blocks, jumpers need to get good liftoff and throwers use their legs to power the discus, shot or javelin in the air. As for being physically demanding, we've got two words for you: shin splints. Read more: Sprinting / Hurdles / Throwing Events
Baseball/softball: 3.5
While the sport might seem to have slow moments, in the field players have to be agile enough to run to a ball or dive to make a catch. Different positions require different training. For instance, catchers have to build leg muscle since they squat the whole game, and they must have the arm-power to make a throw from behind the plate to second base to catch a runner stealing. At bat, hand-eye coordination is a must. In baseball, pitchers hurl strikes at speeds in the upper-80s or higher. And power hitters are hitting the weight room to make sure they can hit balls outside the park. Speed is important in fielding and on offense, so baseball and softball players spend practice time running - sprints and a couple of times around the field.
Golf: 2.5
Golf might seem like one of the easier sports, but becoming a good golfer take a lot of practice and mental stamina. It's important for a golfer to stay focused on his game and the course and not over-think how he's playing, which can lead to frustration and the golfer losing control of his game. Golf isn't physically demanding - no player-to-player contact and very few injuries - and except for practicing swings and putting, top golfers don't have to train outside of a golf course to rise to the top.
What do you think? Blog about which sport you think is the toughest.
SPONSORED HEADLINES
ESPN TOP HEADLINES
MOST SENT STORIES ON ESPN.COM
FOOTBALL RANKINGS

Rank
School (City, State)
Rec
1
Don Bosco
Ramsey, NJ
11-0
2
Armwood
Seffner, FL
15-0
3
Trinity For Boys
Louisville, KY
14-0
4
Grayson
Loganville, GA
15-0
5
Good Counsel
Olney, MD
13-0
See the full football rankings »