Commentary
ESPN RISE Athletes of the Week
Updated:
November 19, 2009, 10:49 AM ET
By
Mark Tennis
| ESPN RISE
[+] Enlarge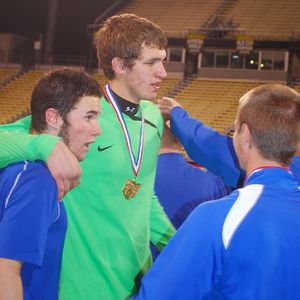 Sheldon Shealer for ESPN RISEIn a battle of FAB 50 powers, Ryan Grimme made two huge shootout saves to give Lincoln (Gahanna, Ohio) a win over St. Ignatius (Cleveland, Ohio) in the Ohio Division I state final.
Two seniors who are adept at slapping around a ball near a net -- Ryan Grimme, a soccer goalie at Lincoln (Gahanna, Ohio), and Morgan Broekhuis, a volleyball middle blocker and outside hitter at Colorado Springs Christian (Colorado Springs, Colo.) -- led their teams to state championships and are this week's ESPN RISE National Boys & Girls Athletes of the Week.
On his state's biggest stage, the 6-foot-5 Grimme delivered a pair of shootout saves to carry Lincoln to a victory over St. Ignatius (Cleveland) in the Ohio Division I state final in a battle of top-5 FAB 50 teams. Grimme made diving stops on St. Ignatius' first two attempts, then his teammates converted four straight for a 4-3 shootout win. He had only four saves in the match, but one was in overtime when he deflected a shot while on the ground by Ohio state player of the year Vaughn Spurrier to keep the match scoreless.
Lincoln's state final victory over St. Ignatius before nearly 3,000 fans capped an undefeated season and moved the Columbus-area program to No. 2 in the final fall FAB 50 boys soccer rankings.
With Broekhuis leading the way, Colorado Springs Christian continued its dominance in the Class 3A state playoffs. The Lions captured their sixth straight title in straight sets over previously undefeated Valley (Gilcrest, Colo.). The 6-foot-5 Broekhuis had 18 kills in the championship match, her final three coming as the final three points of the final set. Her father, Mike, is the head coach at Colorado Springs Christian.
Broekhuis, who will play at Nebraska, was named to the U.S. Women's Junior National Training team last year and to the U.S. Women's Junior National team last summer. She was the Gatorade Colorado Volleyball Player of the Year last season.
This week's ESPN RISE Regional Athletes of the Week for fall sports (not including football):
East Boys
John Raneri
New Fairfield (New Fairfield, Conn.), Cross Country
The senior concluded three consecutive weeks of championship racing with his biggest victory yet -- the New England Interscholastics. The New Fairfield standout began the string of success with a win three weeks ago in the Connecticut Class MM championships, and he defeated faster Class M champ Chris Bendtsen for the Open Division state title the following week. Last Saturday, against runners from every other New England state except Massachusetts, he won with a time of 15:57 on a 5-kilometer course.
[+] Enlarge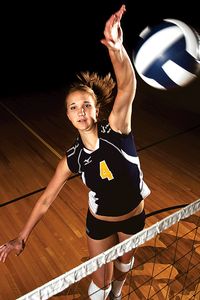 Eric Bellamy\ESPN RISE MagazineMorgan Broekhuis had 18 kills to lead Colorado Springs Christian (Colorado Springs, Colo.) to a state championship victory over Valley (Gilcrest, Colo.).
East Girls
Courtney Chapman
Fayetteville-Manlius (Fayetteville, N.Y.), Cross Country
With her second consecutive New York Class AA title, Chapman continued to lead the nation's No. 1 team toward what it hopes will be its fourth straight Nike Cross Nationals title. The junior ran 17:25.4 for 5 kilometers, winning by nine seconds, and leading one of the most impressive girls' state meet team performances ever. Fay-Man swept the top five places over a field that included Saratoga Springs (N.Y.), the nation's third-ranked team.
Southeast Boys
Spencer Shumway
Lyman (Longwood, Fla.), Bowling
Last week's Florida state championships concluded with a sensational boys final individual matchup between Shumway, a junior, and sophomore Nick Speanburg (Jupiter, Fla.). Shumway won the first game 279-247, then lost the second 248-206. In the deciding game of the match, Shumway rolled seven straight strikes to start out and ended with a 268 to beat Speanburg, who posted a 235. Earlier this fall, Shumway earned a spot in the International Bowling Museum and Hall of Fame by stroking an 834 series. His games that night were 289-278-267.
Southeast Girls
Carmen Carlos
McGill-Toolen (Mobile, Ala.), Cross Country
Just a freshman, Carlos concluded a season of dominance in Alabama with an overwhelming victory in the 6A state meet. Her course-record time of 17:43.57 was 1:04 better than last year's state champ, Katie Huston of Sparkman (Harvest, Ala.). Carlos won every major meet she raced in save for the early September Mobile Challenge of Champions, where she was third behind the eventual state champs from Georgia and Louisiana. She was unbeaten among Alabama runners.
Midwest Boys
Ryan Grimme
Lincoln (Gahanna, Ohio), Soccer
Also chosen as the ESPN RISE National Athlete of the Week.
Midwest Girls
Taylor Burke
Medina (Medina, Ohio), Soccer
Burke's 12th straight shutout and 18th of the season came with little work as Medina routed Dublin Coffman 4-0 in the Ohio state final. Burke also is a highly-regarded starting point guard for Medina and is one of the top high jumpers in the nation. She placed second last summer in the high jump at the Nike National Outdoor Championships.
Southwest Boys
Mick White
Rockhurst (Kansas City, Mo.), Swimming
It was a dominant showing by the Rockhurst boys at the Missouri state finals last Saturday in St. Peters, Mo. With White winning two events and starring on two relays teams, the Hawklets racked up a record total of 400.5 points, won their sixth straight state title and piled up more than double the points of second-place Glendale (Springfield, Mo.). White, who was named Athlete of the Meet at this season's Cape Rock Invitational and is considering several college offers, helped the 200 free relay team set a meet record. He also swam on the first-place 200 medley relay. His individual state titles were in the 200 freestyle (1:39.54) and 100 butterfly (50.34).
Southwest Girls
Lauren Sieckmann
Marian (Omaha, Neb.), Volleyball
On a team with five solid seniors, this 5-foot-10 sophomore was a force all season as a setter and outside hitter and helped lead the Crusaders to the Class A state title. Sieckmann, who was all-state as a freshman and is regarded as one of the top sophomores in the nation, posted 10 kills as Marian completed a 42-1 season with a four-set win in the championship match against Papillion-La Vista South (Papillion, Neb.). She recently committed to perennial NCAA power Nebraska.
West Boys
Ben Johnston
North Central (Spokane, Wash.), Cross Country
Johnston broke away from the field midway and rolled to a decisive 15:29.6 victory on a 5-kilometer layout at the Nike Cross Nationals Northwest Regional Championships in Boise, Idaho. Johnston's individual win fueled the team title for North Spokane XC (North Central runners) and kept alive the unit's hopes of repeating its national championship from last year -- despite the fact it lost its top three runners to graduation.
West Girls
Morgan Broekhuis
Colorado Springs Christian (Colorado Springs, Colo.), Volleyball
Also chosen as the ESPN RISE National Athlete of the Week.
For the fall season, the national athlete of the week honors will be given to those who participate in sports other than football. The ESPN RISE Athlete of the Week panel consists of Garland Cooper (softball), Andrew Drennen (baseball), Ronnie Flores (basketball), Doug Huff (multi-sports), Kristin Olsen (volleyball), Sheldon Shealer (soccer), Mark Tennis (multi-sports) and Steve Underwood (track and cross country).
SPONSORED HEADLINES
ESPN TOP HEADLINES
MOST SENT STORIES ON ESPN.COM
FOOTBALL RANKINGS

Rank
School (City, State)
Rec
1
Don Bosco
Ramsey, NJ
11-0
2
Armwood
Seffner, FL
15-0
3
Trinity For Boys
Louisville, KY
14-0
4
Grayson
Loganville, GA
15-0
5
Good Counsel
Olney, MD
13-0
See the full football rankings »